The vibrant and fast-paced Taiwanese capital will stimulate your senses to no end, but after a day of exploring the city, the LGBTQ+ welcoming, boutique Hotel Éclat offers an extraordinarily sophisticated sanctuary, right at the heart of the fashionable district of Dan-An.
The Hotel Éclat Taipei is no ordinary place to stay. It's a lively, spirited art hotel, defined by its avant-garde design, high style, enviable modern art collection (look out for the two Salvador Dali sculptures) and exceptional, personalised service.
Expect lavish and colourful velvet soft furnishings, breathtaking crystal chandeliers and original pieces of art by contemporary artists, including Gao Xiao Wu and Jia Gang. You'll find these artsy touches both in-room and also in the hotels' communal areas.
And when you tire (if that's even possible) of Taipei's attractions and foodie delights, you can retreat to this whimsical oasis, relax with the hotel's sumptuous, signature afternoon tea, or perhaps a refreshing cocktail in the George Bar. In any case, you'll be taken care of rather well, especially when being pampered by the Hotel Éclat's 24-hour butler service team.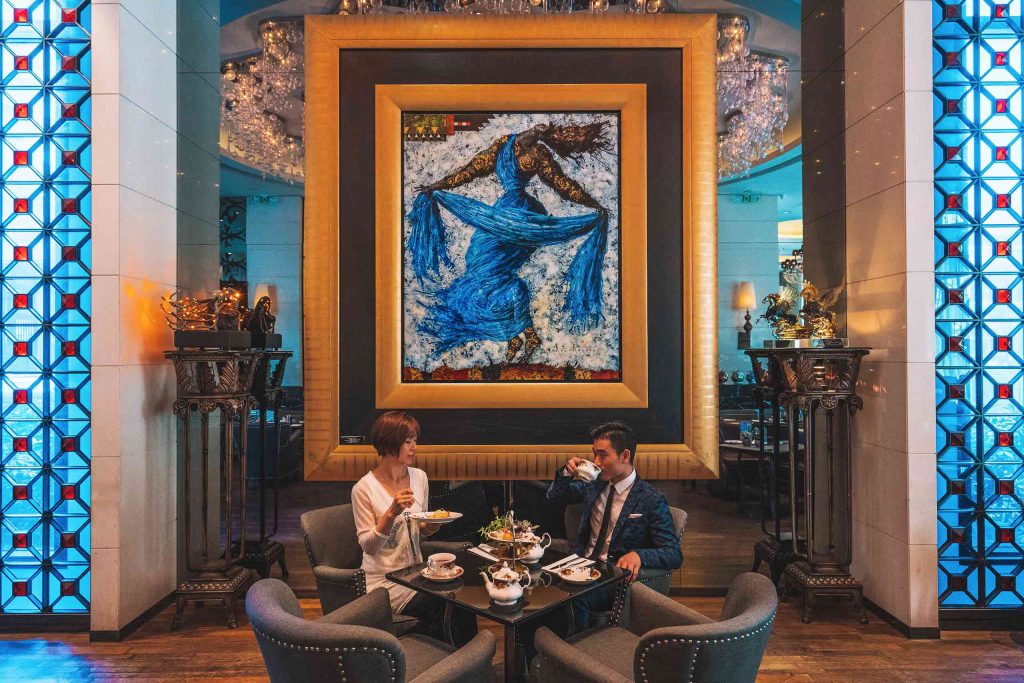 www.slh.com/hotels/hotel-eclat-taipei
---
Proud pioneers
"We are very proud that Taiwan has legalised same-sex marriage, in a historic first for Asia, since 2019. Our entire team at Hotel Éclat supports the LGBTQ+ community. We're thrilled to extend a warm welcome to everyone and provide a positive and safe environment for our many LGBTQ+ guests."
Julien Chao (she/her)
Hotel Manager
---
It's OutThere
Taipei is a haven for OutThere culturalists, a place where history, food and contemporary art collide, the perfect city for the modern flâneur. Yes, like many Asian capitals, there are heaving streets, tourist markets and homogenised mega-malls with multi-national brands. But accordingly, the traveller experience here is smooth and polished; and between the skyscrapers and modernity, there are old temples and neighbourhoods to explore.
Peel back the layers and you'll also find local, serene and truly Taiwanese places away from the madding crowds. One of our favourite things to do is to hire a convenient 'U-bike' and roam its civilised cycle lanes by pedal power.

But the heart of Taipei's gay life can be found in Ximen (pronounced "semen" by the locals in case you're wondering!), in the west of the city. This is officially the first port of call for LGBTQ+ people – visitors and locals alike. The Red House is a fantastic cultural hub for information on anything and everything arty that's happening in the city. It is over a hundred years old and has a varied programme of music and performance. Around the old theatre, you'll find many LGBTQ+ bars and nightlife. The area is also the spiritual home to Taipei Pride, the largest in the continent that attracts nearly a hundred thousand people each October.
Here it's exceedingly clear that being LGBTQ+ doesn't really seem to be as taboo in Taiwan as compared to its other Mandarin-speaking counterparts. Taiwan has queer political representation. Its Arts Council is also very supportive of filmmaking and other creative outputs around LGBTQ+ subjects. All very progressive stuff, really.
Likewise at the Hotel Éclat, art holds particular significance. It is their belief that true art should come from pure love and a fair and warm understanding of each other. So it's no wonder that they are well known by travellers from all over the world as Taipei's most LGBTQ+ friendly property.
---
The inside track
Taipei is an easily navigatable city, the perfect urbanity to just wander the streets and get lost in. At every turn you'll find something super interesting, but here are some highlights to get you on your way…
---
You're INVITED
Small Luxury Hotels of the World encourages you to join SLH's complimentary loyalty club INVITED, to receive benefits such as 10% off each booking, breakfast included and room upgrades from your very first stay. Each night booked at Hotel Éclat Taipei with an INVITED Member Rate includes daily breakfast, WiFi, welcome amenities and welcome drink, as well as benefits according to your INVITED tier. Find out more at SLH.com today.
Photography courtesy of Small Luxury Hotels of the World
---
---