It's a tall order to have set out to build Sydney's first six-star hotel and redefine luxury hospitality in Australia's most visited city. But the developers and experience-makers behind Crown Towers Sydney have surpassed all expectations (including literally, as it is housed in Sydney's highest building) in this ultra-glitzy, contemporary, Las Vegas-like luxury property that has quickly risen in infamy as the playground of the Asia-Pacific's jet-set glitterati.
Barangaroo was once a dockyard container land, but today it has been redeveloped and reimagined into the city's most upscale, harbourfront commercial district. And right at its heart is a gleaming, glass 'phallus' of a building, Sydney's tallest (for now). It is home to the Crown Towers Sydney, the New South Welsh outpost of the infamous Crown Resorts gaming and hospitality corporation.
It's a symbol of what the future holds for this international city, designed by British architect WilkinsonEyre with interiors by New York-based Meyer Davis. As such, we'd describe the Crown Towers Sydney as an inherently 'cosmopolitan' hotel, an adjective that's far more on the money than we'd first anticipated, as its owners (who happens to be the largest real estate company in the world) also own the Cosmopolitan of Las Vegas. The resemblance is uncanny: an equally glamourous hotel in a conformably flashy building, each with acclaimed casinos.
Golden-hued grandeur is widespread at the Crown Towers Sydney, from its jaw-dropping, high-gloss foyer (with stunning, almost life-sized floral arrangements) on the ground floor, all the way up to its sprawling, suspended 26th-floor conservatory-terrace, CIRQ.
The hotel featured an interesting mix of punters. Indulging in some people watching in the lobby, we spotted everyone from wealthy city-boy financiers in their spiffy suits, to gaggles of immaculately dressed, 'Crazy Rich Asian' tai-tais (Chinese ladies who lunch), to young social media influencer types planning a fairytale (and no doubt Instagrammable) wedding and wide-eyed tourists who look like they've just stepped off a cruise ship, sporting shorts and 'thongs' – that's Australian for sandals in case you're wondering! But they all had a shared awe of their opulent surroundings. The Crown Towers Sydney is obviously the place to be seen in the city, offering something for everyone.
There are 349 rooms and suites at the hotel, including 22 luxury 'villas' in the sky that come with different bedroom configurations for families or friends travelling together. They sit on the tower's uppermost floors.
Our 11th-floor Harbour Bridge Studio's name gives away its breathtaking feature, a view of the iconic Sydney Harbour Bridge in the distance. From this floor in the Crown Towers Sydney, we couldn't quite see the famous Opera House, so if you're looking for that quintessential harbour view, opt for a higher floor.
Truly personalised amenities awaited: a hand-picked bottle of wine as well as a box of luxury pralines; and as we were visiting around Mardi Gras time, a rainbow-themed chocolate sculpture of the Harbour Bridge and the Crown Towers Sydney building. The campness of the amenity choice aside, it goes to show how seriously the hotel takes personalisation and inclusion. Throughout the suite, 'his and his' amenities were laid out, the front-of-house team made sure to ask specifically how we would like to be addressed and gender-neutral restrooms were always available in public areas.

The décor in-suite was effortlessly stylish, with a lean to the 'bling': clean super-car-like lines and a colour palette of black, gold, grey and white, with the exception of the aquamarine 'plush underfoot' carpet to match the Sydney sky and sea.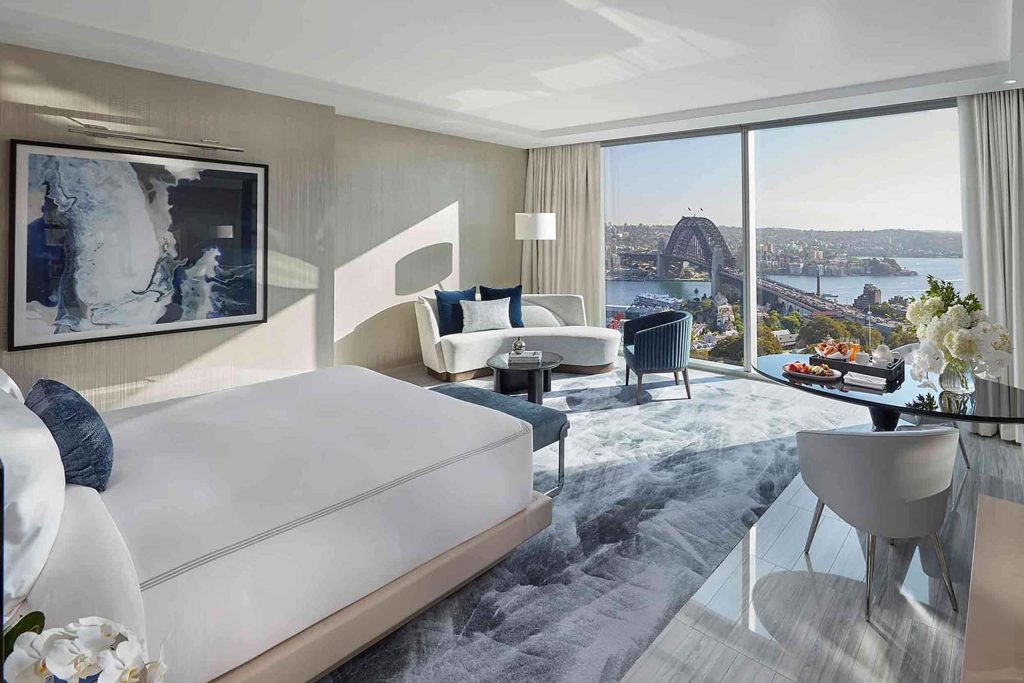 | | | |
| --- | --- | --- |
| Perfect for | Fly into | Right on time |
| The Hedonist | SYD | GMT +11 |
While you're Out There
Sydney is not short of a place (or twenty thousand) to eat in, but the Crown Towers Sydney offers up dining options that are destinations in themselves. We recommend A'Mare, where chef Alessandro Pavoni has strived to create what is the best Italian restaurant down under and also Woodcut, where four open kitchens, each dedicated to a cooking method – ice, smoke, fire and steam – will whet your appetite for contemporary Australian cuisine. However, just a short walk away from the hotel, The Rocks, a neighbourhood of old laneways fronting the historic harbour, has food options galore. We tried the Harbourfront Seafood Restaurant, which is wonderful for oysters and fresh fish, with an iconic view of the Sydney Opera House and an all-around al-fresco, good-time atmosphere.
Our bathroom, an enormous space that is bigger than most hotel rooms, was also rather eye-catching. It featured a giant soaking tub centrepiece, set on a shiny black granite floor, symmetrically flanked by matching vanity areas on either side, stocked with generous and luxurious amenities (we loved the cosmetics by Australian organic beauty brand Grown Alchemist). Big mirrored doors hid a rain shower and top-of-the-range Toto washlet WC that pretty much did everything including singing to us.
We also enjoyed the Crown Towers Sydney pool deck. The hotel is the only in the city with an infinity pool. As we had quickly understood that they don't do things by halves here, it came as no surprise that the expansive pool deck spanned the entire waterside frontage of the building, almost melting into the harbour and the horizon beyond.
It's a busy space that's quite popular with families – given a casino audience, we'd have perhaps expected an adults-only area – although we found some solace around sunset, when the sky lit up a gorgeous vermillion. While the calls of Bondi or Manley beaches may be irresistible, we found ourselves opting to stay poolside at the Crown Towers Sydney for most of our stay.

On the same floor as the pool is the Crown Spa, a stunning, contemporary wellness space with hydrotherapy retreats and treatments that helped our jetlags. Our recommendation is to book well ahead of schedule, despite trying our very best, we sadly couldn't find a single slot for a massage throughout our three-day stay.
Also on this floor is the hotel's ginormous Epicurean restaurant, where a sumptuous and seemingly endless spread featuring a world of tastes was on offer: Western, Indian and South East Asian stations featured as well as a section specifically catering to alt-dietary requirements. We frequented the Bloody Mary bar (why not, it was a vacation after all) and the decadent dessert buffet with a tempting chocolate fountain that had us singing the theme song from Charlie and the Chocolate Factory, Pure Imagination, all day.
Breakfast is somewhat of a military operation service-wise and there were times when we felt that the team could have been a little more personable. During one long and leisurely breakfast, we even felt a little rushed out of the restaurant, some twenty minutes after the buffet closed. We were reminded – rather patronizingly – of the restaurant opening times, not once, but twice.
This adherence to rules and regulations is an inevitable side-effect of mega-hotels, but we felt that the Crown Towers Sydney, given its dedication to six-star luxury, could've tried a little harder in this respect to ensure that their guests are made to feel at home. That said, the service in its other (thirteen) food and beverage outlets was remarkably good, particularly on the CIRQ rooftop and by the pool.
The front-of-house team was a little slower than we would have liked at check-in, our finger-tapping compounded by a long flight in and a particularly lengthy line at immigration. We're nit-picking now, but first impressions really count when it comes to luxury hospitality. While we understand that the receptionist that dealt with us was in training, more could've been done to tighten up the welcome experience. But with a global hospitality staff shortage at the time of our visit, maybe we just have to expect that's the way things are for now and that the service at Crown Towers Sydney will improve over time.
Photography courtesy of Crown Resorts