The most mesmeric swimming pool in all of Barossa must be the infinity pool at The Louise, a sublime plane of water that seemingly flows into acres of idyllic, crisscrossed vineyards. But that's far from all this all-suite property has to offer travellers who make it here: from extraordinary fine dining to second-to-none service, there's a reason for the hotel's excellent reputation.
This all-suite property has somewhat of a country-club vibe, not too far removed from the vineyard retreats that we've had the pleasure of experiencing in California's Napa Valley. But here in the South Australian iteration, a crack team of well-trained, groomed and remarkably polite, young staff expertly tended to our every need during our stay. And if like us, you're looking to explore what the Barossa can offer, or have any special last-minute requests, the hotel's guest-experience coordinators and concierges can seemingly magic up a solution to any whim. The service here, put simply, is exemplary.
The staff's approach is as refreshing as The Louise's newly-renovated (at time of press), private-lodge-like suites, of which there are only fifteen. Each exclusively gated and well-appointed villa comes with its own sun swathed courtyard and terrace, with stunning vineyard views all the way out to the rolling hillside and enticing deckchairs, inviting guests to relax and enjoy the surrounding nature.
The style of our suite was decidedly modern, even though we're told that the designer's vision was to evoke an atmosphere of Mediterranean country chic and 'continental luxury'. Our opinion however, is that the accommodation here is, much like the wine, better described as 'new world classic' than the Southern European tranquillity as the property's website might suggest. But whatever you call it, they've certainly been successful in conveying a mood of carefree summer holidays in the countryside.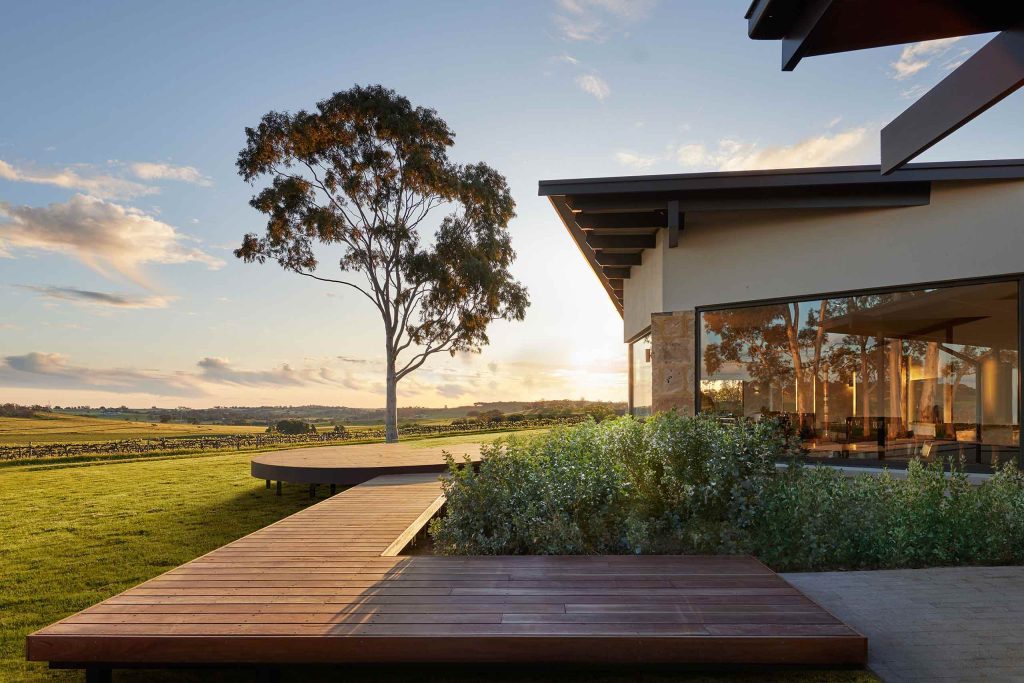 | | | |
| --- | --- | --- |
| Perfect for | Fly into | Right on time |
| The Sophisticate | ADL | GMT +9:30 |
While you're Out There
The Louise is in the very heart of the Barossa, so you'll find a winery or a hundred on its doorstep. The team at reception put it very well, in fact, 'it's as if you have a backstage pass to the Barossa Valley'. But should you only have time for one (guests of the Louise have a habit of not actually leaving the property), then we'd recommend Tscharke, an estate that specialises in organic and biodynamic Barossa wine, rooted deeply in storytelling… so much so, that its cellar door experience and subterranean bar is called The Protagonist. The best bit? It's right next door, so that's minimal disruption to your luxuriating!
In the suite, the decor is muted and minimalist, in a 'holiday cottage' style. White-washed walls and a surprising choice of office-grey carpets are accented with nature-hued soft furnishings, abstract art and mid century modern light fittings. Undoubtedly, the classy layout and interior design made the space homely and charming, but for us, its simplicity lacked a level of imagination and the sumptuousness that you'd expect of a luxury hotel, despite recently receiving (again, in their own words) 'a multi-million dollar glamover'.
We were rather surprised, as Baillie Lodges, the global and glamorous family of exquisite lodge properties of which The Louise is a member, does not usually stop short of design decadence. This is, of course, the very definition of a 'first world problem', but with new and inspired high-end accommodation options – some expected to be 'six star' – opening up in the Barossa, The Louise may want to consider levelling up.
That being said, the rest of the property is more lavish, with bold, contemporary, Scandi-esque design and artistic choices. In the main building, an airy lobby and reception area led to an impressive glasshouse/aquarium wine cellar. From here, our eyes were immediately drawn towards a set of humungous, panoramic windows with jaw-dropping, scenic views of the grapevines and beyond.
The award-winning Appellation fine-dining restaurant is located here, celebrating excellence in sustainable local produce, cultivated by small-batch farmers. We sampled an elaborate tasting menu, with delicious ingredients spanning from surf to turf, each course thoughtfully cooked, beautifully presented and paired with splendid local wine, not to mention to a backdrop of fiery, sunset-lit sky. A kingfish, watermelon and jalapeño amuse bouche and home-baked bread set the tone for a culinary journey of shellfish, South Australian lamb, local quail and a cheesecake to end all cheesecakes. Dining at The Louise is not always this indulgent or belly busting, don't worry… for more informal eats, guests can also opt for its casual-dining restaurant, Contour.
The Louise is a solid Barossa choice, but at the time of press, we found that its striking gastronomy overshadowed what it offered by way of accommodation. Yet, if we were to label it as destination dining with rooms, that would categorically be selling it short. If its owners can match the experiential quality of its suites to its restaurant, pool, surroundings and service, The Louise would be absolute perfection.
Photography courtesy of Baillie Lodges