In the sun-kissed Adelaide Hills, one five-starred property pairs sweeping views of the surrounding landscape with a holistic concept of relaxation that comes over travellers as though at the push of a button: Sequoia Lodge is intimate in scale, but large in ambition, and it's hard to get enough of it.
If a Bond villain were nice, they would, Persian cat in lap, plan their (benevolent) world takeover from a suite at Sequoia Lodge, such is its consummate union of privacy, luxury, beauty and tech. Every surface, every object in each of the 14 sustainably designed, 75-square-metre split-level spaces is quietly spectacular, from the wall of raw, creamy sandstone flags to the multi-tasking, Kubrick in space-evoking wellness shower to the sumptuous oils of native South Australian flora by local artist Stephen Trebilcock to the huge 'moon window' that beams thousands of stars to your king-size bed (should these not suffice, the lodge's elegant lounge also has its own Celestron telescope for guest use).
More remarkable still is the way all these seamlessly harmonise to spotlight Sequoia's one truly priceless feature. It's a minor masterstroke that, flames flickering in the sleek hearth, the blinds on each hilltop suite's 12 square metres of windows begin to rise as its guests are shown in, slowly revealing via a generous private sun terrace uninterrupted, panoramic views across Adelaide Hills' Piccadilly Valley, a lush, undulating quilt of vineyards, farmland, ancient forest and endless sky. Repainted in new colours every hour as the sun arcs its path, the view offers 24/7 immersion in the prodigious graciousness of the region. And there's plenty of scope for personalising your experience of the space, thanks to two intuitive wall panels that put control of mood lighting, temperature, soundtrack (whether courtesy of one of the preloaded playlists or Bluetoothing your device into the state-of-the-art integrated sound system), fireplace and those epic blinds at your fingertips.
Built for a cool $18 million and open since August 2021, the adults-only Sequoia Lodge sits high on the side of Mount Lofty – barely believably, given the pristine rural landscapes cradling the winding roads up here, just 20 minutes from the state capital's city centre. Beyond the suites its compact grounds encompass an intimate, relaxed lounge/bar/restaurant space, a day spa and a landscaped garden with two hot spring-fed soaking pools and a small infinity pool. Its every detail springs from the richly simple concept of offering its guests unparalleled access to the area's unique treasures, within four themes – discovering exceptional local produce and producers, encountering the abundant indigenous wildlife, absorbing the natural environment and its cultural power, and simply surrendering to the deep relaxation such a place offers.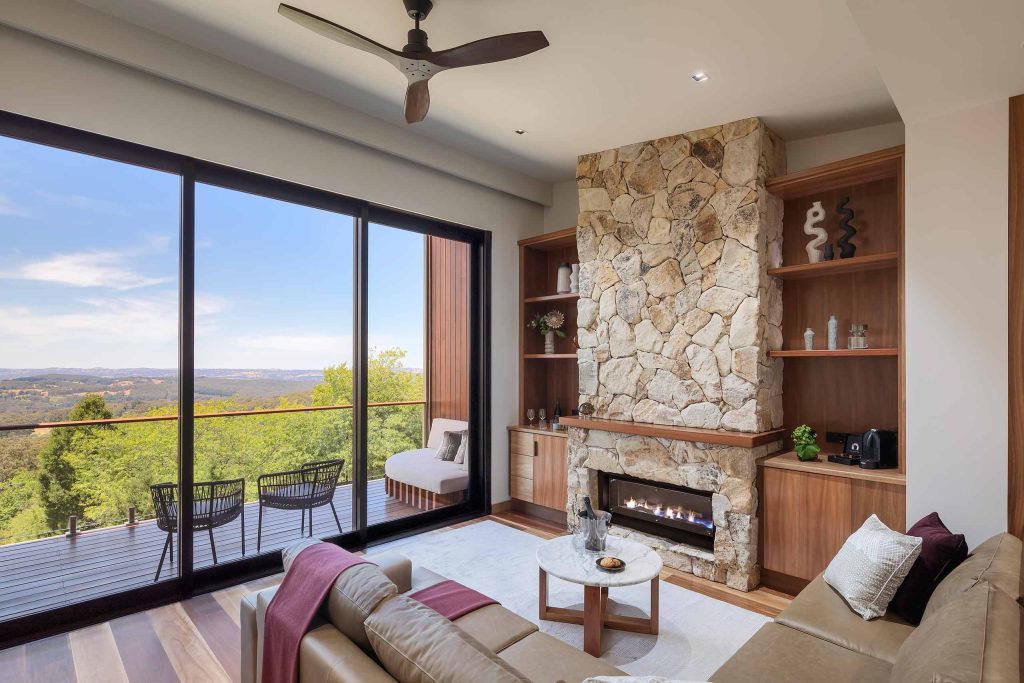 | | | |
| --- | --- | --- |
| Perfect for | Fly into | Right on time |
| The Escapist | ADL | GMT +9:30 |
While you're Out There
Just drive. The sinuous, seriously scenic, pretty-much empty roads in this area weave at altitude through ancient forest canopies, swoop down picturesque hills and skirt twinkling lakes. The tips for glorious wineries, restaurants and distilleries to stop off at – and they are legion – will simply come and find you, via folk you meet here. That's the Adelaide Hills way. So point your automobile wherever, and enjoy. 
On our check-in day, we were invited to join an informal late-afternoon welcome gathering for new arrivals, accompanied by fine local wines, cheese and stories of the area's history from lodge ambassador Naomi. It quickly sowed an easy sense of community that saw us swapping tips for local restaurants, distilleries and boutiques each time we passed in the lounge or grounds, and synchronising bookings of the spring-fed pools to swap more travel tales over cocktails.
Other imaginative inclusions include 'Maker & Somm' tastings co-hosted by Mauritius-born sommelier Liinaa Berry, wine director of the neighbouring five-star boutique hotel Mount Lofty House and a guest local winemaker that take advantage of the spot's globally unique location within 50km of four world-class wine regions. Artisanal food of the region takes centre stage at other regular presentations by guest producers, while fireside sunsets in the lounge are accompanied by ancient creation stories narrated by representatives of the Aboriginal peoples who are this region's traditional owners. Guided and unguided walks are also offered in the 30-acre grounds and adjoining botanic garden of the historic Mount Lofty Estate – former home of British-born statesman and bon viveur Arthur Hardy whose storied 19th-century bacchanals earned him the nickname 'Gatsby of the Hills', and of which Sequoia is the newest outpost.
More rarefied experiences are available as à la carte add-ons, including helicopter tours to further-flung vineyards, a behind-the-scenes tour and custom boot crafting at iconic local outback-chic clothing brand R.M. Williams and modish motoring on the area's insanely scenic roads in a hired Ferrari, Aston Martin or Lamborghini. And few guests miss the chance to sample a four or seven-course tasting menu at Mount Lofty House's Harvey's Verandah Restaurant, considered one of Australia's top ten. But for us, it was the combination of such extravagant treats with simple, rootsy touches that expressed the uniqueness of Sequoia – sprigs of garden-cut rosemary on the turn-down tray, handwritten notes offering friendly suggestions for your stay, and homemade popcorn made by a local 14-year-old boy simply known as Sam. 
Photography courtesy of Sequoia Lodge