It's curious to think that most visitors who come to stay at Weemilah Luxury Retreat in South Australia's pretty McLaren Vale will want to spend most of their time outdoors – without, however, actually leaving this contemporarily designed and ultra-experiential hotel, which offers everything from outdoors baths to helicopter rides.
Sitting under the star-filled South Australian sky in a stone bath, on the edge of a minimalist wooden deck, after watching one of the most spectacular sunsets we've ever seen, was undoubtedly one of the highlights of our trip to this sublime part of the world. Wedged into a hillside within 52 acres of charming natural wooded land Weemilah Luxury Retreat offers complete privacy and seclusion. We could almost feel our blood pressure drop as soon as we drove through the automated private gates and onto the property.
The grounds are shared with Weemilah's owners Mei Ling and Paul who's own house sits some 200 meters up the tree-covered hill, but the only times we were reminded that we weren't completely on our own is when Paul landed in one of his two helicopters or one of the many wild kangaroos (which freely roam the grounds) paid us an impromptu visit.
The couple bought the land a few years ago and set about converting the existing property to a stylish two-bedroom holiday let, and simultaneously building another house for themselves further up the hill, complete with a vast garage for their helicopters. Guests are able to book sightseeing flights and we highly recommend doing so. This is a spectacular region with a variety of landscapes: from rolling hills to a multitude of vineyards and of course its world-class coastline.
It's hard to imagine how they could have done the conversion any better. Both amply proportioned bedrooms are set at either end of a large open plan living area, which offers privacy for sharing couples (this is very much a grown-up property), and a very well-equipped, designer kitchen with a huge island – perfect for preparing meals for a cosy night in. Both bedrooms feature luxuriously large beds and en-suites; the master bathroom being twice the size of the other but the smaller one is still amply proportioned with an indulgent rain shower. There is also a private deck adjacent to the smaller room which was the perfect spot to enjoy our morning coffee. Parking is no issue (McLaren Vale is very much a 4×4 drivers paradise), and there was plenty of room to park two large vehicles.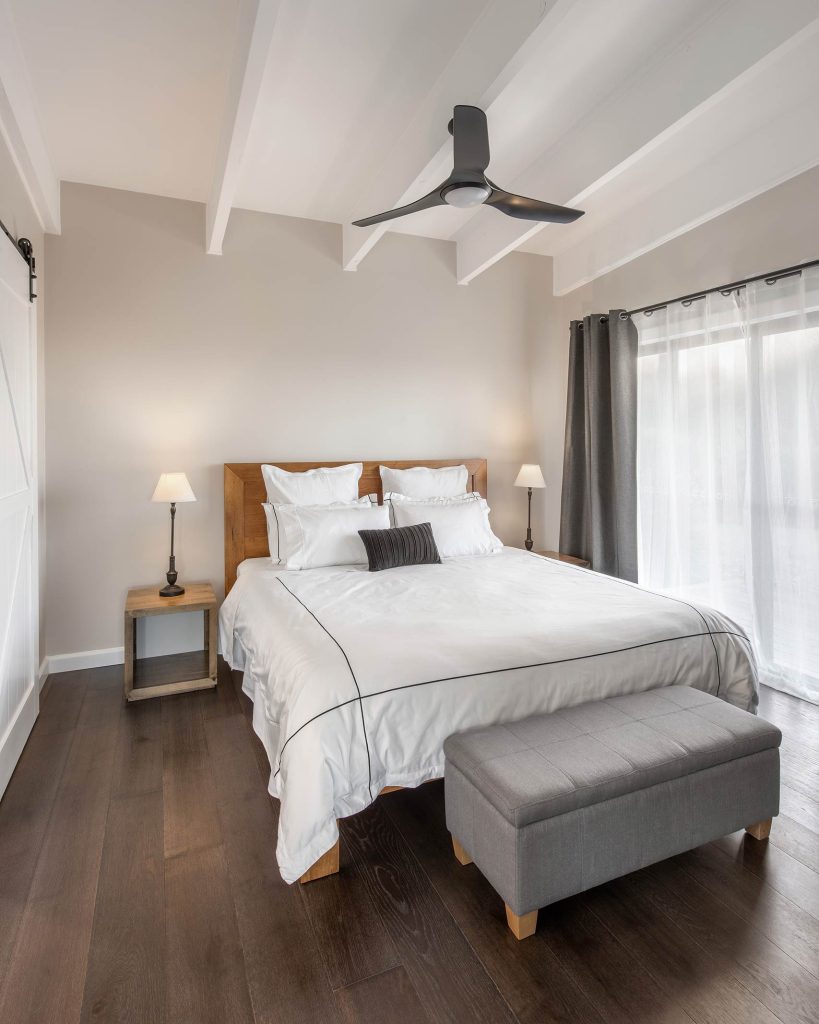 | | | |
| --- | --- | --- |
| Perfect for | Fly into | Right on time |
| The Escapist | ADL | GMT +9:30 |
While you're Out There
If you can actually drag yourself away from Weemilah Luxury Retreat, there is no shortage of choices for activities. But a memorable experience is a visit to the world-famous d'Arenberg Winery with its quirky Rubik's cube-inspired visitor centre. We were honoured to have been given a tour by none other than d'Arenberg's owner and highly prolific artist, Chester Osborn, whose family has run the label since 1912.

Chester's unique and whimsical artwork fills almost every corner of the building. A word player extraordinaire, we think it's safe to say that Chester cannot resist a pun. We lost track of the number of different ways he interpreted the intentionally puzzling names of the brand's 60 award-winning wines. Amazingly Chester tells us that this is only the tip of the iceberg – his studio contains thousands more. It's a wonder how he has the time to be so hands-on with one of Australia's most successful wine brands.

The d'Arenberg's Cube also houses an excellent restaurant and a multi-sensory cellar door experience; the bar itself is entirely covered with video screens. At the time of our visit, the Cube was also hosting a Salvador Dali exhibition, but regardless there is more than enough art here to occupy even the most voracious art lover.
There's something reminiscent of Frank Lloyd-Wright's hand about this house; perhaps it's the combination of modernist principals, honest materials and sheer comfortable liveability packaged in a sophisticated and understated pallet of slate grey and gallery white. In the main living space are two stone feature walls, preserved from the original building, flanking a comfortable sitting area. A floor-to-ceiling glass wall stretches across the entire length of the house, giving the interior an airy contemporary feel. Large sliding glass doors offer easy access to a wide wooden deck, (complete with the requisite high-quality Aussie barbecue), and a step down into an outdoor bathroom with a stone bath.
Stunning views across the patchwork of McLaren Vale's wine-lands and vast, changing South Australian skies, can be seen from almost everywhere in and around the property. Adjacent to the house, clever planting of local species of plants softens the edges of the property and gradually gives way to open bushland. We almost felt compelled to do some yoga and meditation and take slow rambling walks around the property, which has benefited from Mei Ling and Paul planting some 15,000 trees and shrubs, homing a plethora of wildlife, including a large number of different bird species and even a few koalas.
The grounds at Weemilah Luxury Retreat feel timeless, and on Mei Ling and Paul's invitation, we felt drawn to wander around them. At one point we took a photograph of some magnificent ancient fallen gum trees, only to later discover that in the middle of the picture was a family of kangaroos staring right at the camera. It's not often we find sights like this, and it was genuinely hard to leave to continue our travels.
Photography courtesy of Weemilah Luxury Retreat