Trendy Bangkokians are all about the Kimpton Maa-Lai, which opened during the pandemic and has risen in notoriety to become one of the city's top lifestyle hotels. We could tell that we were among the it-crowd during our stay at this urban enclave, simply by the number of perfectly preened designer pooches also in residence (all Kimptons worldwide, including this one, are dog-friendly).
The Kimpton Maa-Lai exudes the feel of a sleek, contemporary condominium complex, towering into the city's skyline. The sky-scraping height of the hotel offered us fantastic views of the city (even from the comfort of our bed, thanks to curtains that open at the touch of a button).
Our large 124 sqm / 1,335 sq ft 'Executive Suite' was a light and airy, modern apartment. We did note that of the 362 keys here, 131 are serviced apartments, so if you're looking for a home-from-home, that's an option too. They're all furnished with neutral, contemporary décor, embracing a harmonious blend of textures and colours, creating a chic ambience a world away from the usual 'teak and silk' aesthetic that you find in Thai hotels. This totally appealed to us future-forward OutThere travellers.
We were impressed by its sheer size, our living room was like a ballroom, the centrepiece of which was a stunning marble dining table that seats eight, not to mention a bar. Floor-to-ceiling windows offer sweeping views of the city's vibrant energy and let plenty of light in. Outside, a large balcony with its own seating area is suspended in the sky.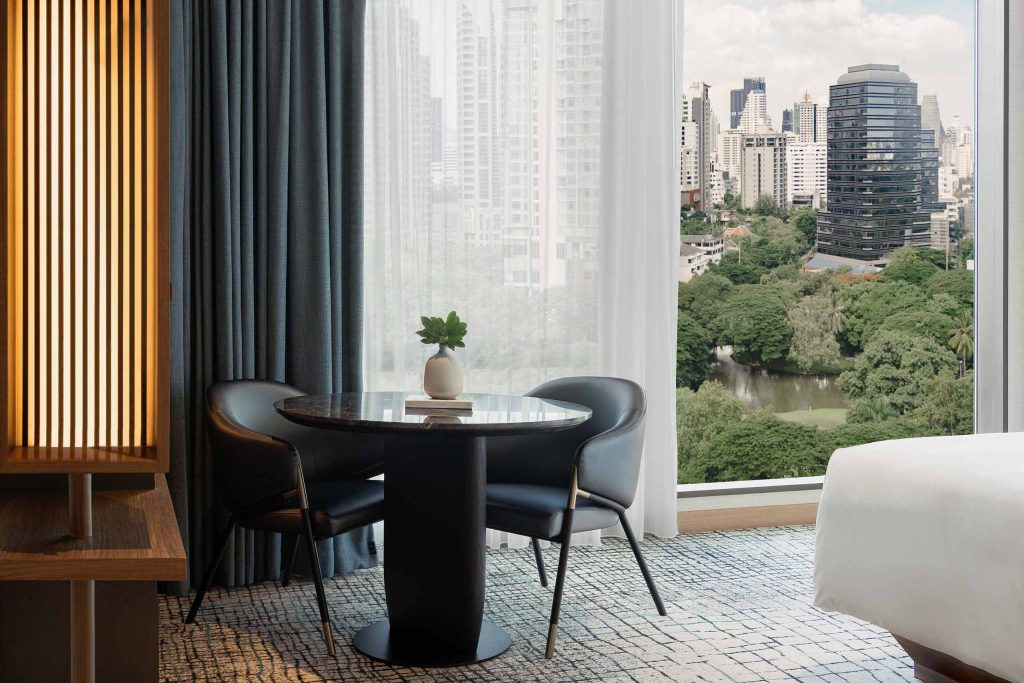 | | | |
| --- | --- | --- |
| Perfect for | Fly into | Right on time |
| The Insider | BKK | GMT +7 |
While you're Out There
Bustling, cosmopolitan and contemporary Khrungthep Manakorn (Bangkok) is right at your doorstep. Just a short walk from the hotel, you'll find amazing shopping, restaurants and bars. LGBTQ+ OutThere travellers will like that at time of press, Drag Race Thailand and Drag Race UK vs The World superstar Pangina Heals' cabaret bar, House of Heals is just a 15-minute walk from the hotel: 'You better werq!'
Kimpton Maa-Lai is very proud of its bathrooms, so it's worth us mentioning them. Ours was a serene, white, contemporary space with the very best in bathroom tech and amenities: like Haarn cosmetics, exclusively designed for this Kimpton, colourful robes by Christian Devleter for Tube Gallery, and a bath bomb menu. Shower singers like us will love rocking out along to the music playing from the Vifa Helsinki sound system.
In line with its lifestyle creds, the Kimpton has a gorgeous outdoor pool (which was at the time of our visit strangely empty… but we're not complaining!) and a well-equipped gym with complimentary personal training sessions. We even mustered up the energy to try a Muay Thai class. And the spa here is absolutely sublime, our therapy is executed by an expert masseuse who beyond completing the treatment, pinpointed the cause of our recurring back issues and taught us some stretches to improve them as we travel.
Service at Kimpton Maa Lai is attentive and personalised, reflecting the global brand's ethos of providing an inclusive welcoming atmosphere. Being the first Kimpton to open in Asia, it couldn't have been an easy task to introduce the brand standards. But with the staff dedicated to ensuring guests feel truly celebrated, it seems they have succeeded from the get-go.
Photography courtesy of The Kimpton Hotel & Restaurant Group