The Kimpton Kitalay Samui is a contemporary Koh Samui island getaway that celebrates the spirit of island living. With its bohemian-inspired design and laid-back ambience, the resort invites guests to immerse themselves in the carefree essence of tropical escapism
Kimpton is steadily making its mark on Thailand as a popular lifestyle brand, but the jet-set's eyes are on this; its first beach resort in the country. Koh Samui was selected as the initial island outpost of its popular Bangkok hub. It's right on the water over Choeng Mon Beach, with 138 rooms, suites and villas arranged collectively like a seaside village. The sea-shanty-esque name of the resort pays tribute to a seafaring Thai tribe, so it's no surprise that the Kimpton Kitalay Samui is all about connecting guests to the sea.
A limo from the airport set a luxurious tone, but we liked the more barefoot luxury vibe that followed. Our 'One-bedroom Oceanfront Pool Villa' offered privacy and our own little garden and swimming pool, right on the pristine beach. We spent much time here on our daybed, with a book and fresh coconuts, relaxing and getting into the Samui vibe.
The hardware and architecture at the Kimpton Kitalay Samui were somewhat unremarkable, but thankfully the interiors were more sumptuous, in earthy and contemporary Thai style. Our villa was laid out in a two-bungalow style, with a courtyard in between the bedroom and bathroom, meaning that even in the middle of the night you had to cross it to get between the two (so if you're not into that, please do enquire ahead). The incentive is that the bathroom featured an enticing oversized tub, surrounded by rustic Thai tiles to mimic the sea and the horizon.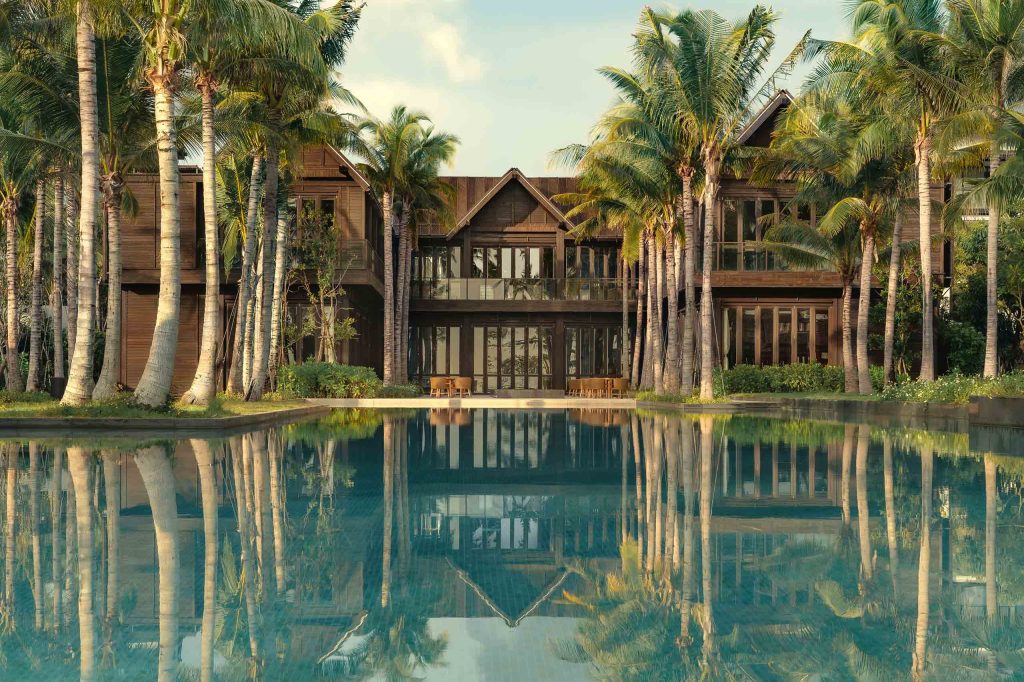 | | | |
| --- | --- | --- |
| Perfect for | Fly into | Right on time |
| The Escapist | USM | GMT +7 |
While you're Out There
The Pimãanda by HARNN spa at the Kimpton Samui Kitalay takes blue-health seriously and treatments here include therapies featuring – you guessed it – sea-inspired elements and touches of local island culture. We came away smelling of their signature sea salt and patchouli; which thankfully they've bottled and let us take home as a sensorial reminder of our stay here.
If you're a size queen (perhaps a sprawling 224 sqm / 2,411 sq ft space isn't enough room for you and your party) you can connect multiple villas through their courtyards to create a personal, little holiday village. Otherwise, the resort's two-bedroom Villa Kitalay is the ultimate beachfront home from home, at an amazing 628 sqm / 6,760 sq ft worth of space. It comes with its own lap pool just steps from the beach, and a separate living area and dining quarters too, so you can order in from one of the hotel's five – yes, five – original dining outlets, offering a world of cuisine.
When we opted to mix with other guests, we visited The FishHouse Restaurant and Bar, where the seafood was exquisite and the ambience romantic (especially during cocktail hour at their sala by the sea, Ocean Living Room).
All in all, we liked the relaxed seaside retreat vibe at the Kimpton Samui Kitalay. Our days passed slowly here, and we emerged at the end of our stay feeling rather refreshed. So, if you're looking for a casual and vibrant escape by the sea, that embraces the laid-back spirit of Koh Samui, this resort is a solid choice.
Photography courtesy of Kimpton Hotels & Restaurants