At just over half a million square kilometres, Thailand offers travellers plenty of space to get truly 'out there'. The country's national parks have graced the covers of travel magazines for decades and its famous beaches are the stuff of legends. To declare the Kingdom Southeast Asia's original holiday destination – and its most welcoming one, too – is no exaggeration. And yet, large parts of Thailand remain unknown even to the most discerning of travellers.
We're no strangers ourselves to revisiting some of our favourite, sacred sights; from the temples of Chiang Mai to the tailors of Bangkok, the most touristed city in the world for several years in a row. But a wind of change is blowing through luxury travel and more generally, society. Privacy and seclusion have become all the rage and to many, simply being away from home no longer fits the recreational bill. Instead, one needs to be away from it all – and that, we know a thing or two about.
To experience your own little, private slice of the Thai Kingdom, venture out into its most remote corners and bed down at its most tucked-away resorts. We'll meet you there. Or will we?
Head to the lesser-visited islands
Somewhere between Phuket and Koh Samui (though, in most cases, not geographically speaking), there is a myriad of islands that have largely remained off the tourist trail. And in the case of pretty Koh Yao Noi, that's actually rather surprising: under an hour by speedboat from either Phuket or Krabi, Yao Noi feels a world and a half away from both. Life in the island's villages has retained an idyllically rural, Thai flavour and the party hostels of Patong beach are nowhere to be found. Instead, Koh Yao Noi is home to a small number of low-key but high-end luxury hotels, where OutThere travellers sip on pool-side Mai Thais whilst cultivating a tropical tan.
Want to go more remote, still? Despite rising popularity in recent years, Koh Lipe has lost neither its laidback vibe, nor the soft-like-cotton beaches that have earned the island its nickname: 'the Maldives of Thailand'. And don't get us started on the dreamy isles of the Similan archipelago…
Check into Thailand's most exclusive resorts
Did you really think we were going to tell you about Koh Yao Noi and not mention our favourite resort on the island? The stunning Six Senses Yao Noi easily ranks among Thailand's finest hideaways, and that's not least due to its formidable offering of jungle villas. Equipped with everything from private pools to private cinemas, they offer the utmost of personal space for guests in search of tranquility. Though should you prefer saltwater, we suggest you book yourself into Six Senses' Ocean Retreat villa, which features a private walkway down to the beach – when in Thailand, right?
Another notably shielded resort, albeit on the popular island of Koh Samui, is the Belmond Napasai. Samui or not, the hotel's standalone villas surrounded by 43 acres of verdant fields make the Belmond a respite from the outside world, and the brand's warm approach to hospitality means guests can feel right at home. Should you tire of isolation eventually (we're always ones to mingle), the Napasai offers some fabulous ways to socialise; from sunrise yoga classes to culinary demonstrations.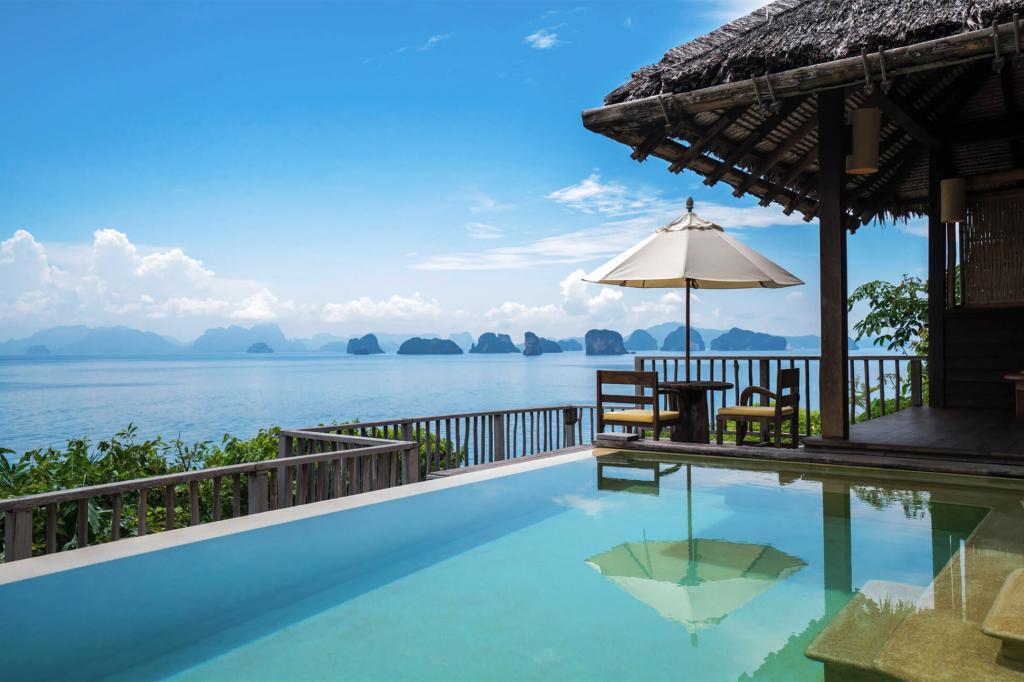 Explore off-the-beaten-track destinations
Discovering Thailand's lesser-known treasures can be as simple as escaping Bangkok for a day or two. Though the intrepid travellers we like to think we are, we'd strongly suggest you head further, still. Only the most determined make it up to the village of Pai (and that's not least due to the winding roads you'll have to face getting here). Once in town, don't expect upscale resorts or fine dining – Pai is all about its Bohemian spirit and proximity to places of great natural beauty. On a previous stay, we've quite literally walked into postcard-worthy landscapes from our humble but charming hotel, stopping by tea plantations and taking in scenes of rural Thailand long forgotten elsewhere.
Speaking of which, the sleepy village of Mae Hong Son feels like a journey to a different time. A two-hour drive from Pai, this out-of-the-way (and out-of-the-past) destination boasts with picturesque rice terraces, misty lakes and views that invite the mind to wander. If your longing for privacy is rooted in a desire for more headspace, you'll find it here – and not much else, at all.
*This article is in collaboration with www.GoThaiBeFree.com