It'd be difficult to reinvent a destination to the extent where you hardly feel like you're in it at all (and it wouldn't be very desirable, either!), but Olivia Immesi says you can get more out of a place when staying with Native Aparthotels. The 1998-founded brand, which stands out from a slew of more recently established aparthotel companies, takes a strong stand on forming a part of its local communities – and on inviting everyone to the table. In an exclusive sit-down with OutThere, Managing Director Olivia Immesi explains why.
There's a lot that speaks for booking a room with an aparthotel if you're planning a longer stay and tremble at the thought of repeat restaurant meals (we get it; we miss our self-made arrabbiata on travels, too…). From total discretion to a less hotel-like and more residential atmosphere, or the mere fact that your home-away-from-home won't be touched unless you ask for a clean-up. Aparthotels can, however, lack in character and luxury – not so at Native, tells us the brand's Managing Director Olivia Immesi, whose definition of luxury is less to do with white-gloved butlers and more with giving guests access to all that's fun and fabulous in a property's neighbourhood: 'We adore celebrating the artisans and original thinkers within each of our locations' says Immesi, 'and we have a place in our communities, not just connections to it'.
And there's real value in those words, not least because of who they come from. Credited for her previous work with pioneering brands Ace Hotel and The Hoxton, Olivia Immesi has proven to have her finger on the pulse of the time. Accordingly, she's also proud to talk about Native's clear positioning on matters of diversity: 'We practice radical inclusivity, meaning no one is forced to be someone they're not'. The brand itself, mind you, lists an individual's 'Freedom to be' as one of its key pillars on their website. And they've doubled-down on this creed with special events to celebrate Pride throughout the UK in 2022, an initiative paired with high visibility of the community across Native's social media channels.
We'll be honest with you: if your usual go-to is something along the lines of The Lanesborough or The Savoy, you might find yourself missing that more established brand of luxury which finds its expression in gilded chandeliers, Michelin-starred room service and Italian marble bathrooms. But that's not what Native Aparthotels try to do anyway. We get the sense that service here is as warm as it gets (there's nothing wrong with that if you ask us, so long as it's good!), and guests are likely to have one hell of a fun stay, getting just that extra bit deeper under the skin of the local neighbourhood by being exposed to its most interesting artisans and creative minds. There isn't a lot to tempt us away from the world's most revered landmark hotels and experiential resorts – and it's not like there's a lack of those – but for a brand to try and shake things up while celebrating diversity the way that Native does, it might just suffice to make us crave a little one-week staycation in the UK… or make that two weeks, it's an aparthotel after all.
Aparthotels constitute real alternatives to regular hotels, but they can feel rather business-oriented. Native promises to offer a more vibrant and personal experience. Where is the luxury in staying with you?
Luxury can take so many forms. We see it as providing engaged service, a great place and providing those unique experiences for our customers so they can stay somewhere original. We provide stylish design, extra space, greater flexibility, and magnetic people while bringing together the best of two worlds – hotels and apartments – and forming real connections within our local communities. It's important for us to celebrate the creators and artisans in each area so that our guests can experience them with every stay. Our customers want to inhabit spaces that provide connection and originality and somewhere with a social conscious, which Native provides. For us luxury must be sustainable in every aspect of what we offer.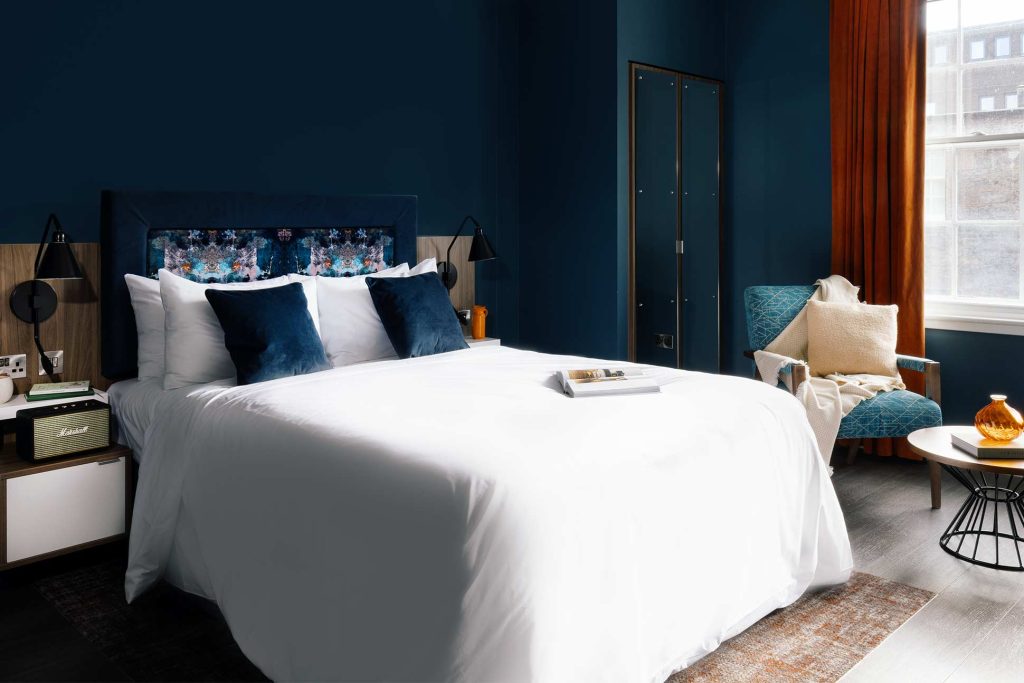 Tell us about Native Edinburgh, which recently relaunched after a 14-month renovation.
We did a full refurbishment of the property. The design for Native Edinburgh's refurbishment was inspired by 'The Inventors' who lived within the city. The famed Scottish inventors include John Logie Baird, inventor of the television, Sir Alexander Fleming who discovered penicillin and won a Nobel Prize, and William Cullen, inventor of the refrigerator. The history of the Scottish inventors surrounds the streets around the property, and the new design aims to highlight this unique history through the décor, artwork and quirky gadgets used decoratively.
The new interiors combine amber whisky tones with the midnight teal colours of the night sky above the Georgian facades of Edinburgh's New Town, where the property resides. Rich colours including the bright gold palette are reminiscent of the local area that was originally built to bring wealth back to the burgh of The Whisky Barone. The reimagined heritage-inspired Lobby space showcases opulent green hues and botanical themed prints, taking inspiration from the Royal Botanic Gardens – a natural treasure of Scotland – and original Georgian windows allow natural light to flood in over mid-century style furniture.
You mentioned the local community is a key component of each property. For instance, Native Edinburgh has teamed up with Scottish designer Maira Helena, whose wallpapers adorn the lobby. How do some of your other aparthotels – and their guests – engage with the neighbourhoods they're in?
Champions of local is one of our core values. We adore celebrating the artisans and original thinkers within each of our locations. We have a place in our communities, not just connections to it. The team within each location are highly engaged in hunting out the most diverse list of interesting shops, galleries, hangouts, restaurants, bars, and coffee stops – our 'Neighbourhood Heroes'. We then share these insights with our guests, promote each of them across all our platforms for our community to enjoy, and program a calendar of events partnering with as many as possible local talents and businesses in our venues. We want to give people the best tips for when they want to go out and put on the best events for when you want to stay in – from Pawcorn movie nights with our four-legged friends in Manchester's Mini-cini, to pop-up shops with our local store Revolver Vintage. In short, Native champions local people and produce, and we're proud of it.
Native also embraced a very specific community, the LGBTQ+ community, during Pride celebrations across the country this year, and perhaps most specifically, in Manchester. How were the events received?
All our LGBTQ+ programming and activations were extremely well received throughout Native, as these talk directly to our core customers. We strive to program our spaces with events that are accessible and inclusive to all and speak to a wide audience. In today's polarized world, it's important to us to ensure that all voices are heard and celebrated, which explains why diversity is so significant to us as a brand.
At OutThere, diversity is our single-most important core value. What role does diversity play at Native, and how do you make sure it's implemented in the way guests are celebrated at Native, but also internally?
We practice radical inclusivity. No one is forced to be someone they're not. This means being optimistic, pushing boundaries, promoting new voices, and always looking for win-wins. We want both our people and our guests to have the freedom to be themselves. We actively encourage our team to bring their whole personality to work and engage with our customers as they would with a friend. This style of service and freedom really attracts such a broad range of characters to become part of our team. We want to create an atmosphere where everyone feels comfortable. That melting pot of diversity creates vibrant spaces and guests can really feel that energy.
The market for aparthotels is growing, and innovation is key in setting yourself apart from other brands. How does your previous experience with trailblazing brands such as The Hoxton or Ace Hotel shape what you're doing at Native?
I have been fortunate enough to be involved with some wonderful brands from their conception stages and was privileged to work with amazing people, pushing boundaries, taking risks, providing a platform for creative thinkers and new voices. All these things really resonated with me as an individual and spoke to such a broad range of customers. They didn't feel like jobs; it was a collaboration of great minds that wanted the best for their guests, their colleagues, and their community. This has always been my ethos with any brand or team I build and continues with my journey at Native.
The team you have around you is vital, and I have found the best way to attract and retain talent is allowing creativity, risk taking and creating a culture that allows people to completely be themselves. Once you have the right team, it's about creating that vibrancy within your properties. The symbiotic relationship between cultural connection and the comfort of home is how to differentiate yourself in a growing market. We attract the curious traveller by providing something original and new. Guests don't want a cream box – they want fun spaces, with empathetic and engaged service, that offer a piece of the local life.
Luxury travellers are increasingly looking to support destinations and brands with a strong moral compass, and sustainability is among the top concerns of any one holidaymaker. What is it about the way aparthotels are run, that can make them more eco-friendly?
Apartment-living is, by nature, more eco-friendly. A stay at Native uses less water, energy, and materials compared to a hotel stay. That's just the nature of staying in an aparthotel where you tell us when you want cleaning. Not the other way around. Because we're part of the communities we operate in, we know and use the best local suppliers and brands. We also actively source from suppliers with green credentials and good ethics. LED lights, motion sensors, heating timers, electricity from a renewable source… These are the marginal gains that help us do better every day. Zero waste to landfill, zero single-use plastic bottles, zero harmful chemicals in reusable containers. Recycling and reusing also plays a big part in daily operations.
Native has properties across the UK's main urban centres. Do you see the brand ever venturing into the Great British countryside, or even open an aparthotel abroad?
City locations will continue to be the focus for Native now. We are actively working on having a property in most of the key cities throughout the UK. Then we will set our sights on Europe and beyond.
And where are you off to on your next vacation?
I recently returned from our family holiday in Tulum, Mexico. It was our first-time long haul with all three children – we managed to keep our 7-year-old entertained throughout the flight – and we wanted to take them on an adventure, which they loved. The next holiday is to Courmayeur, Italy, for snow and lots of pasta with my husband's family. Needless to say, we're all pretty excited!
Photography courtesy of Native Places
Olivia Immesi