In times past, when religious construct dictated social behaviour, Shakespeare found ever more discerning ways to convey queer desire to the masses, cloaking fervent passion in valorised language. Today, audiences are still fascinated by the deep meaning behind his fierce interest in queer desire as a human experience – and London's legendary Shakespeare's Globe is helping them uncover it.
As Pride month picks up momentum, we've turned our attention to queer history in London. One of the less obvious places we have discovered is Shakespeare's Globe. In celebration of Pride in London, the theatre will bring queer characters (from Shakespeare's time) and their stories to life in a Pride Guided Tour. First introduced in 2022, the tour explains how the English playwright introduced queer characters and icons to his audiences and explores the vivid records of diverse sexualities and gender identities in his work. In addition, it takes a dive into Sonnets as well as queer relationships in some of Shakespeare's most renowned plays.
'Modern celebrations of Pride can be a part of iconic things such as Shakespeare', says Dr. Will Tosh, the theatre's in-house academic who's an expert on queerness in Shakespeare: 'Queer desire isn't something new. It's existed since time immemorial and Shakespeare is a part of that'.
'Queer culture at the time didn't look like it does today; it wasn't as straightforward because we lived in a theocracy. The church was in charge of social behaviour and it wasn't a fan of any of it: male-on-male sex, gender nonconformity, sex for pleasure or sex outside of marriage. They would have been horrified to know that it existed'.
According to Tosh, sexually explicit, passionate, intimate queer desire certainly existed. Males at the time could be unbelievably intimate and that was permitted. Valorised, passionate language used by Shakespeare to describe male friendships worked as a cover and could easily be eroticised.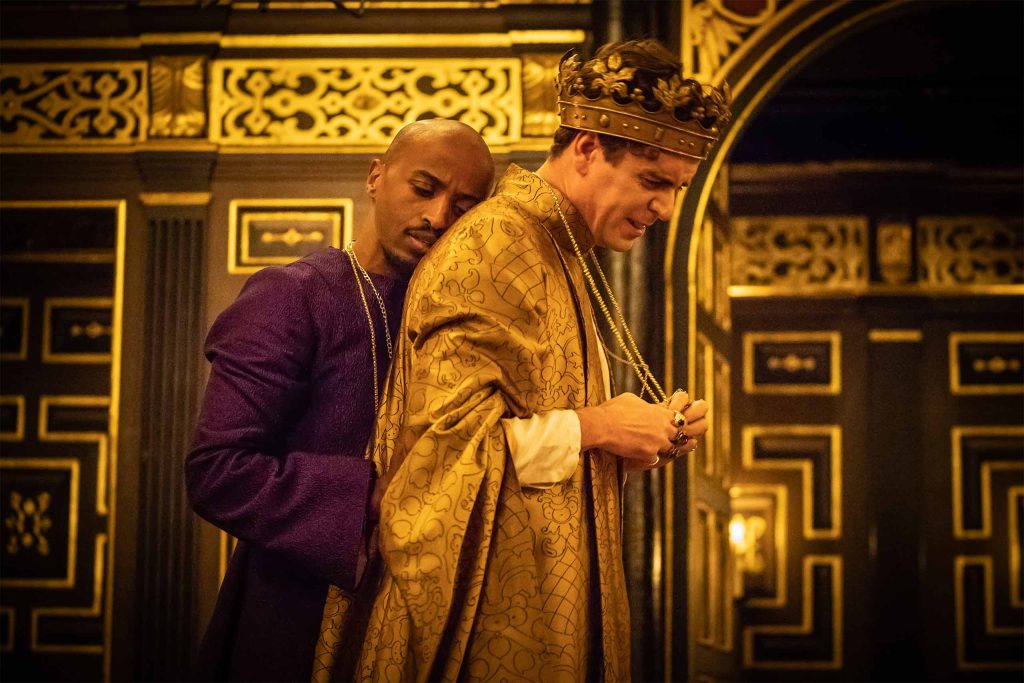 'Two-thirds of Sonnets are addressed to a young man. One of the best known – Sonnet 20 – clearly mentions that the person I love is the master-mistress of my desire', continues Tosh.
'Contemporary theatre allowed queerness on the stage. The cast was entirely male and audiences were expected to be aroused by it. Shakespeare knew it, he drew from it and he platformed it. The actors playing women were young men. Shakespeare played on this idea of a woman really being a male. It was an avenue for queer desire'.
We see this in relationships like that of Antonio or Sebastian in Twelfth Night. Antonio's emotions towards Sebastian echo unrequited love, passion and desire, and the unpredictability that accompanies it. In The Merchant of Venice, Antonio risking his life and financially supporting Bassanio certainly suggests that Antonio's feelings ran deeper than a conventional love.
'Shakespeare was exploiting queer desire. He was passionately interested in it as an avenue of the human experience', says Tosh: 'And that's a far more interesting question than wondering whether he identified as a gay man'.
Shakespeare did not mean for his work to be a scholarly conserve; he wrote plays for the masses to be enjoyed in a theatre that was inexpensive and widely accessible. In the same spirit, this summer, Shakespeare's Globe runs A Midsummer Night's Dream (until 12 Aug) and As You Like It (18 Aug-29 Oct) both of which examine gender identity. The Pride Guided Tour offers a deeper connection to Shakespeare's plays and a greater depth of understanding of their characters. So buy a ticket, stand in the courtyard and enjoy – as the masses did.
Photography by Hugo Glendinning, Marc Brenner, Helen Murray, courtesy of Shakespeare's Globe