What makes Thailand the progressive queer paradise it is? Empowered performers like Pangina Heals pushing society's boundaries, says Uwern Jong after meeting the star of Drag Race UK vs The World at their new brand-new club in Bangkok.
I will always remember the first time that I laid eyes on Pangina Heals. It was one of those Bangkok nights, at a time before the notion of lockdowns and a pandemic ever even crossed one's mind. They were the heady days of hedonism in the Thai capital, a time that I hope will return soon to the city I adore.
I descend deep into the belly of Maggie Choo's, a nightclub under an otherwise non-descript building. Two scantily clad male models, dressed like harem guards, greet me. They push open the double doors to a packed club: a Shanghai-themed, opium-den-esque space. Above the centrepiece bar, another muscle model lies quietly fanning himself in a cage. Bangkok's queer elite sit on plush leather sofas near a makeshift stage, while bottles of expensive vodka are poured by servers at their behest. A gaggle of young drag queens squats around the stage, one holding a giant tip jar, a couple of others fluttering huge paper fans, creating a makeshift wind machine as they throw handfuls of glitter in the air. I watch as the rest of the drag entourage almost prostrate themselves as if expecting the arrival of Thai royalty. I guess I'm not wrong. The ceiling-mounted disco lights swivel in choreographed unison, pointing at the stage.
And there she was – in all her gorgeous glory – the Asian Mariah Carey and certainly the most perfect impersonation of Mimi emancipated that I had ever seen. Their performance was elevated, a world away from the down-and-dirty bars and clubs of Silom Soi 2 and 4 and Soi Pratuchai (not that there's anything wrong with the venues there – I love a night out in Bangkok's bustling gaybourhood). But that whole evening was something I had never experienced – luxurious, camp, bilingual, hilarious, interactive and slick. I became a regular at the club whenever I returned to the city, expectant each time that Pangina would be headlining.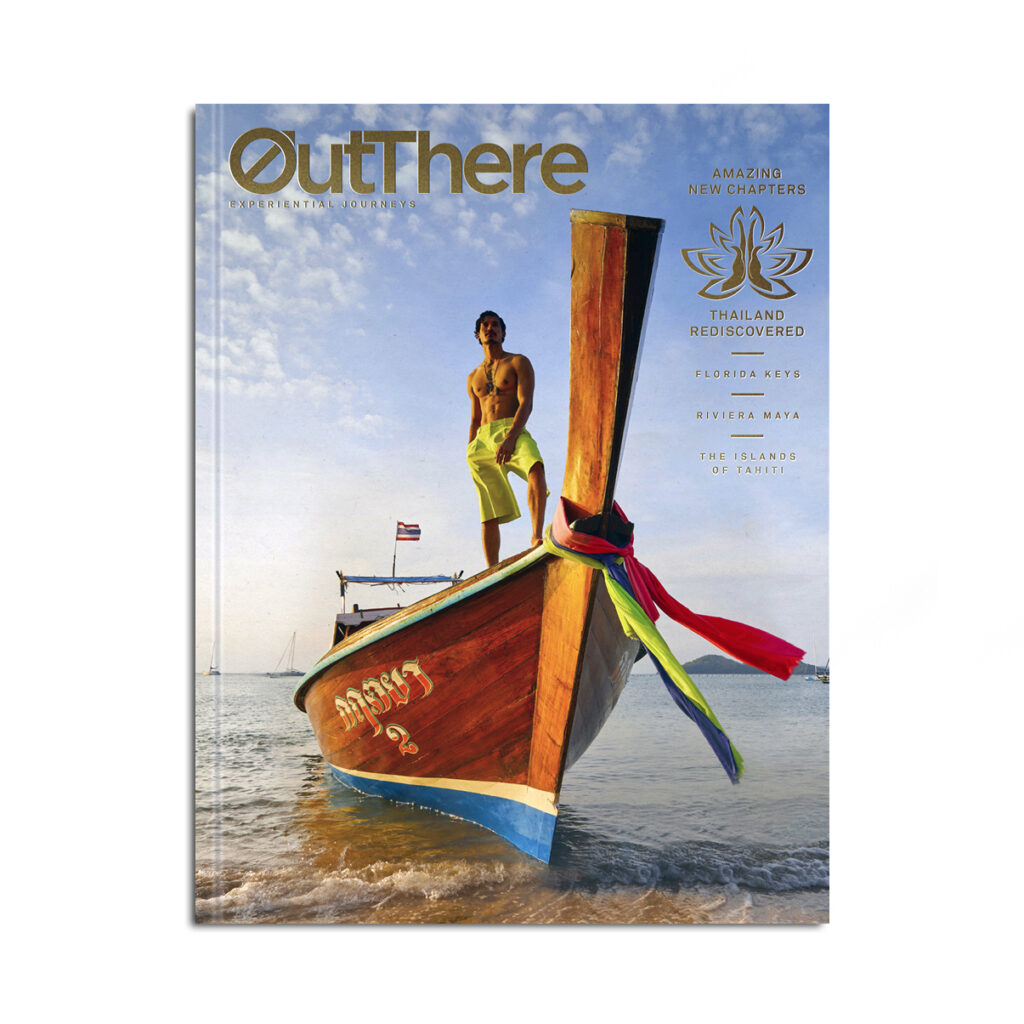 Since those early days, Pan Pan Narkpraset (Pangina's alter ego and vice versa) has become somewhat of a force to be reckoned with, and on an international scale. A role model for queer-positivity in Thailand, they have graced TV screens in the country and across the world as co-host and judge on the Thai franchise of the award-winning show Drag Race. More recently, they were a tendentious contestant – the first ever hailing from South East Asia – on Drag Race UK vs the World.
Pangina death-dropped onto the drag scene for the first time in 2010. Thailand had already long been a sanctum for female impersonators and transgender performers, but a new breed of divas was dominating both the pop and drag worlds. Diana Ross and Tina Turner lookalikes were waning in popularity, making way for Mariah, Beyoncé, Nicki Minaj and Lady Gaga. In fact, the Mother Monster herself was Pangina's calling to drag.
"There was a competition that urged people to dress up like Lady Gaga and film a music video," reminisces Pan Pan. "The winner would fly to New York to see her in concert. I had never done drag, but I won it and flew all that way only to pass out mid-concert because I was so excited. But I felt compelled to continue. Drag gave me the opportunity to live out a fantasy of complete freedom. When I walk on the street as Pangina, nine out of 10 people will tell me that I'm fierce and beautiful. For the longest time, that wasn't my experience of real life."
Drag as a conduit to self-empowerment is not an unfamiliar premise for many of its performers. On the Drag Race TV show, RuPaul Charles, the 'mother' of the popular genre as we know it today, quips their weekly catchphrase: 'if you can't love yourself, how in the hell you gonna love somebody else?'
It may come across as gender-bending, pop-culture esotericism, but there seems to be a far-reaching, unified belief that drag gives those who participate in it a palliative dose of life-saving, self-confidence. In Thai, there's a similar established saying, rooted in Buddhism, along the lines of 'find your happiness, as everyone has the right to be as happy as everybody else'.
"Drag heals," Pangina continues. "It heals those who watch me perform, but it also heals me. Beyond finding a way to get away from yourself, it is a form of kindness to take others away from the troubles in their lives. That's what my drag shows are all about – giving people the chance to escape for a moment. It is why my family name is Heals."
Pan Pan grew up in a suburb of Bangkok. Coming from a Thai-Taiwanese family, there were inevitably some traditional expectations of their son. It is something I personally know a lot about.
"My mother wanted me to procreate like a bunny," confides Pan Pan, "to carry on the family legacy and what not. So there was this undue family pressure to become someone who I obviously wasn't. I knew I was gay – watching Robbie Williams strip down in his 'Rock DJ' music-video on TV confirmed that. I was a fat, feminine and unpopular kid. I was bullied at school and didn't have many friends and, as a result, developed an eating disorder. High school was absolute hell for me. I won't even attend reunions because I don't want to relive any of it ever again. It's forgiven perhaps, but not forgotten. I've managed to pick myself up mentally by moving a long way away from those days over a long time." 
"There is the general idea that Thailand is a queer paradise. And, relative to everywhere else in the region, it really is. Like so many of the world's leading queer cities, Bangkok is a unicorn."
Even in what I would term as a 'progressive' Thailand – myself coming from just across the border in far more conservative Malaysia – societal norms and cultural stigma don't make being gay easy. The contradiction is that for most Thais, being queer is tolerated, so long as it isn't someone in your own family. In a society where face values matter, being gay is seen as a weakness or parental failure. It is rarely talked about and people take a long time – or, worse, never – to come to terms with it.
"My coming out was not voluntary," Pan Pan goes on. "My mother outed me to my father the day I left for college at UCLA. It was a double whammy, because it was also the day my first-ever boyfriend broke up with me after a whole year together. So, coming out was traumatic for me. That's why I've always been so outspoken about people coming out in their own time. You should be absolutely ready and never feel any pressure to do so. But take a look at me now – I'm still here, against all odds."
I tell them about the night I first saw them on stage as Mariah Carey. Like many who perform, Pangina's drag influences have always been about superstar divas – Whitney, Judy Garland and Barbra Streisand. But there are some amazing Thai personalities who inspire Pan Pan too.
"Art Arya, the mother of Thai drag and fellow Drag Race Thailand judge, is a mentor to me. I've learnt so much about self-expression and fashion from her – for instance, that the clothes we wear are far more than just costumes. She's also taught me to be a true professional and always to represent and respect the unique art form that Thai drag is. That's why on Drag Race UK vs the World, I was really conscious that every time I was on camera, I had to be wearing something made by a Thai designer, to represent contemporary Thainess. I wasn't there just to compete and gain exposure for myself; I went on a mission to win the crown for Thailand and Asia. There was a lot of pressure in that sense, as I wasn't just representing myself anymore, but the entire continent. I didn't just want to be what Westerners view as stereotypically Asian. I wanted to show that we are a force. And I believe that I achieved that."
For those, like me, who watched the series in earnest, you will know (spoiler alert) that Pangina got tactically eliminated by the contestant who went on to win. Their elimination was challenging to watch, as they appeared very distraught.
"I was very disappointed," confesses Pan Pan, "because I feel that representation is so important. I didn't have any of it growing up. There was never a bilingual, Asian drag queen for me to look up to. So, I desperately wanted to win this, so that every LGBTQ+ Thai or Asian kid – or, for that matter, adult – can know that life can and will get better.
"I also love Poyd (Treechada) Petcharat, a transgender actress and one of the most famous transgender women in Asia," adds Pan Pan. "She lives her truth. My friend Pataradanai (Koendanai) Setsuwan is also amazing. They are a non-binary, cross-dressing personality who broke out of boyband life to talk about mental health, which is amazing, because talking about feelings is something Thai people don't really do. I also look up to Milli, who is this unapologetic, queer, teenage rapper who is pushing back on what it means to be young and Thai. They're taking on the world and I was filled with pride to see a poster of them in Times Square, NYC.
"Lukkade (Metinee) Kingpayom, the Thai supermodel, is someone I also admire very much. I often say that she's a drag queen in the form of a biological woman. She's the epitome of feminism. She says things how they are and doesn't give a shit. I live by that and just feel that she is the most powerful woman I've ever met. And despite the fact that he's a man, Woody Milintachinda is also someone I idolise and hold dear to my heart. He's one of Thailand's leading talk-show hosts who – live on TV –came out as gay to millions of people. I identify with him: he's gay, bilingual, entrepreneurial and often finds himself between cultures with his Thai and international audiences."
I had the pleasure of meeting Woody myself. It was an intimidating experience to interview an interviewer (let alone the 'Oprah of Thailand'), but Woody put me at ease in front of the audience. He had recently wedded his partner in a magical – but unlawful – ceremony. And like many LGBTQ+ Thais, he shares a deep frustration about Thailand's stance on equal marriage. At the time of going to press, Thailand is still debating a civil-partnership bill in parliament. Despite the bill reaching its final stages, the process has been dawdling on for a number of years. And if it does get passed, around half of the country's five million LGBTQ+ people still feel that it will be a compromise, as it isn't full equality.
There is the general idea that Thailand is a queer paradise. And, relative to everywhere else in the region, it really is. Like so many of the world's leading queer cities, Bangkok is a unicorn. It has a thriving LGBTQ+ scene and community, and it's the Asian capital of gay circuit parties and liberal sex (if that's your thing). It's also a mecca for cosmetic surgery and, when it comes to gender-affirmation procedures, it's the best in the world. Outside the capital, in Thailand's beach resorts, no one bats an eyelid if you want to skip into the sunset hand-in-hand with your same-gendered loved one. Even in more rural areas, no one cares much about how you present or identify.
"But as humans and Thai citizens, we live under an umbrella of laws," explains Pan Pan. "I can't fathom why I cannot have the same rights as heterosexual people. I'm half Taiwanese, so that side of me is able to marry freely and equally as a queer person. But my Thai side is not yet able to. That seems weird to me. So, as for the civil-marriage bill, I'll believe it when I see it happen. To those people who have a problem with same-sex marriage, I say don't get married to someone of the same sex. What I do does not affect your life, so why are you affecting mine? We'll have to wait and see, but in the meantime, it is important that we continue to create safe spaces for the community and allies to interact, be themselves and enjoy great drag."
Pan Pan is referring to their newest venture, the House of Heals, a performance club space in Bangkok that they personally have created and curated. It's an admirable endeavour, especially at a time when community spaces around the world are rapidly closing and have been even before Covid hit.
"After 10 years in the industry, Pangina also knows that staging, lighting and sound are important to ensure that the performances are top-tier. Every single part of the club has been designed by them."
"Having such spaces, particularly in Thailand, is super important to me," they say. "Firstly, people have been psychologically and mentally affected by the pandemic, myself included. On a wider level, Thais love their mobile devices and we can do just about any human function with it, but it means that we are lacking human interaction. We need to bring live events back, so I've created a happy space where people can enjoy drag and this artistry with their friends. I also want to change the way people think about nightclubs. The perception is that a nightclub is all about drinking, or searching out sex, but it's so much more than that."
The House of Heals is currently right by the Erawan Shrine, in the centre of Bangkok, away from the go-go bars of Silom. It is a close to full-time queer space, open Wednesday to Sunday each week, and showcases the best performers and artists in Thailand, from live singers, to drag queens, to speciality acts. After 10 years in the industry, Pangina also knows that staging, lighting and sound are important to ensure that the performances are top-tier. Every single part of the club has been designed by them.
"This has to be an experience, a mix of luxury and camp that you don't normally see," says Pangina. "I want it to be like you've landed in this exotic rainforest and you emerge to see beautiful Thai creatures performing for your every delight. A jungle disco. I'm also so tired of the stigma that Thai nightlife has: people think we're either clowns or sex workers. I'm not okay with it. This is an amazing community of people, who bring joy to others and who, whenever there's a lockdown, are the first to be out of a job and the last to get back to work. They deserve respect. I want House of Heals to be a safe space for everyone. I love it when we have a crowd of heterosexual girls or guys in. They come for the energy. I won't ever call it a gay club, because I feel that in the past, LGBTQ+ people were excluded from so much. So why would we want to do that to others? We cry the same, we laugh the same, so why limit who can come and share in the joy? I will not complete the cycle of hate by throwing straight people out of our space. It belongs to everyone."
This said, any chance of seeing Pangina at the House of Heals is a slim one. After their Drag Race UK vs the World acclaim, they are booked out on tour and international gigs for the foreseeable future.
"I have always been a citizen of the world. Even growing up, I was all over the place – summer school in England, college in America. One time I was even sent to China for a month to learn Mandarin. So, I love being out and about. But I have a group of people at the House of Heals who I trust completely to deliver on my promise. And the more I work overseas, the more acclaim the Heals family will achieve and the more people will want to come from abroad to find out what it's all about. But, there'll be a homecoming soon, don't worry. And it'll be fabulous." I ask Pan Pan what they do when they're off work and at home in Thailand.
"Well, you'll find me eating. Thai food is the best, but all kinds of food feed my soul. You'll probably also catch me in one of Bangkok's many hipster coffee shops or somewhere that does amazing cocktails, listening to a very eclectic playlist of music, with my head buried in a comic book – usually about bad-ass superhuman heroines. Or laughing out loud to YouTube clips of female comics who do uncomfortable humour, such as Wanda Sykes, Amy Schumer, Kathy Griffin or retro Joan Rivers. This sort of humour usually comes from an experience of pain. Pain plus time equals comedy.
"Otherwise, I love running in Lumphini Park, where you can see huge monitor lizards everywhere. It's an 'only in Thailand' thing. I also love getting out into the islands and our rural outposts. There is so much of Thailand that is exceedingly beautiful. I was recently on a boat trip just off the coast of a paradise island where the boatman freedives and fishes up sea urchins and oysters for just US$20 a head. It's my best kept secret, so you'll have to do some sleuthing to find out exactly where."
There is so much that is beautiful about Thailand – in its experiences, its people and its soul. For the many who originate from neighbouring Asian countries or from other conservative places in the world, where the very concept of out, LGBTQ+ people occupying important cultural spaces would seem impossible, Thailand is a progressive paradise. For those luckier, it's a place that celebrates individuality or is at very least permissive of it. There may still be a bit of a way to go to grant true equality, but I recognise that the progress they have made here is important, albeit imperfect. But I feel it is people like Pan Pan – and the others before them and the many yet to come – who continue to push the boundaries of 'belonging' in the country, to occupy those spaces and make themselves seen and heard. For me, it is them that make Thailand so very special.
@panginaheals | www.thehealsbkk.com
Photography by Surachai Saengsuwan and courtesy of Pangina Heals