As a visitor to Bangkok, there's a vast difference between staying in the city and living in the city. MUU Bangkok – a cosmopolitan, urban oasis in a unique part of the city – offers the latter, located in the busy, much sought after and eclectic Bangkok neighbourhood, the Thonglor area in Sukhumvit.
With its concept and speakeasy bars, independent boutiques, Michelin star and listed restaurants, independent shopping and art galleries, Thonglor has risen in notoriety as one of the hippest Bangkok neighbourhoods to live in. But it's not only for residents, visitors flock here to use it as a base to explore the city.
A far cry from the big-brand, monolithic luxury hotels along the riverfront, MUU Bangkok offers something all the more alternative and laid back. In fact, the hotel's motto is 'Casually perfect, informally yours' – which prompted us to relax and make it our home from home.
The MUU Bangkok provides an intimate space that they call a stylish juxtaposition of opposites: classic and contemporary. And on brand for OutThere travellers, it's a place where personalisation and being yourself means everything. What's in the name? Well 'MUU' is a play on the Thai word for community and kinship.
Our accommodation was like a chic two-bedroom city apartment with warm timber flooring and Bangkok views, at a staggering 180 sqm / 1,937 sq ft. It also included a vast terrace which had the same footprint as the suite itself. The aesthetic here is 'metropolitan minimalist', but beautifully functional design added to the most comfortable stay. For a little urban edge, occasional and artistic pops of colourful and contemporary art are featured.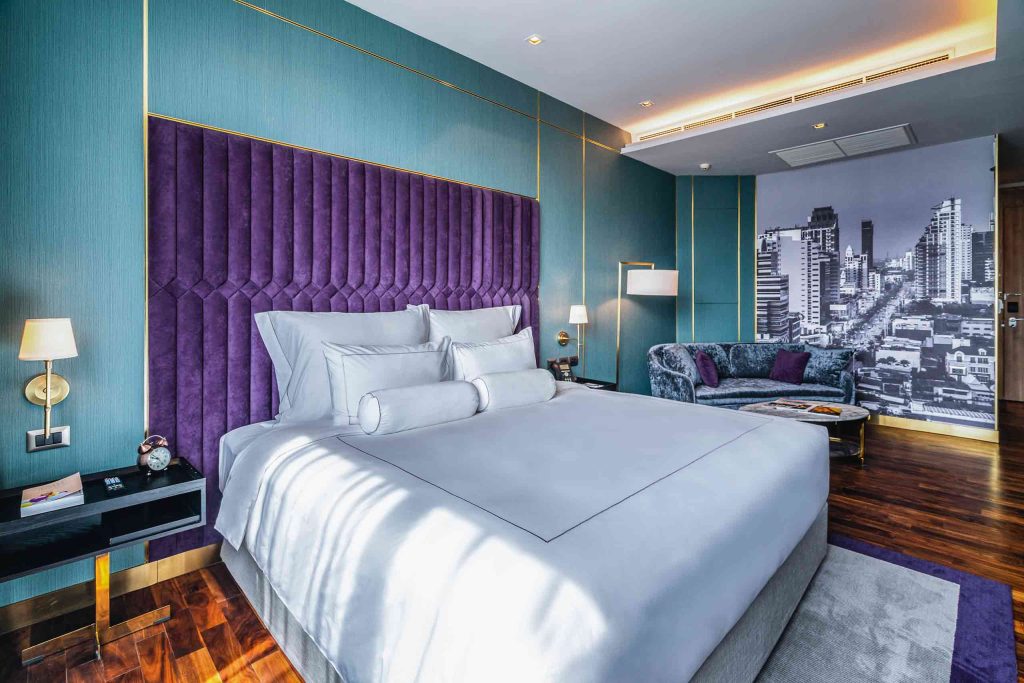 | | | |
| --- | --- | --- |
| Perfect for | Fly into | Right on time |
| The Insider | BKK | GMT +7 |
While you're Out There
'Going local' in Thonglor is what a stay at MUU is all about. As such the hotel team offer up some spectacular suggestions of things to do in the area. Doing away with the concierge concept, tips and ideas of things to do come as if delivered by a close friend. From checking out a local jeanswear maker, to streetfood at a popular dumpling stall, a casual stroll from the hotel can open your eyes to Thai life like no organised tour could ever do.
More than just a place to sleep, the MUU Bangkok was all about personalising our experience, based on who we are and what we enjoy. This was delivered (and in a way that we feel is the hotel's absolute competitive advantage) by its ever-helpful and friendly staff, who addressed us personally by name each and every time and ensured that our every whim was catered to, both on the property and out in the city.
They even arranged some fascinating experiences, including a trip on their own tuk-tuk for an early morning alms-giving ceremony, followed by a bespoke personal training session and a private swim at the hotel's inviting double infinity-edged pool area with a view.
MUU Hotel Bangkok is great for luxury travellers who like us, are looking for something much more relaxed and localised or unpretentious, so to speak. As boutique urban retreats go, MUU is a fantastic choice.
www.muuhotels.com | www.slh.com
Photography courtesy of MUU Bangkok and Small Luxury Hotels of the World