The magnificent temples and historic sites may now lie in ruins, but the forward-thinking ethos that helped create the ancient city remains intact. Once again in the ascendant, cosmopolitan Ayutthaya is an architectural hotspot not to be missed.
"It was once the largest city in the world," beams Rasita Sinekiem, Thai architectural heritage scholar, art history professor and authority on all things Ayutthayan. Known affectionately as P'Goong, a nickname that translates directly as 'Sister Shrimp' (which, I'm told, has nothing to do with the large river prawns that are a delicacy in these parts), she literally takes me by the hand on a special 'insider' tour of the city that was once the capital of Siam, the Thai centre of power, commerce and diplomacy between the 14th and 18th centuries. A cosmopolitan trading port, it attracted merchants from far and wide, most notably the Chinese, Indian, Dutch and Portuguese, who established settlements surrounding the city. In 1767, it eventually met its demise when it was ransacked by the marauding Burmese, and the capital moved to Bangkok, 50 miles south.
While knowledgeable guides are a dime a dozen in this UNESCO World Heritage Centre, there's nothing like traversing the ancient ruins with someone who has made it her life's mission to research and understand what happened here, not to mention the meaning, symbolism and nuances in the ancient architecture, art and relics from the capital's heyday. Although an academic, Rasita explains everything simply, but not without passion, intertwining the historical narrative with storytelling: lore, mythology and religion are as much a part of Ayutthaya's chronicles as the cold, hard facts.
Beautifully and strategically positioned on an island where three rivers – the Chao Phraya, Pa Sak and Lopburi – meet, the site was chosen for its defence and commercial capabilities. Its inland location well above the tidal bore of the Gulf of Thailand meant that seafaring warships could not reach it, but provided easy access for merchants and diplomats. Of course, its founding is not without legend. In the 14th century, Prince U Thong – who later took the royal name Ramathibodi as the first Ayutthayan monarch – is said to have come here to escape a plague in his own land. While out walking one day, he met a hermit who told him that he had been entrusted as caretaker of the island by Buddha himself, who prophesied the founding of a great city there. The prince immediately ordered the construction of a pavilion and castle, the Ayutthaya Maha Prasat, which became the royal seat for the next 400 years. So, naturally, Wat Phra Si Sanphet, located just adjacent, is the city's holiest temple site, home to magnificent chedis (stupas) and a giant, 16th-century Buddha considered by locals to be among the most sacred in all of Thailand.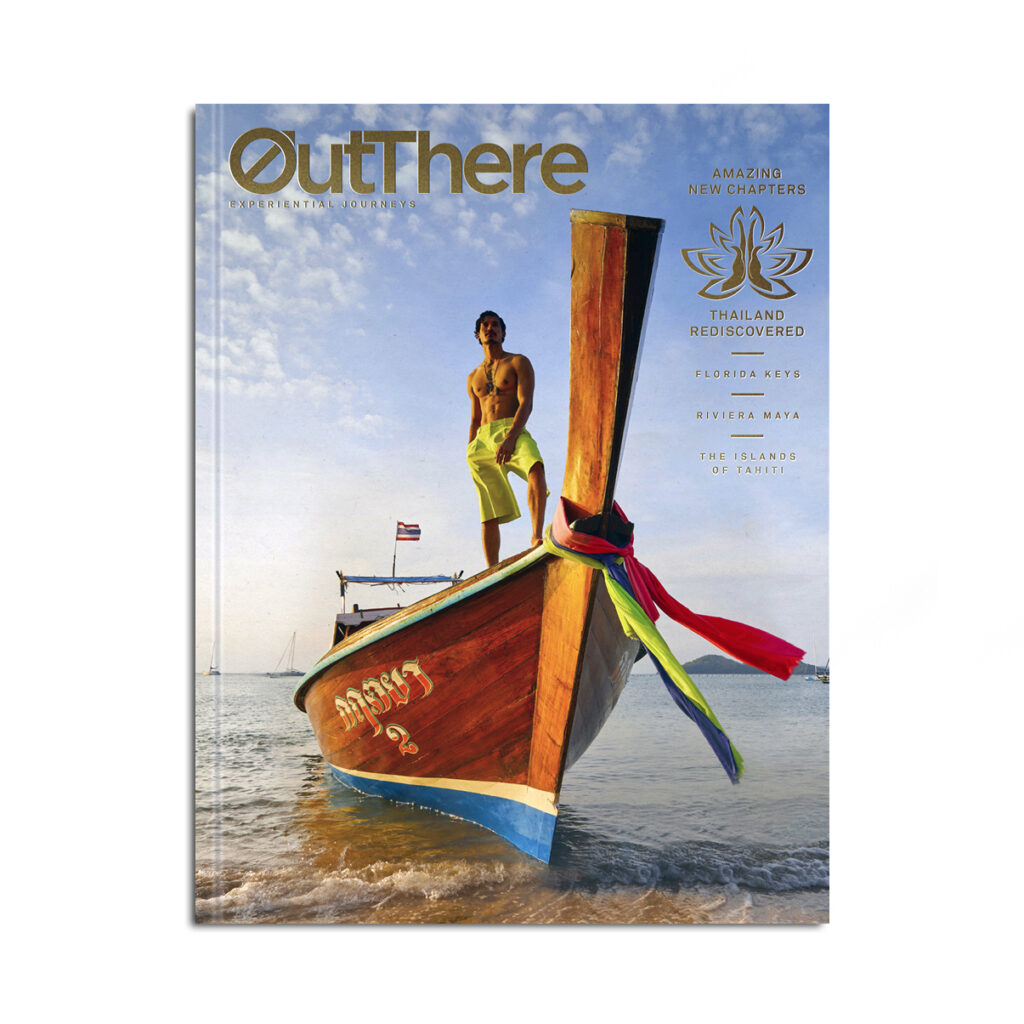 Over its existence and beyond into its present-day, camera-friendly ruins, more buildings – and with them, legends – were established in Ayutthaya. Erecting temples and grand edifices was seen by successive Thai kings as merit-making for their spiritual journeys, but also a demonstration of their strength and dominion. Wat Phra Mahathat, the royal temple complex, is a grand and sublime sight. It gives visitors an understanding of what it must have been like to walk its stone-Buddha-lined streets back in the day. It is also home to a more modern legend, Ayutthaya's most Instagrammable attraction, a Buddha head entwined in the roots of an ancient tree.
Nearby is Wat Ratchaburana, with its intricately decorated tower and original temple paintings. It was built on the cremation site of two princes, who fought to their deaths in an elephant duel in 1424. In a double royal funeral, their crypts were loaded with treasure, but half a millennium later, in the 1950s, the temple was looted by tomb raiders. But it is said that the thieves were cursed by the items in their possession, some suffering horrendous fates and others caught and imprisoned (to national shame). The recovered treasures were returned to the Chao Sam Phraya National Museum and are on display there today. These intricate, bejewelled royal relics are jaw-droppingly beautiful.
Wat Chaiwatthanaram at sunset is breathtaking and for me, it's the most prepossessing temple in the city. Built in the late Ayutthaya period in Khmer style, it is also the most architecturally symbolic, reflecting the Buddhist worldview. At the centre of it all is a large prang (spire), representing the holy mountain Meru. Around it lie four smaller towers, symbolising the four Buddhist continents, each swimming in the direction of the world sea.
There are also stories from just outside the royal island, some of which pre-date the founding of Ayutthaya itself. At Wat Phanan Choeng, another giant, gilded Buddha sits proud, along with a Chinese shrine built 25 years before Prince U Thong met the hermit. According to legend, Princess Soi Dok Mak was betrothed to the Thai king and sent from China. But there was some miscommunication and the king failed to send a party to meet her ship as it docked at the confluence of the three rivers. Disappointed, she committed suicide. On learning of her sorrowful fate, the king built a love shrine in her memory in the Chinese style. It contains an old anchor, believed to be from her ship, and, for those looking for love, the shrine is considered very lucky.
But Ayutthayan romance wasn't all heterosexual. Literature from the period makes rather explicit mentions of lesbian lovemaking between palace concubines. Intimacy between the women was known as 'len pheuan', which translates as 'playing with friends'. There are other LGBTQ+ tales from Ayutthayan times, but even when same-sex relationships and gender-bending were historically known, they were strictly forbidden by the court and many other such stories have rather conveniently been erased from history.
The Ayutthaya of the past was a cosmopolitan place. International diplomats documented it as the finest and most advanced city they had ever laid eyes on – a melting pot of spellbinding architecture, bustling culture, fascinating stories and rich, diverse humanity brought about by the locals and foreigners who lived here. Some of its signature food, such as roti sai mai (a stringy caramel pastry), originates from India, while the famous boat noodles, so-called because they were once sold from boats docked on the riverside and traditionally served in a dark, hearty broth of dried spices thickened with ox blood, have their roots in China. For four centuries, Ayutthaya led Thailand and much of the world in terms of its forward-thinking atmosphere and hospitality and as a place to live.
"As young talent got priced out of Bangkok's neighbourhoods, they started to move out to adjoining cities, where they could make their mark, infusing them with youthful energy and creativity in the process"
To my mind, that spirit lives on in the city today. Modern-day Ayutthaya is laid back, sleepy and mostly rural, but an influx of modern, new ideas (and buildings) is turning a destination I once viewed as a daytrip from Bangkok into one that it would be mad not to linger in for a few days. Set mostly outside the UNESCO-protected island, ultra-modern architecture sits alongside old wooden houses on stilts, lining the riversides and popping up out of the jungle thicket. Today's Ayutthayans, it seems, are taking a leaf out of their ancestor's books, and the juxtaposition is startling, because country life is the norm here. Usually, the soundtrack is a chorus of crickets, the rumble of an old diesel barge, or chanting from a nearby monastery. But today I hear Thai hip-hop or perhaps it's even K-pop blaring from the coffee shop where a local barista is Instagramming a frothy cappuccino. Colourful street-art murals are splashed across the giant facades of the new buildings and there's an ethos of reinvigoration, which, while remaining respectful of the past, is looking determinedly to the future. The vibe is mellow, time more elastic and attitudes more liberal.
In terms of architecture, one project that's been much talked about is an LGBTQ+-owned luxury wellness retreat. Tony Suppattranont, the founder of Thann (one of Thailand's best-known aromatherapy and skincare brands), launched the spa destination, which specialises in holistic treatments for body and soul. Set in 10 acres of lush landscape, this temple to wellness rises up from the paddy fields and is an award-winning design marvel.
Chic, boutique coffee shops are also a big thing here, testament to a thriving, flat-white economy. We stopped at different premises, each distinctly Thai, but with a twist – Scandinavian perhaps or even Californian. Some double up as fusion-food eateries, others have stylish, designer rooms to rent. One in particular, Tewa Café, is a contemporary open-plan space inspired by a traditional Thai palm-leaf fish mobile. It is the brainchild of the third generation of restaurateurs, whose connected old house is a famous local restaurant that has been in business for over 40 years.
For lunch, we visited another amazing piece of architecture near the old city fort. It's a red-brick, nine-room, design-led boutique hotel that's sympathetic to its ramparted neighbour. Its restaurant serves up delicious, traditional Siamese cuisine.
For sunset drinks, we headed to a multi-venue complex, the centrepiece of which is a 9m-tall wine lodge. Inspired by the area's old wooden houses, it's built around existing trees and made entirely from steel-reinforced plywood. It offers stunning river views, with tables spilling out onto a lawn peppered with beanbags. A young-at-heart crowd sways to the dulcet tones of a singer crooning contemporary Thai ballads, mixed in with the occasional Adele chart-topper.
Next door, a new project is housed in another spellbinding piece of design, a private restaurant concept run entirely by women from the local village (who incidentally happen to be widowed or single). Together, they've formed a culinary cooperative dedicated to preserving local cuisine, with the proceeds going to rebuilding their village temple.
Many of these new businesses have stemmed from the pandemic. Unable to travel overseas, locals escaped instead to this cultural city, boosting the demand for hospitality in the area, where the rise in accommodation openings has been phenomenal. The town's shops and markets don't sell tourist tat and, from what I saw and tasted, the quality of the food, service and experiences rivals that of Bangkok.
I guess it was inevitable that, with no international tourists, providers had to meet the high expectations of discerning domestic visitors, although the renaissance in the old capital was happening even before the pandemic hit. As young talent got priced out of Bangkok's neighbourhoods, they started to move out to adjoining cities, where they could make their mark, infusing them with youthful energy and creativity in the process. I get the sense, though, that this new blood is not looking to reinvent the city. By building new edifices, they're not detracting from the ancient monuments, but looking to celebrate them and bring attention to just how great this city once was, for, much as Thais value entrepreneurship and innovation, they also hold their history and heritage in high regard.
Some 300 years after its destruction, Ayutthaya, it seems, is on the rise again. And in the drive for architectural excellence, there is an ambition not so far removed from that of the ancient kings.
Photography by Lemaret Pierrick, Unsplash/Ohm Kittipong, Uwern Jong and courtesy of Thann Wellness Destination, The Wine Ayutthaya, Busaba Ayutthaya and Ban Phompet