The Mandarin Oriental Bangkok has long been the bastion of luxury on Bangkok's 'River of Kings', arguably the city's most luxurious hotel since 1876, if not its most storied. So, it's not surprising that so many affectionally call it 'La Grande Dame', nor is it that we return here time and time again. What can we say? We're fans!
On this stay, we checked into one of the hotel's speciality residences – the Khun Adisorn suite – a stunning tribute to once hotel owner Adisorn Charanachitta. It's an expansive place to stay, complete with fabulous little heritage touches and memorabilia. Thai-inspired furnishings (traditional teaks and sumptuous silks) fused seamlessly with modern conveniences (Japanese toilets and hospitality tech), offered us an authentic welcome to modern Thailand. And as if that's not enough sensorial cues to remind us of where we were, breathtaking floor-to-ceiling views of the city all along the river, were everywhere we looked.
But for us, it was the little details that counted most, delivered by our charming butler. Every time we returned to the suite, we found something from him to show that he has our every need looked after. If we left a pair of sunglasses out, we'd find them cleaned and laid on a fresh piece of buffing cloth. Charger cables were always neatly re-banded. The flowers were refreshed each day. If we had eaten a particular something out of the fruit bowl, more would appear because he knew we liked it. And each night, he'd leave a little treat and quote card from a famous ex-guest – Somerset Maughm and Noel Coward in our case (guess he saw us coming), as well as a drawn, petal-filled bath.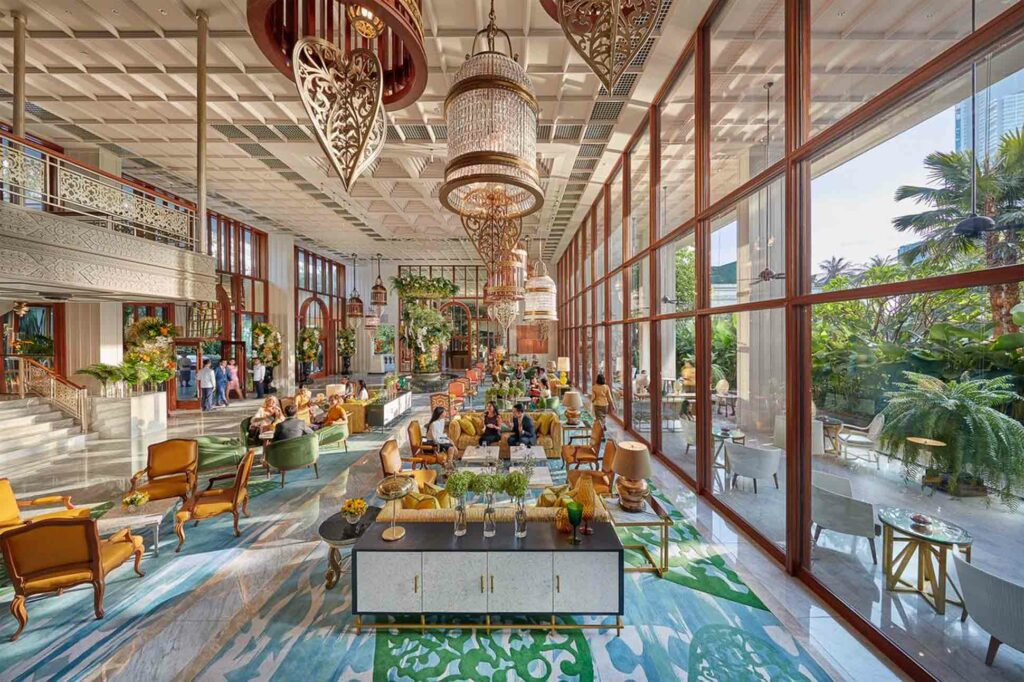 | | | |
| --- | --- | --- |
| Perfect for | Fly into | Right on time |
| The Sophisticate | BKK | GMT +7 |
While you're Out There
Step just outside the hotel, for a walk through the 'time-capsule' of old-world Bangkok. The whole area is being rapidly being gentrified – albeit in a sensitive way – with new concept stores, coffee shops and art installations that locals refer to as Bangkok Riverside. Walking around transports travellers back in time, and squint and you can still catch glimpses of the city's rich history as well as retro Bangkok life. Pick up a Cha Yen (Thai sweet iced tea) from a street vendor en route, or alternatively you can opt for an artisan iced-latte brewed by an Australian-accented local too.
The big details were also impressive. The heritage stuff… like afternoon tea in the Authors' Lounge is a Bangkok institution. But there's a lot that's new or in the works too… the recent lobby renovations were remarkable; the pool area sublime; the Bamboo Bar is lauded as the best cocktail bar in Thailand and as for its fine dining French restaurant Le Normandie by Alan Roux? It's two Michelin stars speaks for itself, and with a young, talented head chef at the helm, is also evolving – as is their spa offering. We got to escape urban life for a few hours across the river in one of their spa suites and alongside all the traditional treatments that the Mandarin Oriental offers, there were some new therapies… like their first-to-market, cannabis treatments, now legal in Thailand.
Staying here is a no-brainer for LGBTQ+ OutThere travellers. The hotel management goes the distance to celebrate the rainbow part of its 'World of Fans'. How are we sure? Well, the rainbow-themed flower petal arrangement on our bed as we checked in gave it away!
Photography courtesy of the Mandarin Oriental Bangkok