Not content with revolutionising notions of comfort, style and privacy in a single airport six years ago, when they opened their first Private Suite at LAX (which we loved travelling through), the folks at uber-brand PS are back: this month saw them roll out their much-anticipated second such operation, PS at ATL, in Atlanta's Hartsfield-Jackson International…
It's easy to believe that most of us would rather watch two slugs traverse a football-pitch-sized expanse of porridge and treacle than rock up to the average commercial airport terminal. As well as each hour seeming to last an eternity of boredom, they're often draining, chaotic and occasionally even gruelling (and that's on a good day!). Unfortunately, though, these subsonic plane hubs – which, in effect, at any time, can have the population of a small town – are a necessary evil when it comes to getting from A to B. Or at least they were up until 2017… It was then, that the Private Suite (which has since rebranded as simply PS) stepped forward with a concept that totally reimagined the pre- and post-flight experience.
In fact, calling it 'just' a private suite is a bit like saying a great white is only a big fish; and metaphorically, PS' temporary berth has got just as much bite. How come, you ask? Well, because it's more akin to a designated separate terminal, allowing guests to skip setting foot in the actual airport. We bet you'll miss those screaming urchins (sorry, we mean kids), long snaking queues and grotty lavatories, inter alia, about as frequently as we will. In essence, the service at PS at ATL is as exclusive as the one at LAX. Guests are afforded a plush, spacious personal suite filled with artworks, vintage furniture and all the expected mod cons. They're also granted access to a buzzy lounge, The Salon – envision a swanky private members' club that caters to solo travellers and small groups. But the VIP niceties extend even further: at boarding, travellers are chauffeured up the tarmac by limo to hop on the plane (and of course, on the return leg, this whole set of actions is done as effortlessly in reverse).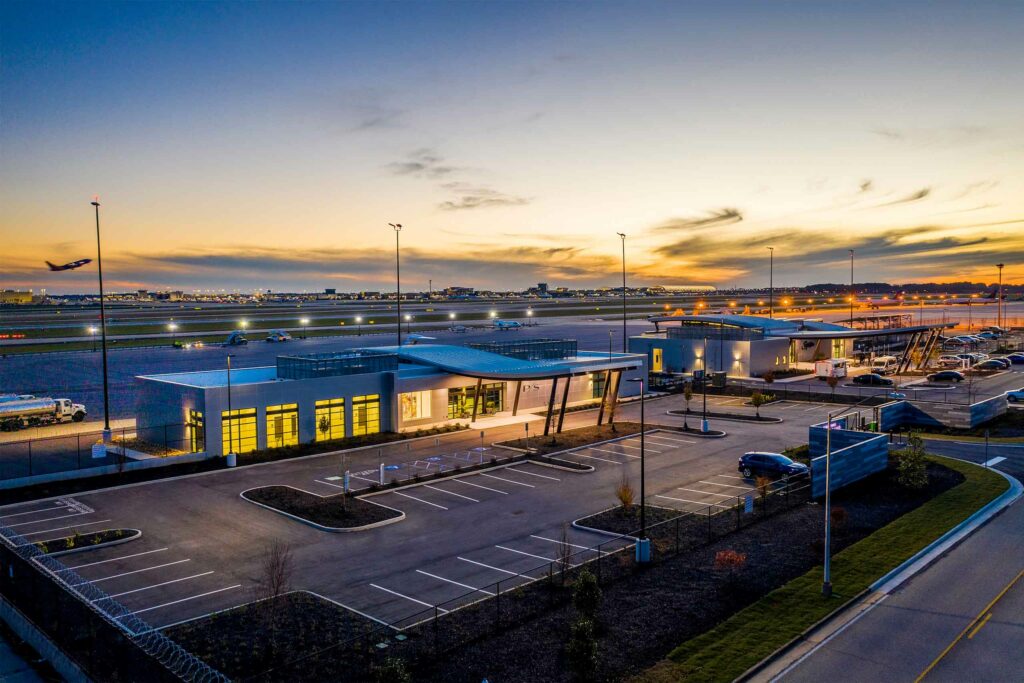 In our view, even if you're of the calmest disposition, the drawn-out and hectic nature of the standard airport terminal can make staying relaxed exceedingly trying. Anything that might alleviate some of the anxiety and strain is hence a much-welcomed perk. In this respect, as PS' programme takes care of everything for you (and they promise to do so in a seamless, utterly professional manner), all the rigmarole and stress are completely eliminated. Really, each particular feature of their scheme – via a membership – is designed to guarantee guests' absolute relaxation. For instance, clients can opt to be pampered into delirium with a range of spa and beauty treatments, including massages and manicures, quench their thirst with a plethora of exquisite, exotic cocktails, or delight in a smorgasbord of succulent chef-prepared food that would make anybody's taste buds lift off, even if their feet are still firmly placed on terra firma.
As Hartsfield-Jackson is the world's busiest airport, it's the perfect place for PS to launch its second initiative. Why? Because discretion and privacy are arguably two of the most important facets of their venture (with guests even having access to a dedicated, private immigration desk and bag drop). Ergo, it's no wonder all sorts of celebs travel through the facilities in Los Angeles – not that we're at liberty to share who we bumped into on our last visit to PS at LAX…
If you ask us, there's never been a better time for an innovative enterprise like this. The pandemic has resulted in a heightened awareness of viruses and infectious diseases among luxury travellers. The lower the number of individuals you encounter at an airport, the lesser the risk of catching something preventing you from flying. Also, from a purely hedonistic perspective, anyone endeavouring to organise the ultimate getaway would be delighted to spend every single iota of it in the lap of luxury. Here, PS at ATL definitely fits the bill (and so will the brand's coming outlets scheduled to open at Dallas-Fort Worth and Miami International Airports in the next two years). The one drawback in choosing their lavish hospitality is that you might enjoy this 'pre-trip' even more than the literal final destination, of course. Then again, they do say the journey is the destination… and who are we to argue with that?
Photography by Galina Juliana and courtesy of PS