Uwern Jong goes on a shop hop in the Argentinian capital.
Shopping in Buenos Aires has always come high on my to-do list. That probably goes for every worldly, stylish traveller, I'm sure. From its hipster Palermo Soho concept stores to its small boutiques selling high-quality leather goods, it is rare for anyone to leave Argentina without something new in their luggage, or in my case, a new pair of boots.
Buenos Aires has a long history of high style. There are some downright quirky stories. For example, the only other Harrods branch outside of London was established here, back in 1914. Not to be beaten, the Swedish equivalent, Nordiska Kompaniet also opened a store in the 1920s. Both buildings and their original signage are still here, a treat for retail-history hunters and architecture lovers like me.
Today, however, you'll notice a distinct lack of multinational brands and high-fashion labels in the city, which frankly I like – so much of the world is homogenous right now, particularly when it comes to clothes shopping. The closed-economy after the economic crisis of 2001 and a fiercely enforced 'spend local' culture had made it almost impossible for big-name fashion houses to trade here. But with the internet remaining open, resourceful Porteños, inspired by the global fashion scene got really creative and home-grown labels and makers began to thrive. Fifteen years later, the result is a well-developed fashion industry. But who in the capital are the trend leaders? In a city where there's so much, how do you discern?
Thankfully help is at hand in the form of fellow Brit and local expert, Sophie Lloyd. Sophie is the owner of boutique personal shopping company, Shop Hop B.A, a stylist whose philosophy is all about getting under the skin of a place. She honed her craft in Shanghai, in a style landscape not dissimilar to Buenos Aires. On a day-to-day basis, she runs bespoke shopping tours for tourists looking for help and insight.
Sophie tells me of a fairly sophisticated 'by-appointment-only' shopping network, which like in Shanghai, lies behind closed doors. Some brands are really clandestine, selling only out of their studios or apartments, much like the famed 'Puerta Cerradas' or closed-door restaurants across the city. Others have storefronts but don't publicly tout their bespoke services or more exclusive ranges to passing trade, reserving those for their VIPs.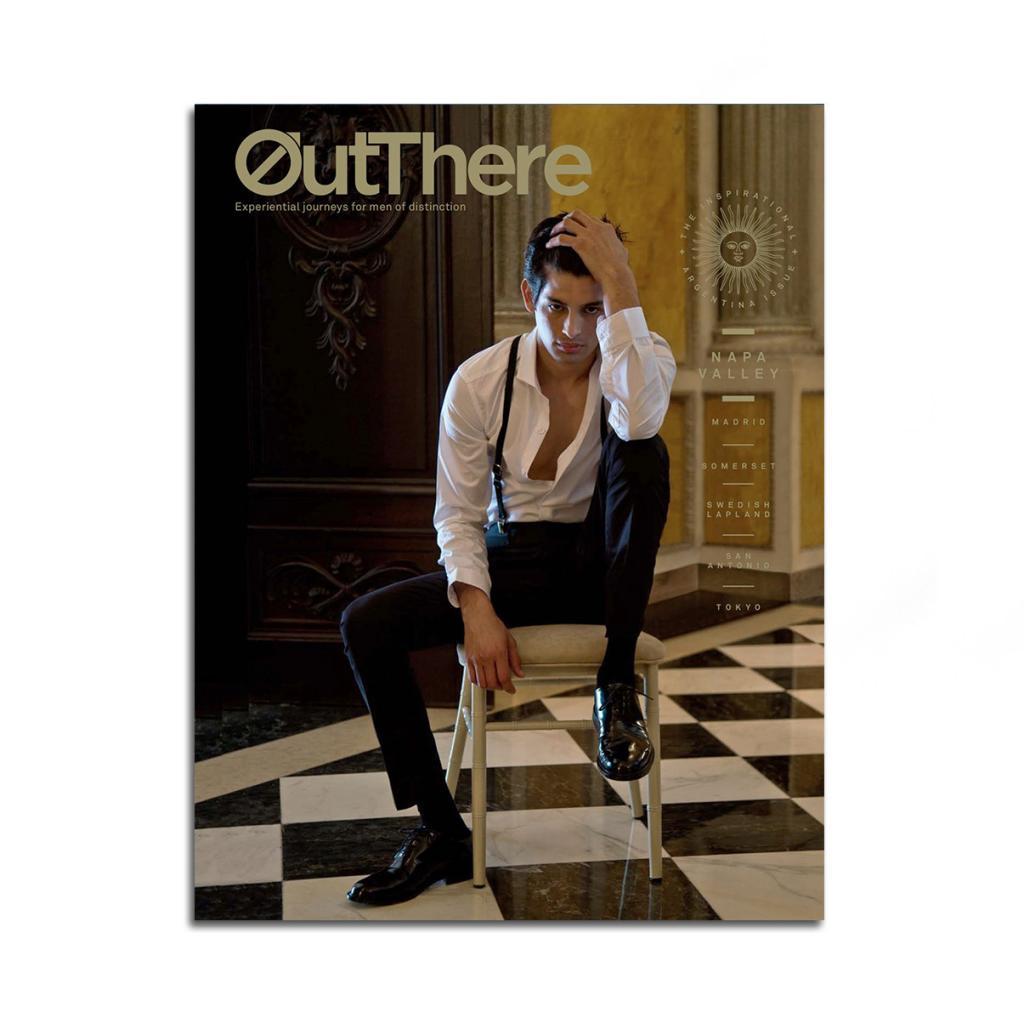 Sophie takes me on a whirlwind shopping spree and I'm excited to discover at what level the Argentine menswear scene is operating. At our first stop, the bar is set very high. We venture into the brand new store of Terrible Enfant in Retiro. It's a glitzy, luxury shoe showroom set in a leafy backstreet opposite the Romanian Embassy. Basically, you've got to know it's there, luckily Sophie does. Terrible Enfant is the brainchild of Hache Caillaud and Luz Bauzá, who decided that there needed to be a new generation of high-end men's footwear. They combine local shoemaking traditions with European quality and an edgy, unique design style – think Berluti meeting Louis Leeman. While at the store, Sophie had them show me a range of luxurious woolen capes – part of a secret collection that currently lives on the store's mezzanine level, soon to be a member's lounge, turning the shop into a concept store.
Our next stop is a house in Palermo Soho – where cool 'hipster' coffee shops mix with dilapidated family homes, crumbling pavements and graffiti-strewn walls. Number 5181 Niceto Vega stands out, its perfectly manicured frontage is a dead giveaway that this was no ordinary townhouse. It is the home of tailoring brand La Restinga, a three-storey, beautifully restored historical house, modernised into my dream home – complete with bar, courtyard and terrace. The idea is that patrons would have a homely space for private consultations to commission suits or brightly-coloured alpaca jumpers. It's a perfect place for a fashion shoot, or party – luckily for us, the owner obliged us with the former.
Next, we head to Roque Bags, a Swiss-Argentine collaboration, who make robust, beautiful leather luggage, travel bags and accessories. We head into the owners' studio whom they share with an artist. We're served craft beer and shown the gorgeous collection. The smell of the leather itself is enough to make you want to buy something. Isabelle and Martin's warm hospitality was a bonus. Plus, you can only buy a Roque bag direct from its makers, an extra level of uniqueness.
Around the corner, in an unassuming apartment building, we meet Ignacio, founder of Ropa Revolver, a casualwear concept brand selling everything from shirts and sunglasses, to manly scented-candles. I walk away with a pair of leather military boots for just US$80. Ignacio is a bit of a success story, getting his wares into stores across the country. It is a brand that you can only buy in Argentina – and at its showroom, at a great discount.
The day continues on this vein – Bettina Rizzi can make you a custom leather jacket in as little as 48 hours. Casa Cavia sells unique cologne at its designer concept store. Sophie's tour is not just about shopping, but also extends to wine, the perfect way to end any shopping day. At Hache Almacén, the wine and cheese are as delicious as its extremely good-looking owner, Nicolas.
I'm frankly not surprised that such a world of talent exists in Buenos Aires, but it seems that you have to really be in the know to access it. I can't recommend a personalised tour with Sophie highly enough – beyond just the traveller-guide element of our relationship and the on-point experience of a day out with Sophie, I've made a fabulous new friend.
Find out more about the Paris, New York or London of Latin America at turismo.buenosaires.gob.ar. And book a magical, mystery shopping tour with Sophie at www.shop-buenosaires.com.
Photography by Martin Perry
Get out there
Do…
… enlist Sophie's help. Whether you're travelling alone, in a couple or as a group, she can put together an exciting day of retail therapy tailored to you.
… consider made-to-measure or bespoke. It's not ever going to be as cheap as Asia, but you get what you pay for.
… pack additional foldaway luggage. If you've come with the intention to shop, we guarantee you'll need it. Should you forget, don't worry, you can always pick up a fabulous Roque Bag.
Don't…
… settle for low-quality leather in Argentina. A lot of the country's top grade leather is exported. So you have to know who is particularly OCD about the sourcing of their leather, to get the best goods.
… worry about changing your money. Even in a more liberal economic environment, your US dollar or Euro goes a lot further. Credit cards are getting more common, but are still difficult in small outlets.
… forget about tax-free shopping if you are going to shop at the malls. Look out for the blue sticker.