If there's a destination that's back in the limelight, it's Australia. After laying low for a couple of years, the country has catapulted back onto the bucket lists of OutThere travellers. Australia is calling us to return to its stunning shores to experience its iconic natural sites, fascinating human stories, unique indigenous culture, laid-back cities and all that's new since we last had the opportunity to visit. But it is also calling us back to explore other, unique parts of the country, like Adelaide (often touted as the vineyard city of Australia) and the rest of South Australia. It's a region that abounds with nature, wildlife, wineries and luxurious, one-of-a-kind, OutThere experiences. So, take a leaf from our book (as very soon, we'll be heading there ourselves) and 'have a Captain Cook' (a look) at Adelaide and regional South Australia for your next Aussie holiday.
You can't deny that this all sounds rather enticing – and exotic. Particularly as we enter wintertime, Australia's sunny, Southern Hemispheric, 'upside-downy' climate is certainly a draw. But if for some bizarre reason you need more persuading, there's WorldPride happening in Sydney early next year too (17th February – 5th March, 2023). If you happen to be heading that way to join in the revelry and celebrate the country's renewed 'coming out of the closet' (they do it big in Australia), then why not tag on Adelaide and South Australia to experience Down Under with a difference, before or after the party? It's a great destination to ease into the Aussie lifestyle immediately on arrival, or recover from Pride in style.
But the region is of course reason enough to make the journey. At OutThere, we pride ourselves on having our finger on the pulse of what's hot in travel – particularly in off-the-beaten-track luxury, as well as inclusive, experiential tourism – and we're seeing this diverse part of Australia really punch high above its weight in terms of what it can offer OutThere travellers.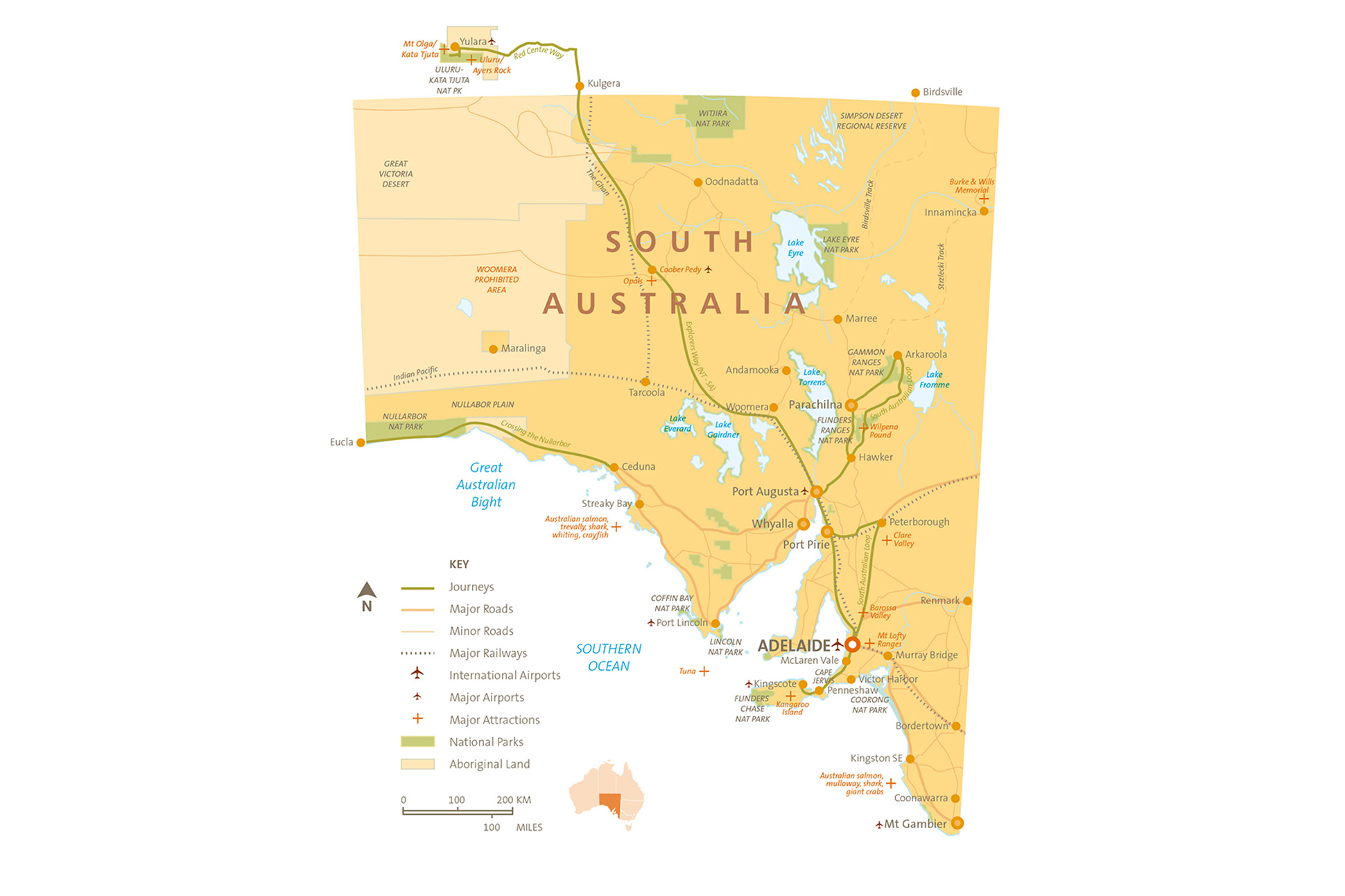 Cooee! (Where is it?)
So when we say South Australia, where exactly do we mean? From the outback to the coast and everywhere in between… South Australia is the state at the bottom centre of the country if you're looking at a traditional, North-oriented map. It sits between Western Australia to the, well, West, the Northern Territory and Queensland to the north, as well as New South Wales and Victoria to the East. The region is said to be the 'real Australia' because it is connected to and shares a border with every Australian state, apart from the island of Tasmania.
The state capital is the city of Adelaide. Pre-colonisation, it was known as Tarntanya in the local, aboriginal Kaurna language. While in this feature we will use colonised names and places in South Australia, we acknowledge the traditional custodians of the land discussed and write this article with full respect to their Elders, past and present.
South Australia is diverse both geographically and culturally. 77% of its population lives in Adelaide, with most life and tourism primarily concentrated in the river, valley and coastal regions in the south – Kangaroo Island, the Fleurieu, Yorke and Eyre peninsulas, Murraylands and the Limestone Coast. But there's also great natural beauty in the Ikara-Flinders National Park, an easy five-hour drive north of Adelaide through the wineries of the Clare Valley. Further north, you're in more remote outback landscapes: dry, barren and beautiful in their own right, with old mining towns and outposts that may inspire adventure for the more venturesome. The region is also home to the old underground opal town of Coober Pedy, which rose in infamy thanks to The Adventures of Priscilla, the Queen of the Desert.
Imbibe in Adelaide
Adelaide is a cultural, boutique city known for its festival-like atmosphere and laid-back living, and it is having a food and drink moment. The city boasts an incredible laneway dining scene with over 200 cellar doors within an hour's drive of its centre – giving it the moniker 'Vineyard City of Australia', which is ideal for foodies and oenophiles, who are keen to have an urban base. Mind you, you don't have to go out of Adelaide for South Australian wine, as the Penfolds Magill Estate is located in the city itself, positioned as an urban winery producing grapes which are used in the world-famous Penfolds Grange that you'll find gracing upmarket wineracks the world over (in the UK, you'll find it at Harvey Nichols, no less).
If Sydney World Pride is on the agenda, then consider visiting the Adelaide Fringe, the biggest arts festival in the Southern Hemisphere and the second biggest Fringe in the world after Edinburgh – conveniently, the dates line up. Should you fall in love with (or in, it's a distinct possibility) Oz and stay through until March, check out WOMADelaide where Florence + the Machine will be headlining its 2023 edition. Also, plan to make time for the Adelaide Festival, a celebration of creative excellence of epic proportions.
Adelaide's own LGBTQ+ Pride festival, Pride Adelaide is held in November each year and in 2023, the city will be celebrating 50 years since the first march back in 1973, five years before the murmur of Mardi Gras was even brought up in Sydney. Running alongside is its celebration of LGBTQIA+ culture, Feast Festival.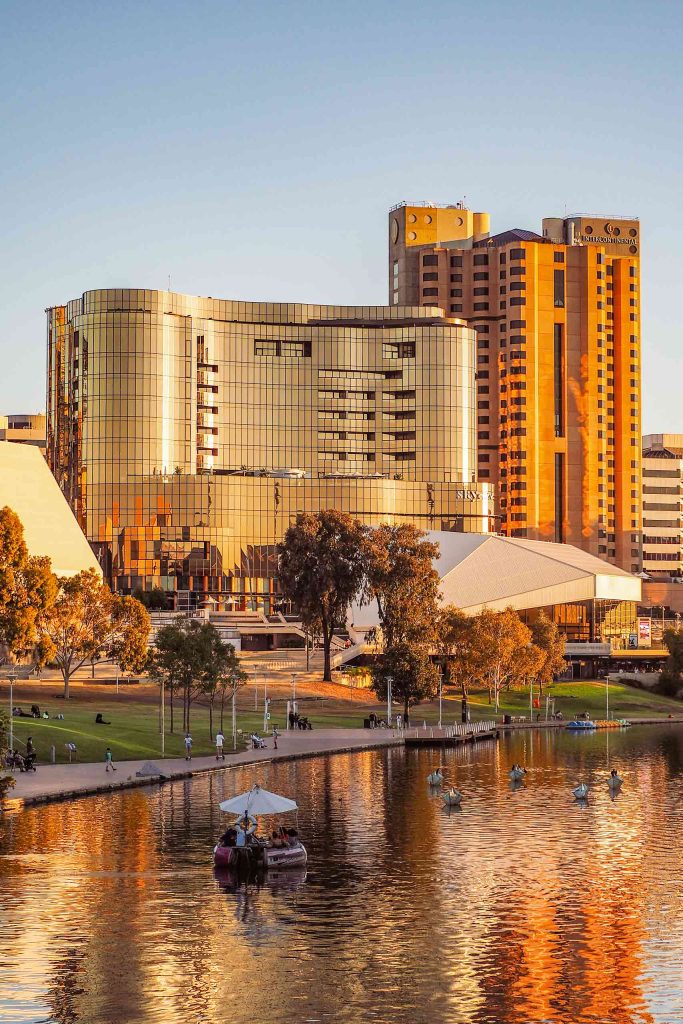 Year-round, the city and the rest of South Australia play host to a range of incredible events and festivals, so if you're keen to rub shoulders with locals and dance under the stars, head to one of the world-class foodie fests, or take in an iconic art exhibition, or experience one of the hundreds of other events that could coincide with and make your visit even more exciting.
In line with Adelaide's booming popularity, there are also some fabulous places to stay, including the boutique Hotel Indigo Adelaide Markets that opened in March 2021 just seconds from the Central Market, plus an OutThere favourite, the glamorous five-star Eos by SkyCity, and a brand new Sofitel. In addition, the iconic Adelaide Oval cricket ground has added a 138-room hotel which integrates with the ground's Eastern Stand, offering spectacular views including St Peter's Cathedral, Adelaide Parklands and the city skyline.
Half an hour outside of the city, in the Adelaide Hills, the new Sequoia Lodge is turning heads as well as beds.
Escape to Kangaroo Island
Just 40 minutes by plane or an easy drive/ferry combo from Adelaide is the wildlife paradise of South Australia's Kangaroo Island, which teems with native wildlife in its natural habitat. Spotting sea lions, seals, rare birds, dolphins, koalas, echidnas and of course kangaroos (hence the name) with a local guide is something to write home about.
Our top tip is not to make this a fleeting visit: stay for at least three nights. As well as the wildlife tours, the island is home to boutique wineries, gin distillers and microbrewers, all run by passionate, in-the-know locals, who will gladly share their island tips over a drink or ten.
There's plenty to do: explore the island's white sand beaches, head out fishing, take to the sand dunes on a board, swim with pods of wild dolphins and discover the island's diverse landscapes by bike, all of which will make you wish you booked for a week.
Southern Ocean Lodge, one of the Luxury Lodges of Australia, was sadly destroyed in the 2020 bushfires, but is on track to reopen towards the end of 2023. Don't worry though, if we've already persuaded you to visit before then… there are some stunning properties to stay in, including Oceanview Eco Villas, Sea Dragon Lodge, and a whole host of private beach house rentals (some that come with private chefs) including One Kangaroo Island. So while 'Kangaroo Island' may suggest castaway vibes (or something out of Jumanji), fret not, you will not be far from luxury. And by the end of 2022, Wander on Kangaroo Island will offer accommodation for up to ten people in four luxury eco-pods overlooking Snelling Beach.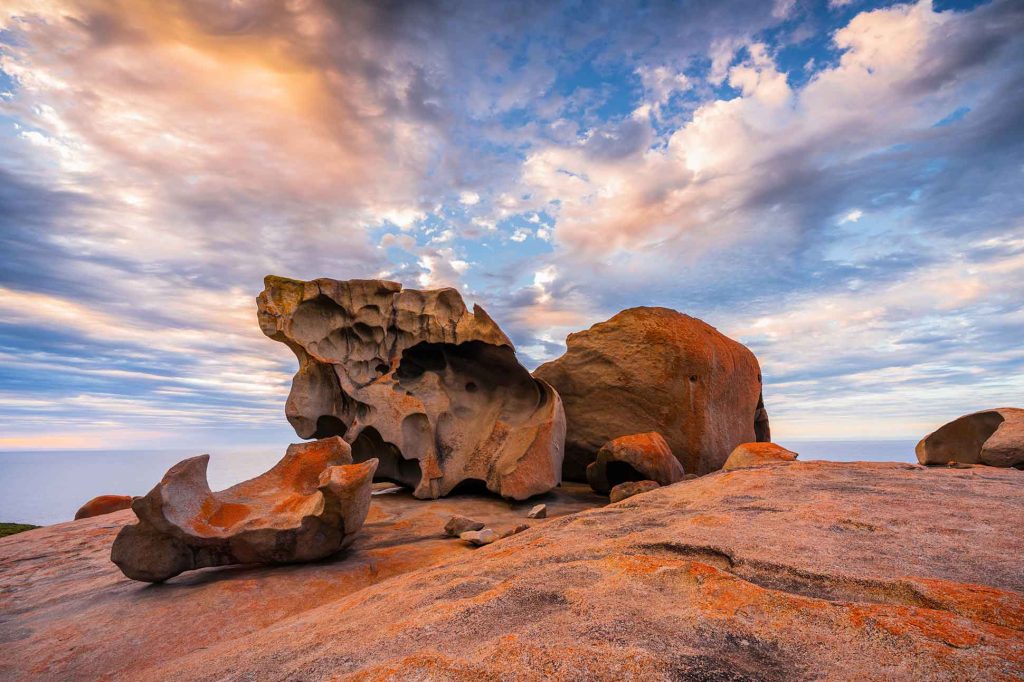 Make a break for the Flinders Ranges
Escapism has in recent times become a luxury in itself when it comes to travel. And to really get away from it all in South Australia means getting into the outback. It's worth the five-hour drive north from Adelaide through the wineries of the Clare Valley to encounter something truly special: the Flinders Ranges. This is a place steeped in Aboriginal culture and home to some of the most awe-inspiring landscapes in the world.
Spending time with the Adnyamathanha people to learn their stories is what immersing yourself in the 'real Australia' means. Take a hike around the base of Wilpena Pound, a huge natural amphitheatre that is also known by its Adnyamathanha name of 'Ikara', meaning 'meeting place'. Then head off into the bush on a 4WD adventure to see kangaroos, emus and huge birds of prey framed against big blue skies and the dirt red sand. If it's silence, space and a wow factor that you're after, you can trust Flinders to deliver.
Rawnsley Park Station has gorgeous eco-villas for those looking for a true hideaway. Alternatively, check into Arkaba Homestead, one of the Luxury Lodges of Australia, and a member of The Long Run, due to its incredible rewilding programmes.
Drive The Epicurean Way
Within easy reach of Adelaide are four of the most fabulous wine regions in Australia, perhaps even the world: McLaren Vale on the Fleurieu Peninsula (where the vines meet the ocean), the Adelaide Hills (known for its up-and-coming Aussie winemakers), the Barossa (a place steeped in local storytelling and heritage), and the Clare Valley (famous for its delicious Rieslings and the Riesling Trail, a cycle-route running between its wineries).
Each region makes award-winning wines and offers immersive experiences, like the opportunity to be a winemaker and develop your own vintage, or to try a wine from your birth year. The Epicurean Way is a route that links them all up. We recommend spending a week here, and you'll eat in some of the best places in Australia and meet some of the country's friendliest locals.
Each of these South Australian wine regions is also home to some stand-out winery sleepovers, allowing you to either stay on a vineyard, or in close proximity to one.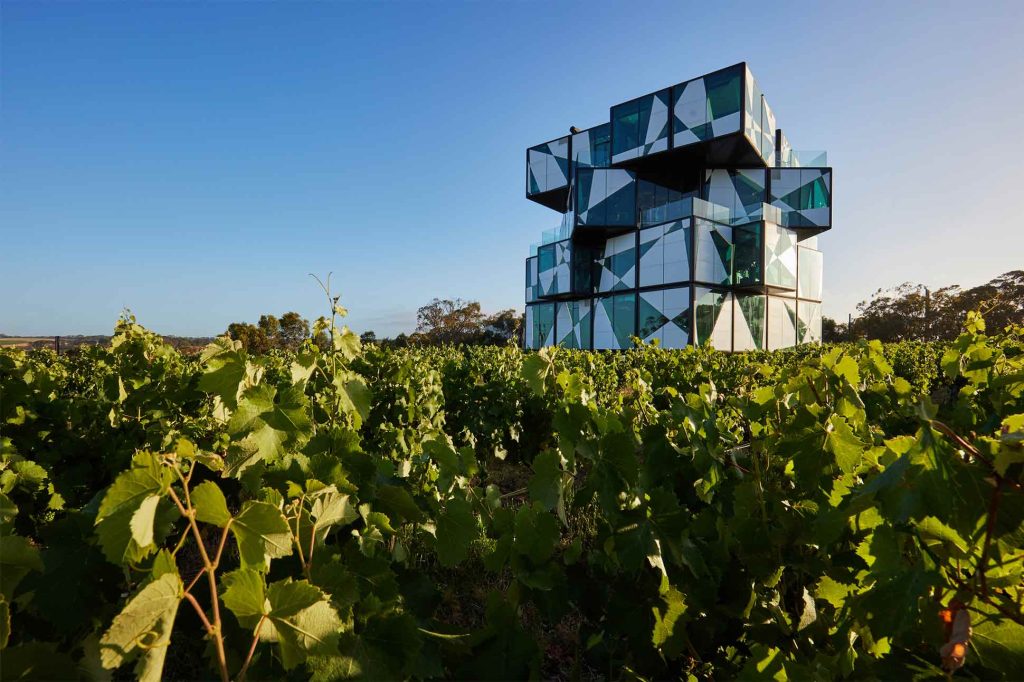 Explore the Eyre Peninsula
For a big hit of Aussie wildlife, real Aussie characters, beaches you can have all to yourself and some of the world's best seafood, head to where the ocean meets the outback in the Eyre Peninsula, just a 40-minute flight from Adelaide to Port Lincoln. It's South Australia's best-kept secret.
Here, you'll enjoy dramatic coastlines, see native wildlife roaming free in large numbers and dine on the freshest seafood. A tour with Australian Coastal Safaris will showcase all the hidden gems. Be sure to book a sea lion swim, the stuff of memories. For more audacious explorers, you could even cage shark dive, or head out on a liveaboard boat to encounter them in deep waters with Rodney Fox Charters.
---

Getting to Adelaide
Adelaide is well connected with all the major Aussie gateway cities, so flying domestically couldn't be easier. It's less than a two-hour flight from Sydney and multiple carriers serve the route daily.
If you want to start or end your wider Aussie holiday in Adelaide, carriers such as Qatar Airways, Malaysia Airlines, Singapore Airlines and Qantas all offer services where you only have one stop to connect once from the UK and beyond.
To help plan your next luxury trip to Australia, including the vineyard city of Adelaide and regional South Australia visit www.southaustralia.com or speak to your tour operator or travel advisor.
Photography courtesy of South Australia Tourism Commission
---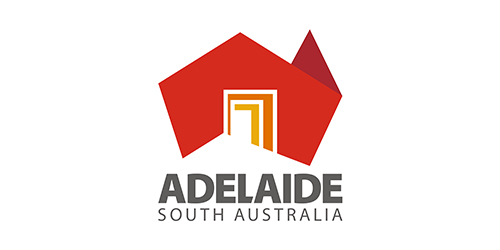 This article is in partnership with the South Australia Tourism Commission
---