The Shambala Private Game Reserve may only be a three-hour drive from Johannesburg, but it is a world away from the bustling metropolis. In the Waterberg district of Limpopo Province, South Africa, it is set 30,000 acres of what its name suggests: a private game reserve, where true and total immersion in the bush is the keystone to the experience.
What's the difference between one South African safari lodge and another? Well, at the Shambala Private Game Reserve, their unique selling point centres around charming, but rustic seclusion, delivered with a heavy dose of sophistication. The feeling of remoteness – in Shambala's location, physicality and aesthetic – is entirely intentional. They wanted us to feel connected to the environment and the bush around us. And frankly, it wasn't hard for us to do so.
The whole structure of the camp is built upon the design principles of traditional Zulu dwellings, a 'village' of eight luxury residences, linked by a meandering boardwalk, with earthen walls, dark wood, woven thatched roofs and a private deck overlooking a small waterfall that trickles down to a watering hole right by the camp's communal areas where hippos can sometimes be found congregating.
Our chalet was simply but thoughtfully decorated in a style that the camp's owners bill as 'Afro-French Provincial'. A luxurious ensuite bathroom led out to an outdoor shower on our private deck overlooking the surrounding Bushveld. We liked that the accommodation here at Shambala Private Game Reserve seemed at one with the nature that encompasses it, nothing felt over-embellished, yet every need was taken care of. That also includes solid WiFi, in case we needed to connect to more than the African bush or make friends at home jealous through our pictures of it all on social media. And if there was possibly anything more that we needed, our personal Safari Butler was always on hand to assist.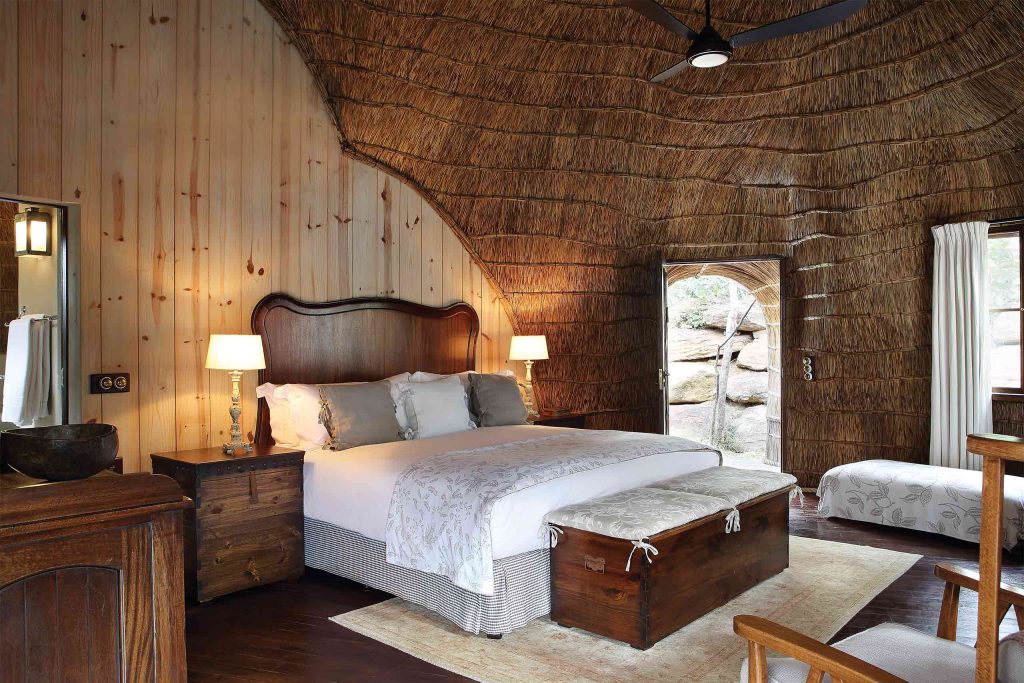 | | | |
| --- | --- | --- |
| Perfect for | Fly into | Right on time |
| The Adventurer | JNB | GMT +2 |
While you're Out There
As part of each stay, all Shambala Private Game Reserve guests are welcomed to a complimentary sunset cruise on the huge, Douw Steyn Lake (the largest man-made lake in southern Africa). It might be tempting to skip this excursion in lieu of sundowners or rest at camp after an intensive game day in the bush, but we recommend that you don't miss it as it is an absolutely spellbinding experience.
Dining at Shambala Private Game Reserve is somewhat of an intimate affair. With a maximum guest number of just 16, the chef has done away with menus and set meal times and introduced a 'dine on demand' style concept. Meals were prepared entirely to our preferences. There was plenty of local inspiration though… we (and they) thoroughly recommend indulging in a brai (South African BBQ)! But if a hamburger or pizza takes your fancy, that's also possible.
As magical as being a guest in residence on camp was, nothing could really beat going out into the bush in search of wildlife by day and by night. The animals here aren't tracked or tagged, so what we saw on any given day always came as a surprise, even to our dedicated, experienced ranger (so they say). And despite the vastness of this seemingly infinite reserve, every animal encounter was mesmerising, especially as they're the only other mammals we encountered, as humans are few and far between.
We flew to South Africa with Virgin Atlantic Upper Class direct from London Heathrow to Johannesburg (connections are available from other major international hubs). Fully flat leather seat-beds, private social spaces and Clubhouse access, as well as complimentary food, drink and inflight entertainment, are standard.
www.shambalaprivategamereserve.co.za
Photography courtesy of Shambala Private Game Reserve