The London West Hollywood is a charming, sophisticated and downright eccentric fusion of Californian cool and British bolshiness, right at the intersection of two rather OutThere Los Angeles neighbourhoods. After over a decade since our first visit, we returned to the hotel to find that it remains as fabulous as when it debuted.
From our cabana on the 10th-floor rooftop pool deck, almost every conversation we heard was quintessentially La La Land. To be fair, this place is known as the spiritual home of Anglo-Angeleno hybrids and wannabes, so the property strives to deliver a relaxed Californian vibe with a strong pour of British quirkiness.
The tranquil pool, for example, looked out onto palm trees and the Hollywood Hills, but the whole vibe is inspired by an English country garden. There's a glitziness to everything throughout the hotel too, something that's so characteristic of Los Angeles… but then in a quiet corner, you'll notice a quirky statue or funny etching of a British bulldog. Instead of 'elevators', signs pointed to 'the lifts'… and since the very beginning, in the days before reasonable international roaming charges, calls 'home' to London were complimentary.
Traditional British afternoon tea is also a thing here – there aren't many places in West Hollywood that offer it. We found this served in the hotel's conservatory-like 'sitting room'. But in the same space that doubles up as the London Bar, we had tacos with our gin and tonics. At the hotel's Boxwood restaurant, dinner may seem very Californian on paper; but there are often secret specials on offer. All we had to do was to ask your waiter. The chef rustles up a mean Beef Wellington, by the way, but it is something one will have to order in advance.
It's not uncommon to see an international crowd of famous actors, directors and producers rubbing shoulders with tech giants and other non-big-screen jet-setters and their entourage. There has always been a cachet to staying at The London, from the moment it opened in 2008. There's no wonder why it is a firm favourite: it has a dazzling reputation and it remains timeless even as new-fangled disrupters enter the West Hollywood hotel scene. It seems that the sophisticated, English accented soft-touches that The London offers, are very much still in demand.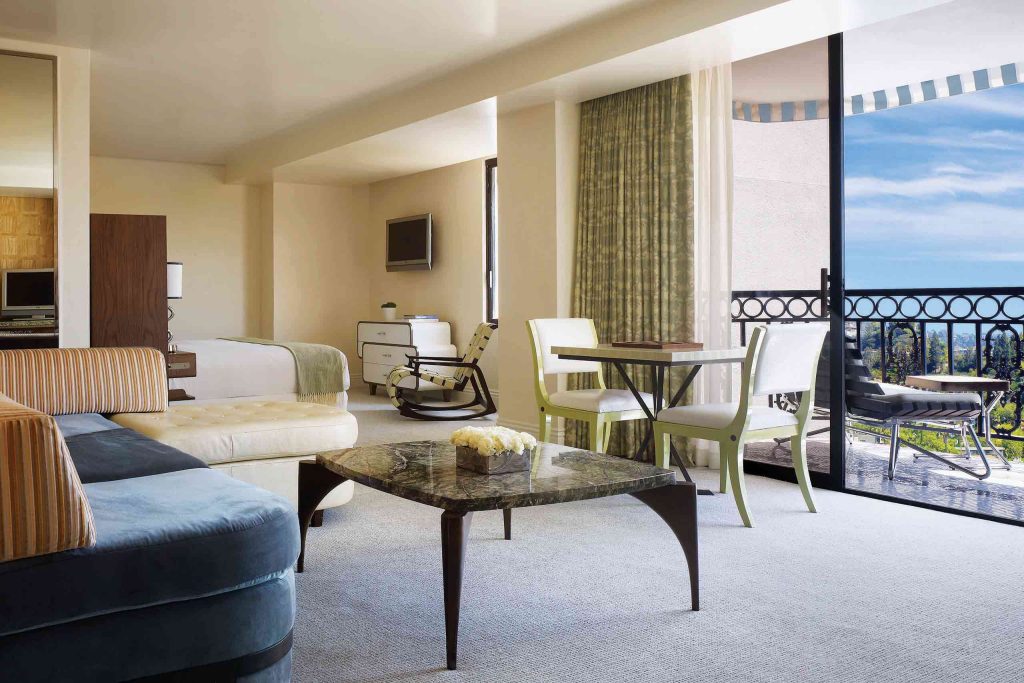 | | | |
| --- | --- | --- |
| Perfect for | Fly into | Right on time |
| The Sophisticate | LAX | GMT -8 |
While you're Out There
With The London situated at the crossroads of West Hollywood and Beverly Hills, there is inevitably a lot on its doorsteps. For LGBTQ+ OutThere travellers, the rainbow-hued delights of Santa Monica Boulevard – the epicentre of the queer gaybourhood that is affectionally known as WeHo – is just a ten-minute walk from the hotel. We have so many suggestions for you that it is almost impossible to know where to start, but sometimes it just pays to follow your nose (or the metaphorical yellow brick road) and discover gay West Hollywood for yourself. Trust us, good times are guaranteed and there's a variety of nightlife, dining and shopping on offer for every queer tribe.
Our London Vista Suite was sumptuous and remains as glamorous as when we first reviewed the hotel when it had just opened. Naturally, there are elements that have dated over a decade of operation, but to the hotel designers' credit, there is still an enduring sense of elegance in its neutral, but modern members-club-like decor: with mottled marble stone, bleached oak panelling, embossed leather and textured wallpaper, among other luxurious embellishments.
We loved the humongous bathroom, and our stunning, monochrome-tiled and wrought-iron balcony looked out over the bustle of West Hollywood.
Had we wanted to splurge, we could have checked into the Penthouse, a mind-blowing 1,000 sq m/11,000 sq ft suite, the largest in all of L.A. It is a veritable villa in the sky, a two-story cosmopolitan getaway that overlooks Beverly Hills, with its own modern kitchen and a fully outfitted media room, alongside two spacious bedrooms. Its crowning glory? A private rooftop deck, complete with an outdoor kitchen and exterior shower.
It's fit for any discerning queen. Apt, as it was inspired by the queen of British style herself, Dame Vivienne Westwood. Booking into it would have given us an hour's personal shopping at her store on Melrose Avenue. Kerching.
www.thelondonwesthollywood.com
Photography courtesy of The London West Hollywood at Beverly Hills