The grand dame Valletta hotel, the Phoenicia, has led the Maltese capital's luxury hospitality game since 1947. Its reputation precedes it and over the years, the property has shown that it can retain its sophisticated heritage – in its glorious gardens and Bastion pool – but move with the times as well: recent design refreshes, dining partnerships and attention to diversity and inclusion attest to the latter.
This iconic Valletta hotel is one of the city's grande dames (if not the grande dame), with a charming, old-world feel and even older-world location, butting right up to Valletta's ancient city walls and 16th-century bastions. The hotel and its guests, who seemingly return time and time again, are keen to make the most of it: the Phoenicia is just a short walk from the UNESCO World Heritage Site of central Valletta, the city's cultural sights and chilled nightlife. So it's perfect for those who, like ourselves, enjoy going out to explore. But then again, we found ourselves torn between spending a day at the hotel's gorgeous bastion pool (with outstanding views overlooking the grand harbour), a wine-laced amble in its lush gardens, or a day in the property's sublime Deep Nature Spa – more on the Phoenicia's approach to wellness later.
The vibe? Grandiose luxury, with a Mediterranean accent. And if you know anything of Malta's history, you won't be surprised by its British sensibility. Afternoon tea is a ceremony here and the service is as you'd expect at a posh London hotel.
Yet, we felt that there is a clear attempt to contemporise the way things are done here, to keep up with the times. It's not always an easy thing to do for a long-established hotel with an on average, older and cruise-ship-oriented clientele.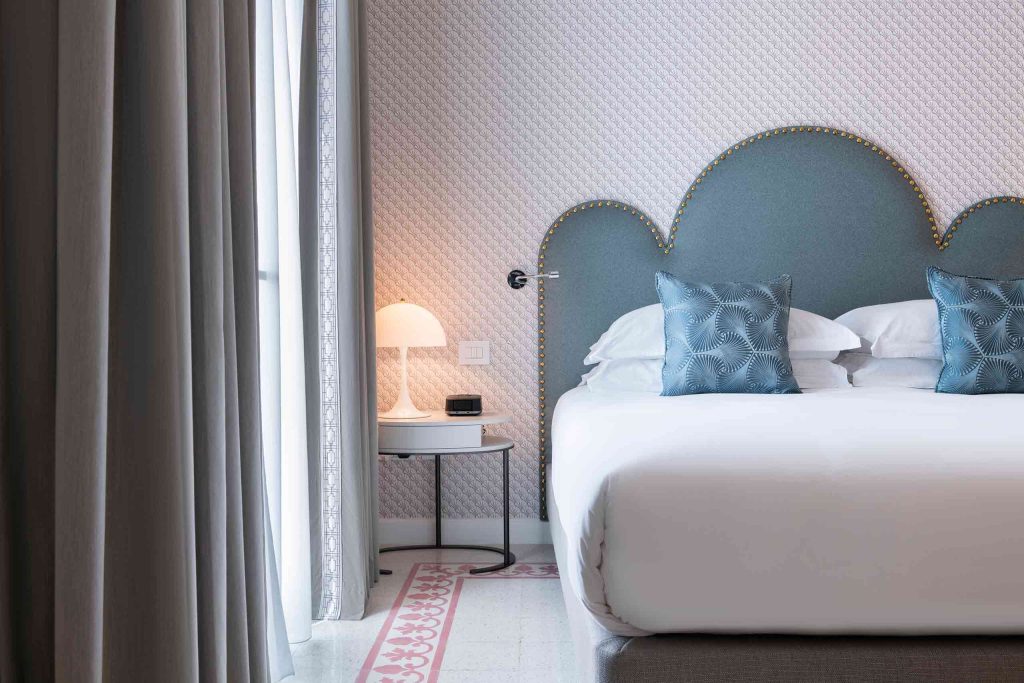 | | | |
| --- | --- | --- |
| Perfect for | Fly into | Right on time |
| The Sophisticate | MLA | GMT +1 |
While you're Out There
The fortifications at the Phoenicia protect an even bigger (and for well-being fiends, better) secret treasure: a 1,200 sqm / 13,000 sqft 'Deep Nature Spa' (eponymous with the French spa brand) designed beautifully around the old stonework. The spa design combines clean, modern lines with a cavernous space filled with light, with views of the city's 16th-century ramparts. Maltese architects AP Valletta developed the soothing, escapist space to echo the memory of ancient Roman baths (albeit in a contemporary way) and the well-being benefits that they have on body and spirit. It's a must-visit that can't be rushed, so plan your itinerary well to ensure you take in a few hours here.
For us, it has crept through in the hotel's recent renovation: pops of bright blue contemporary soft furnishings and vibrant artwork to contrast the building's mainstay black and white art-deco stylings, marble surfaces and otherwise cream interiors. It is also evident in the Phoenicia's latest dining partnership. Rather than going for a starchy, silver-service restaurant, it works with the globally renowned Beef Bar, which serves up city-concept cocktails and cuisine that complements its other Maltese beach club located in St. Paul's, a short taxi ride away. The hotel's management has also made a play to demonstrate an open and welcoming approach to diversity and inclusion, with LGBTQ+ couples featuring in its marketing and a proud and open invitation to host same-sex weddings.
The standard rooms are on the smaller side, although some have nice views over the gardens or the Triton fountain that marks the city gates. For OutThere travellers, we recommend taking one of the signature suites, namely Valletta, Pegasus or Harbour View.
For modern families, or friends travelling together, there are also two-bedroom suite options. In any case, all accommodation features a contemporary take on classic European hotel style, with lashings of bright white and deliberate marine tones, both accented by rose-coloured curtains and equally bright pink, fresh orchids.
We took our buffet breakfast each morning on the ramparts of the city wall in the sunshine, which offers up a sense of place like no other. At the end of the day, we found ourselves in the same spot, with gin and tonics instead of cups of tea.
The Phoenicia is, on the whole, a fantastic choice of hotel when visiting Valletta. Did we think it pushed any real boundaries on glamour, generousity and glitz like the newer, challenger hotels in the city? Maybe not. But if you're looking for a solid luxury property, you won't go wrong by opting for this long-established and proudly Maltese address.
Photography courtesy of the Phoenecia