We checked into this stunning Barossa country pile to find that it is easily redefining luxury travel and hospitality in the region. The opulent Kingsford The Barossa is inspired by the owners Leanne and Stefan Ahren's passion for travel and serves as a homage to Kit Kemp, Leanne's favourite hotelier. But in this bucolic part of South Australia (which is nonetheless only 45 minutes from Adelaide), they have in their own unabashed way, created a sublime and playful country escape that brings contemporary elegance to a historic Georgian, 225-acre farmstead and manor house.
The original homestead oozes history, charm and notoriety. It was built by pastoralist Stephen King (not the one of Overlook Hotel fame of course), in a place that became famous as the setting of the popular Australian TV drama, McLeod's Daughters, which ran for eight series.
The stunning old house, now polished up and decadent, fused old-world farmhouse charm with modern living. It was moody, woody and sensorial… simply making the most of the home's period features, accented by countryside objects for added ambience. Wellington boots sat under a waxed hunting mac and wide-brimmed felt sun hat. Large glass lanterns lit up a taxidermy peacock whose beak pointed at a leather-bound guest book. Charred logs in the fireplace provided a homely scent, even in the height of summer. Some of its eight luxurious suites are on the ground floor, but a creaky, sweeping wood staircase leads to more. Each is individual and varies in size and countryside style.
Outside, the Stonemason's Cottage annexe, an original 19th-century farm building, offers up another space that provides ultimate privacy (and a sense of romance) on-site, coming with its own private, courtyard garden.
We stayed in Kingsford's new extension, just through the inviting pool deck from the main house. It offered us a much larger, more contemporary, arty and tech-filled suite. At first, we felt torn between the heritage accommodation and our super-trendy digs but quickly realised that these indulgent spaces were the best rooms in the house. Here, we had the best of both worlds and were adjacent to the property's amazing restaurant (a literal crawl up at 10.25 am for breakfast), the impressive bowling alley and a wine tunnel.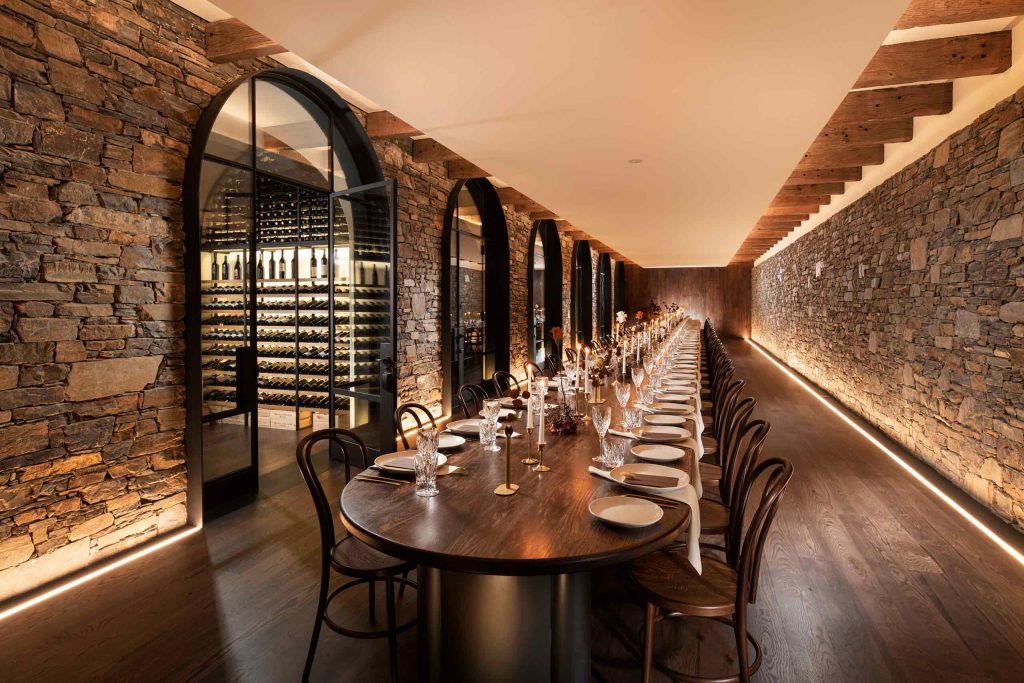 | | | |
| --- | --- | --- |
| Perfect for | Fly into | Right on time |
| The Insider | ADL | GMT +9:30 |
While you're Out There
Sometimes as experiential travellers, we feel that we need to go out and see and do everything in a destination. That can become exhausting, especially in a case like this, when we have travelled somewhere as far as Australia.

The Barossa Valley is of course the epicentre for wine tourism and there is so much to see with over 150 wineries and 80 cellar doors begging to be explored. But like Tuscany or Napa, it also affords a brilliant opportunity to just escape and relax in fabulous surroundings and to down pace.

While it is obvious what you should be doing off-property, on this occasion we'd recommend actually not leaving, as Kingsford's own cellar is amply stocked and the sommelier, well versed. So crack open a bottle, relax by the pool, indulge in a tasting menu, play a round or ten of Kegeln (authentic German nine-pin bowling), or roam the property and take a 'bush bath' out in the wilderness.
We loved the commissioned artwork in our suite by local artist Annabel Lapsy so much that we just had to see the work by Robert Schubert and Pelle Fisher in the others. We were also impressed that there was a suite that has been designed for limited mobility and disabled guests, without compromising any style or elegance… we couldn't really tell the difference from ours.
Each of these four 'view suites' at Kingsford The Barossa showcased rolling hills and Barossa farmland through the large floor-to-ceiling glass doors. Walking through them onto a private terrace, we found a true sense of place. There was no doubt about where we were: deep in the South Australian countryside, surrounded by idyllic pastoral views. We had to make sure to close the doors again when we headed back in, so as not to let any critters join us in bed. In the mornings, being up before dawn afforded us a stunning Barossa sunrise and a sighting of a Kangaroo-mum and pouched joey.
It's clearly all about the countryside here. We enjoyed long walks in Kingford's 'back garden', a forest of leafy riverbanks shaded by stunning old gum trees. We even happened upon an old shearing shed with an outdoor firepit where the property hosts special events and weddings.
As dusk set in, we returned to indulge in some wine tasting. Kingsford The Barossa features a phenomenal collection of wine in its amazing cellars: the old house's historic slate cellar from 1856 and a new stone-clad wine tunnel featuring six individual vaults, each containing the very best Australian wines. It includes a curated collection of Penfold's Grange and a complete collection of Henschke Hill of Grace, and of course bottles upon bottles of fine champagne. The man with the key to it all is sommelier and head of house David D'Cruze, originally from India. He cut his teeth at some of the best luxury hospitality venues across the world, including in London, before settling in Australia. Besides being fantastic company, David's knowledge of wine is impeccable and we learnt so much from him.
It's hard not to be impressed by what Leanne and Stephen have built here. It's not easy to take old-period properties and install something modern and experiential in them, but hats off to the two as they have truly pulled it off beautifully and impeccably with Kingsford The Barossa.
Photography courtesy of Kingsford The Barossa