Marrakech is a historic and immersive destination that allows those who visit the power of 'time-travel' to a past of opulent Moorish palaces and sanctified sultans. Just outside its old city walls, a modern, palatial, luxury resort, the Oberoi Marrakech, plays right into this transtemporal atmosphere, by fusing the kingly grandeur of Morocco's rich past with contemporary high-brow hospitality. And it does so with a tinge of an Indian accent.
A warm welcome is literally written on the walls of the Oberoi Marrakech. "El Afia El Bakia", meaning 'eternal health' in Arabic, is carved deep into the wooden panels as a permanent greeting to guests. But of course, we already knew that we would be well received. Great hospitality, whether to friends or strangers, has long been ingrained – much like the inscriptions here – into Moroccan culture.
To add to that, this property is part of the Indian-owned Oberoi portfolio, a brand that is all about being all-out five-stars, so we were certain that this would most certainly be an escape for those looking for inimitable service and excellence in hotelling.
What we didn't quite expect was just how jaw-dropping the architecture of the Oberoi Marrakech would be. Walking through the grandiose, monochrome marbled lobby (where a musician plays an ethereal soundtrack on qanun (a zither-like stringed instrument), we entered the imposing central courtyard, where the resort's design team, architect Patrick Collier and interior designer Hayat Kabbai, have fashioned the central space to recreate the spellbinding, 14th-century Ben Youssef Madrassa: pretty much like for like, complete with intricate etchings and colourful zellige tiles.
The hotel's communal library lines an entire breadth of the square, a tribute to the old Madrassa (the epicentre of Koranic higher education). Siniman, the Oberoi Marrakech's showpiece Moroccan fine-dining restaurant lines another, and sometimes at night, it spills out into the square for flame- or lantern-lit special occasions and private dinners. On the other edge, a dramatic keyhole arch frames the rest of the resort's 28 acres of grounds, as well as the impressive Oberoi spa complex and the hotel's 72 villas (set in beautifully landscaped gardens). They geometrically branch off from the central, 240-metre / 790-feet long central canal. Yes, flowing water features heavily in the resort's layout, it is after all the lifeblood of Moroccan spirituality. And on one particularly clear day, we even caught a glimpse of the high-Atlas mountains.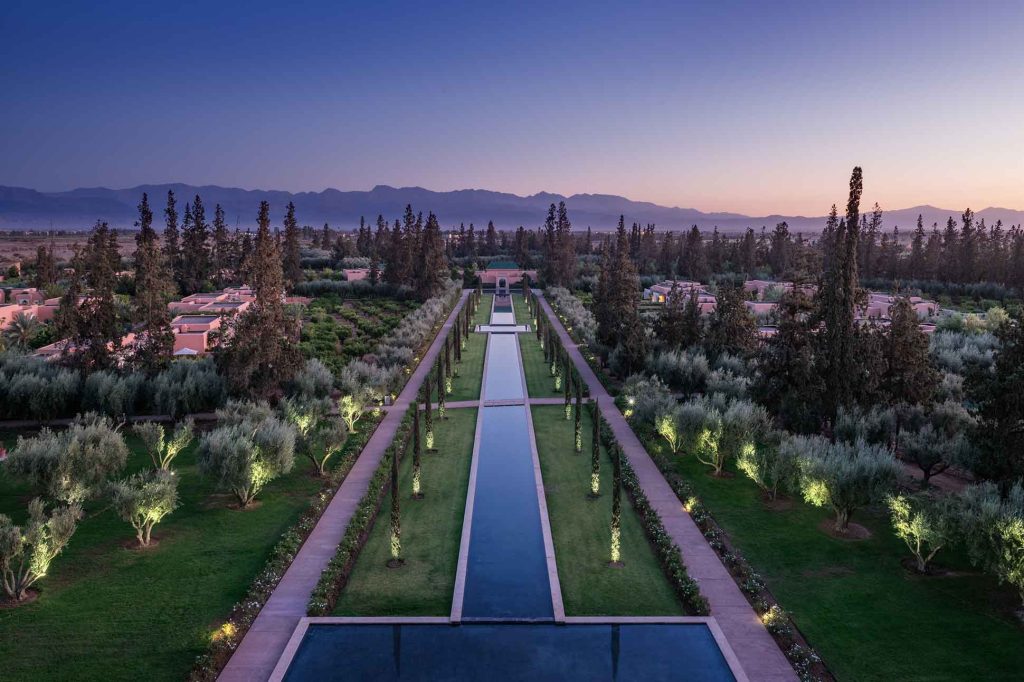 | | | |
| --- | --- | --- |
| Perfect for | Fly into | Right on time |
| The Culturalist | RAK | GMT +1 |
While you're Out There
We guarantee that you'll never be short of things to do during your stay at The Oberoi Marrakech, but just in case you need some experiential inspiration, we'd suggest the hotel's own Vintage Sidecar Experience, where guests are driven by an expert rider and guide around Palmeraie, home to more than 100,000 palm trees planted during the Almoravid dynasty. It is also where you'll find the Parc Dar El Sadaka, a palm grove dotted with sculptures by the French artist Jean-Francois Fourtou. Culture vultures (you are in Marrakech, after all) will also get to visit the Montresso* Art Foundation and the Jardin Rouge to immerse themselves in the city's art scene.
The glorious gardens of the Oberoi Marrakech provided us with an added level of serenity. Perfectly manicured, they feature corridors of citrus and olive trees, punctuated by fragrant lavender, rose and jasmine bushes. One passageway leads to the hotel's country-club-like sun-and-swim area – a much more modern part of the property – with inviting blue pools, accented with palm trees and colourful, tassel-fringed parasols. While on the whole, the resort leans into North African culture, this poolside oasis satisfies the needs of travellers who come to Marrakech looking to get away from it all, and into the sunshine. Its adjoining eatery, Azur, serves pizzas, burgers and club sandwiches.
Another walkway led us to our villa, an enormous, luxurious and elegant suite that is on par with many of Marrakech's grand luxury hotels. What makes it different from the others we have stayed at is that it is a lot more neutral in its décor. Subtle Moroccan interior design touches, like the floor tiles and wood carvings, reminded us of where we were. The use of colour was anodyne, in a regal, yet innocuous palette: gold soft furnishings, earthy wooden floors and beige walls. It reminded us more of Thailand than really conjouring an ambience of Morocco. The large accommodation is an antithesis to the nooky riads of the Medina, though we did feel that it could have been far more characterful, considering the destination has a natural design instinct and inherent aesthetic flair.
Double-height glass doors from the bedroom-cum-living room (or alternatively we could even walk through the shower of our sumptuous bathroom) lead out to a bougainvillaea-strewn, walled terrace that features a large, private plunge pool; a pleasant and welcome detail. Taking coffee here and having a morning swim is a calm way to start the day and steel the nerves for the bustle (and plenty of hustle) of the Medina.
For those who want to upgrade, the best in the house is back in the main building, the Royal Morrocan Suite, which pushes the boundaries of living space and opulence further. Its terrace and pool overlook the property's gardens.
Breakfast each morning is an elaborate and international affair, as you can only expect from Oberoi. Shakshuka is the go-to of course, but if you should fancy an Indian dosa, they'd very happily whip up the very best one you'll taste in North Africa for you. This really is just one part of what makes the service at the Oberoi Marrakech so special. The entire team here is something to write home about (especially our butler) – brilliant young Moroccans who have been handpicked and headhunted from the best luxury hotels in the city, and who couldn't have done enough for us, second-guessing our every need.
The Oberoi Marrakech is a splendid and stylish choice for OutThere travellers to the city. Its accommodation may not be quintessentially Moroccan, but its common areas certainly are. What we liked most is that it so naturally offered a duality of cultural immersion and international resort-based escapism. In our opinion, this is a really nice way to holiday in Marrakech. The hotel granted us the liberty to absorb the city's electric and eclectic atmosphere, which is just a short drive away… but it also provided a stunning, luxurious basecamp to retreat to, from the very magnetic freneticism that brought us here to start with. That way, we had a cultured holiday – as well as a relaxing one.
Photography courtesy of Oberoi Hotels