After a week of getting lost on purpose in the labyrinthine Medina and drinking my body weight in sweet mint tea, I'm happy to find myself in Gueliz, known as 'modern Marrakech'. I'm heading to the showroom of OutThere, Moroccan designer Karim Tassi – in search of a fashion angle for the city, that doesn't involve Yves Saint Laurent. It is often said that Saint Laurent was what made Marrakech fashionable. But to say so would be akin to saying that Columbus discovered the Americas. With all due respect to ol' Yves, fashion in Marrakech for me is much more about the now.
I have my earbuds tuned in to some 'made in Morocco' underground dance music (that according to an international DJ friend, is today considered 'world-class'), with a takeaway cup of hot-drip, soy latte in my hand. I'm a world away from where I was yesterday, yet it's just 15 minutes from the Medina by taxi. No tugging vendors, cobra dancers or opportunistic hustlers here (well, perhaps of a different kind). Gueliz is a contemporary, cosmopolitan town – with thriving subcultures – the most conspicuous of which is 'international'. Fabulous young ladies, with perfect highlights and designer sunglasses, are parallel-parking their Range Rovers outside chic, air-conditioned boutiques. It's just like Beverley Hills, albeit in Africa.
'Modern' and Marrakech aren't usually two words that sit together. But Gueliz is all about the contemporary – in its food, coffee culture and of course, fashion. And contemporary fashion is on the rise here: boutiques, concept stores and 'by appointment only' ateliers present themselves one after the other. They come complete with 'la-di-da' store names and minimalist visual merchandising – all touting Moroccan creativity with a foreign accent, or actually, vice versa, because at their helm are French, British, Italian and Swedish expatriate entrepreneurs. Just last night, the Parisian-born PR of the hotel I'm staying at was ironically complaining to me how "foreign money is taking over the city." It seems that home-grown, creative talent and entrepreneurship is still few and far between.
Cue Karim Tassi, one of Morocco's poster boys of fashion. Originally from Casablanca, he graduated from the International Institute of Fashion Design in his hometown and journeyed to Paris in the 80s to hone his craft, where alongside working for some top ready-to-wear brands, he made his first custom-tailored garments for private clients. In 1999, after presenting his first ever collection in Paris at the 'Institut du Monde Arabe', he created his namesake brand and is proud to base it in Marrakech.
"There aren't many other cities in the world that can claim to be a muse. It's only natural that Marrakech's contemporary fashion scene is an exciting fusion of old world Morocco and new, global influences. But the real secret of Marrakech is that not only does it allow you to draw from its inherent beauty, but it also allows you to work with people who have mastered the artistry, craftsmanship and techniques of their ancestors who made the city what it is today. Then, when you add a 21st-century viewpoint to it all, you get magic – something classic, yet modern and contemporary," says Karim in a charming French lilt. I've been in his atelier just five minutes and he's already demystifying it all for me.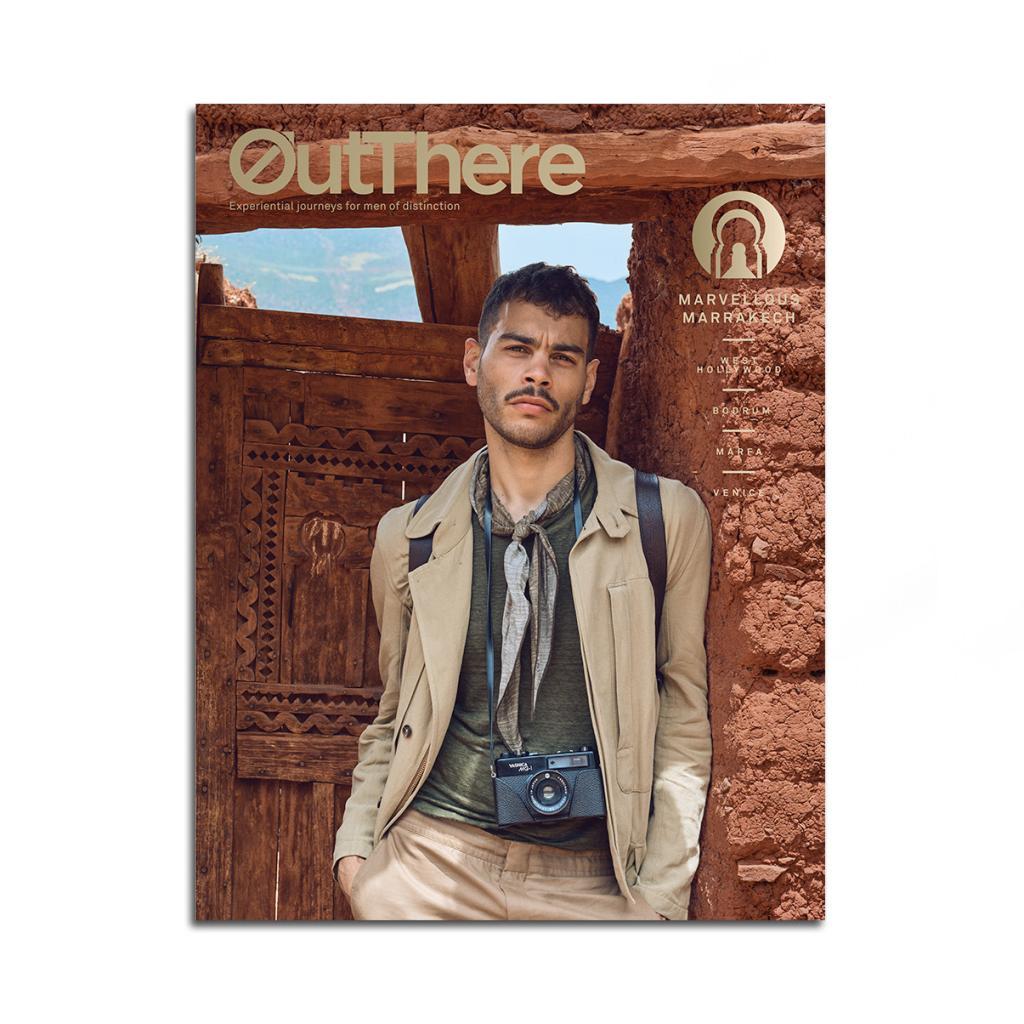 Karim's showroom is best described as a fashion-art laboratory – a lofty white space, with curated Moroccan and African crafts, presented in the most contemporary of ways. Street-artist Yann Chatelin's intricate, Arabic-meets-Blaxploitation murals adorn the walls; monochromatic photographs of Tassi styled models, shot as if they're century-old Berbers, sit alongside. A petrified Argan tree trunk leans up in one corner. And there's also the whimsical of course, to match his colourful personality – a purple, gargoyle-like sculpture of a hippo and a bright pink, double-height installation of an origami bunny rabbit. It is from here that Karim oversees and creates the three brands in his name – a bespoke couturier; a ready-to-wear, upscale, modern comfort line; and a casual, everyday wear line.
His inspiration comes from Moroccan heritage and his daily life in Marrakech, but his work is mostly about the intersection of different cultures. His signature style plays with the mix, variety and richness of contrasts, the blending of cultures and eras. He takes the best of traditional Moroccan fabrics and tribal wear, interpreted through urban cultures and the very latest European trends.
"I am all about fusing cultures. I love the meeting between two poles. The sophisticated and the natural, the modern and the traditional, machined and hand made – and of course the feminine and the masculine," he tells me. "Fashion is not just about what you wear, but how you feel. I approach my work with an open mind and channel emotions. I believe clothing can bring back memories, or create surprises through novelty."
Karim comes across as a modest, yet confident man. He tells me that it's not easy to be Moroccan and develop a creative business in Marrakech. There's no government support for design or the creative industries. And it's going to be an ongoing issue. For example, there are plenty of opportunities and societal support for young people who want to learn English and get into tourism or hospitality, seen as a sure-fire career. But if a young Moroccan wants to be a fashion designer or artist, they're very much on their own and in some cases, ridiculed. I'm rather shocked to learn this; I had assumed that in a country so well known for its artisan traditions, there would be much more backing for the Arts. I've hit a nerve with Karim here and it turns out he's rather outspoken on the topic. From what I read in other interviews he's given, he's a vocal critic of the lack of government backing for artistic industries.
"I love what I do, and I am who I am because of what I do. That's what keeps me going and what keeps me fighting to make fashion. It makes me proud to feel that I am making something from nothing. It may sound like a cliché, but fashion is my passion and I like to share it with people. I very much see fashion as an art. I like to create universes and atmospheres, music, décor, events – all linked to what I see and how I feel. And I want others who are likeminded, especially emerging young artists, to have the platform and role models to do the same."
I ask him how he continues to thrive in Marrakech, despite an infrastructure that does not go out of its way to support creativity.
"Marrakech today offers a fresh perspective on culture and ways of life. Whilst the world is becoming so homogenous, Marrakech provides a sense of authenticity. You might have to rummage around a little to find it, but there is inspiration lying there, literally everywhere, in plain sight; as it has done for thousands of years. And here in Marrakech, creativity is embedded deep into the very fabric of the local culture and society. So while our culture may seem exotic and traditional to many, it actually fits right into all that is contemporary. And I believe that for years to come, Marrakech will continue to shine because it does not just tell a story of today, but one that culminates the very best lessons of the past, in order to inform the future."
During my stay, I have observed that the people here don't come across as stressed, unlike in other cities. The rhythm of life is very different here and the state of mind much more relaxed and open than that of the rest of the Arab world. In Marrakech, there is room to breathe, to take time to do things. I guess that's what makes it a great environment to get those creative juices flowing.
"I don't often get time to myself – I'm learning that creating me-time is also quite an art – but when I do, I enjoy walking around the Medina and ducking into its hidden gems. Chaotic as it is, it clears my head. I love nature and beautiful places and I'm so fortunate to have so much around me. I easily fall in love with places I see and absorb their energy. But it's not just the physical that I love about Marrakech, there's so much more. I love the music scene, from the traditional to the international; and Moroccan food – well, I may be biased – but I think it is one of the best in the world, if not the most healthy. And of course, disappearing into a hammam and enjoying the purifying rituals of our forefathers cleanses the spirit and soul. And now, I'm proud to say that there's an emerging creative arts scene."
Karim is also keen to discover new places and bring his perspective of Marrakech to the wider world. I learn that he loves travelling and has a deep desire to bring the Tassi portfolio of brands to the world's most beautiful destinations.
"I love to discover new places. I often bring what I find out there back through my work to help others see what I have seen. And it's a two-way thing. The 'Caravan Tassi' is on its way! I'm in the process of organising pop-up stores in fab, global destinations."
A customer walks in and it seems she's someone rather important. So, in wrapping up, I ask him to tell me a little about his hopes and dreams.
"Every day, I hope and pray for a better world, but sometimes it's hard to imagine, especially in this day and age. I have no time or care for closed-minded people. In fact, I think narrow-mindedness is something we should all be very afraid of. Narrow-mindedness has never done the world any good. So, that said, with an open mind, I shall continue to grow, to love, to travel, to learn and to discover. There are so many possibilities. We have a saying in Morocco, that only the sands of time will tell."
Photography courtesy of Karim Tassi