Palais Namaskar is highly regarded as one of Marrakech's best 'out of the city' properties with its dreamlike atmosphere, opulent accommodations, and memorable five-star service. Designed as a hideaway, it positions a holiday to Marrakech altogether differently, focussing on well-being, escapism, indulgence and rejuvenation.
Arriving at night at this majestic Moroccan Palace, just 30 minutes from the cacophony of the Medina in Marrakech, was like stepping into a dream. Minarets and domes were lit up by hundreds of candles and dramatic flaming torches, the full moon spotlighting the gold-domed, palace-like buildings. The whole place is simply one of the most 'begging-to-be-photographed' hotels we have ever seen.
From the moment we set foot in the Palais Namaskar, we could tell that this resort was going to be simply amazing, just by the amount of gratuitous space there was around: for instance, the lobby area was the size of a hotel in itself, an attribute that would impress even the best-travelled of guests.
Colonnaded walkways over tranquil shallow pools took us through meticulously landscaped gardens, giving the illusion of privacy and emptiness, even when the hotel was completely full. It took almost ten minutes to walk down what seemed like floating pathways to our room, our butler apologising for 'the inconvenience' the entire way. But we were too enchanted by the wonderland of fire, scented flowers and plants in the lush gardens, to care.
The resort did not stop there in casting a sensorial, magic spell, as the door to our villa, one of just 41 exclusive suites on the property, was opened. An enormous, contemporary, somewhat minimalist home away from home awaited us: there were three huge spaces; one for living, another for sleeping, and a third for bathing, all with double-height ceilings. Beyond were a set of glass doors that opened to our private terrace and pool, a five-by-five-metre plunge pool, hidden from the view of others by arched walls and billowing muslin curtains. We had landed in paradise.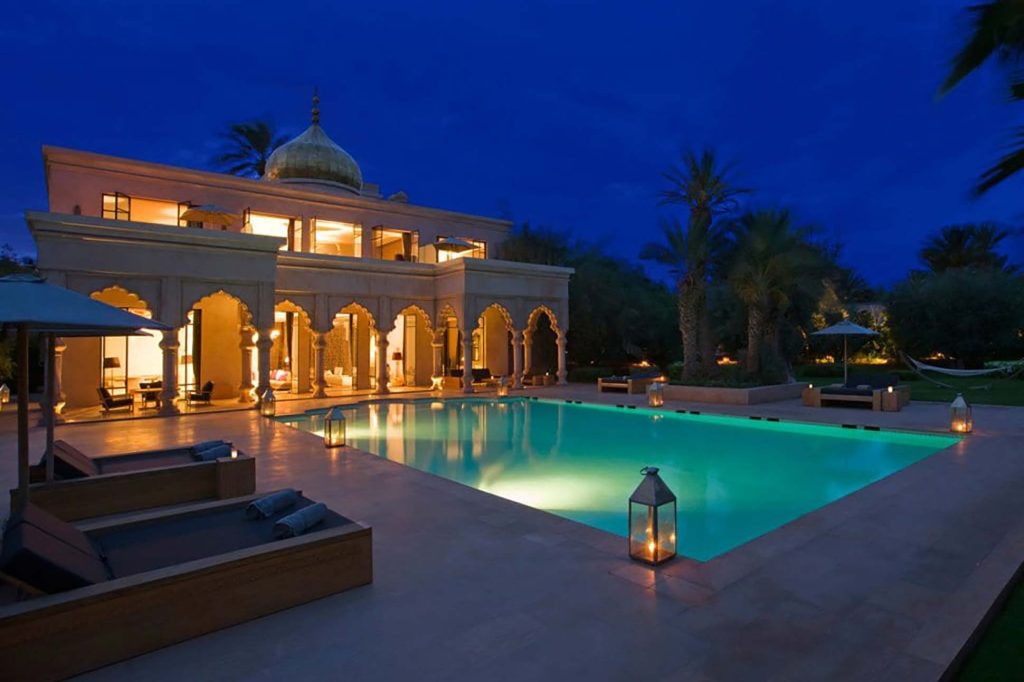 | | | |
| --- | --- | --- |
| Perfect for | Fly into | Right on time |
| The Escapist | RAK | GMT +1 |
While you're Out There
If you're going to stay here, then booking yourself into the rather zen Spa Namaskar is a must. The wellness facility has partnered with Aromatherapy Associates to deliver an extensive menu of treatments using only the brand's organic and natural products, as well as wellbeing programmes like stress management, mindfulness and anti-aging therapies. For those into fitness as part of their holiday, the hotel has also got a state-of-the-art, 200sqm / 2,000 sq ft gym that's worth a visit – even if just to look at it in awe.
Daylight confirmed our suspicions, showing clearly that every part of the resort was indeed exquisite, while breakfast overlooking the hotel's main pool area was a glamourous affair. Morocco's French accent ensured the most delicious of pastries, meaning that we were overloaded on delicious carbs every morning, but looking around, the fabulously dressed clientele followed suit (we were on holiday, after all). The only thing we felt was lacking in the dining options at Palais Namaskar was some local flavour; with on-site eateries consisting of French fine dining and Thai cuisine… go figure.
The Palais Namaskar is located in leafy Palmeraie, which is a little far from the Medina. Every journey is a minimum of 350 dirhams and thirty minutes each way. We know these are small prices to pay to experience the cultural bounty of the Medina, but it is worth noting that this is much more of a destination in itself. If you're looking to sack the souks and get lost in the backstreets of the ancient walled city, then perhaps Palais Namaskar's location isn't really for you.
But if you're looking for a true hideaway from the madness of Marrakech, with rest and time out being the main reasons for your holiday (plus, the option of dipping your toe into the goings-on in the Medina) then you'll be pushed to do better than this wondrous hotel.
Photography courtesy of Palais Namaskar