With the launch of the much-anticipated IZZA Marrakech coinciding with one of the city's – and moreover, the country's – most devastating disasters in living memory, the excitement about a new hotel opening was rightfully overshadowed by the more immediate need for relief efforts. But in true Moroccan spirit, the property itself wasted no time in getting involved on the ground. It's one of the many reasons why we believe it's high time to return to one of OutThere's most cherished destinations… and help rebuild it.
A couple of weeks ago, when this piece was initially conceived, its sole focus was to be on a splendid, new opening, the boutique hotel IZZA, which is situated in the ancient, atmospheric Medina of Marrakech. However, like many others around the globe, our team at OutThere was shocked and dismayed to hear that on 8 September 2023, Morocco's fourth-largest city and its surrounds, were rocked by a devastating earthquake.
So firstly, and before talking about a new luxury offering, we want to acknowledge that our hearts go out to all those who have been affected by the disaster. According to Reuter's latest figures, there have been over 2,900 fatalities, and nearly double that number are injured. As a result, we believe it's imperative as much help as possible continues to be given to those in need. The owners of IZZA themselves have been assisting in every way they can: the hotel's boutique prepared and delivered emergency food packs, including bottled water, candles and tents to Asni (30 miles from the city), where its General Manager and Head Chef both had family homes. They also sent supplies to aid agencies and donated generously to charity.
Of course, as this is a recent event, such relief remains the priority on the ground. Nonetheless, as reported by the Morocco World News in 2018, at the time, Marrakech was the second-most tourism-dependent metropolis globally (over 30% of the city's GDP was from this sector). Clearly, travel to the 'Red City' was obliterated by the Covid pandemic; yet, since this spring, visitor numbers have boomed. Considering the importance of this industry, even more so because such a sizable percentage of the local population counts on it, it's crucial that the recovery from the disaster is as rapid as can be achieved. In our view, tourism can play a vital role in this regeneration. And IZZA, which consists of seven interconnected riads, is just the sort of refined, hip establishment that will draw people back to Marrakech.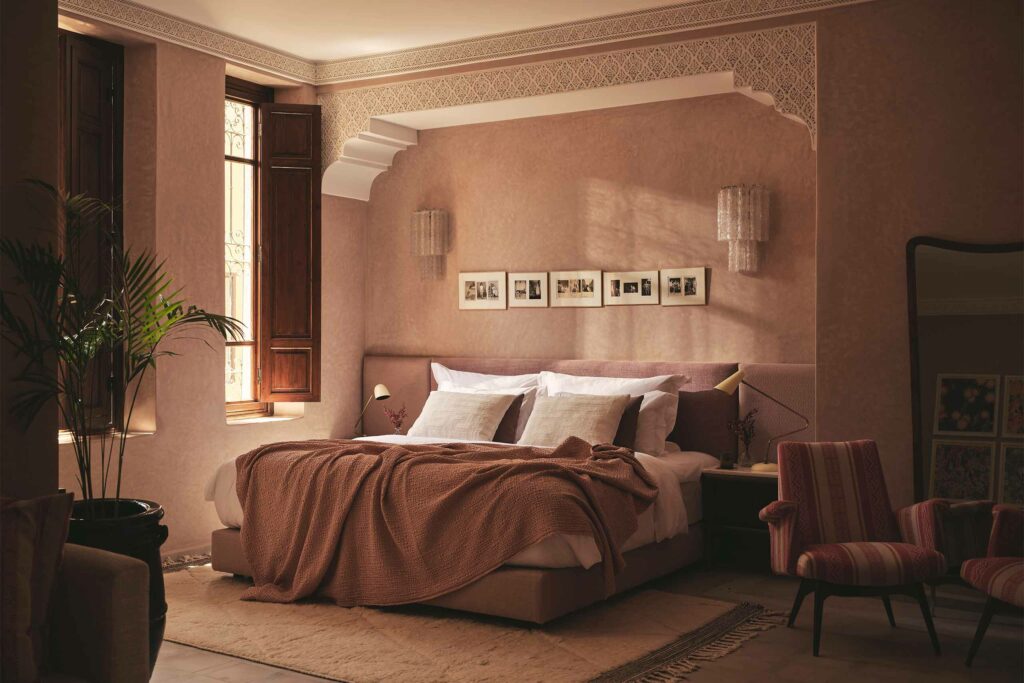 Indeed, guests here are able to unwind in quaint courtyards, a Tonal smart gym, three swimming pools (including one on the rooftop) and a fabulous hammam spa. In this way, the luxurious accommodation is the perfect antidote to the hurly-burly of Marrakech. The mellow vibe is further enhanced by the individually styled, bright, and breezy rooms – soothing pastels and browns abound – which are all named after hedonistic intellectuals and other free spirits who either visited or made Marrakech their home between the 1950s and 1970s. Thus, they all reflect the distinct flair and originality of each personality in question. Whether it's the photographer Cecil Beaton, beatnik poet Jack Kerouac, model-cum-singer Grace Jones, or fashion designer Yves Saint Laurent…
Yet, the biggest influence on this place's unique look is the late interior decorator Bill Willis (1937-2009). The svelte American socialite added his singular pizazz to several Moroccan residences – including those of the Agnellis, Gettys and Rothschilds – for over four decades, and the quintessence of his opulent Orientalist aesthetic is present in every nook and cranny of IZZA, perhaps nowhere more so than in the exquisite Bill Willis Bar. It's a tribute to one of his projects, Rick's Café in Casablanca, which itself pays homage to the watering hole in the eponymous film (1942).
Somewhat remarkably, IZZA, which is named after the first Berber lady the hotel's owners purchased a riad from, offers a vision of the future before it has actually arrived: the property's walls are adorned with a groundbreaking display of digital – as well as conventional, contemporary – artworks in what amounts to a 'Museum in the Medina'. The multi-million dollar gallery collection, which is set to be one of the largest of its type anywhere on the planet, features an incredible +300 exhibits. Among them are ten imaginative, colourful compositions by AI maestro Refik Anadol.
For those looking to stay at this intriguing des res (and we certainly count ourselves amongst this group of people!), you might agree with one of Rick Blaine's immortal lines from Casablanca: 'I think this is the beginning of a beautiful friendship'.
Editor's note: IZZA Marrakech is far from the only property in town to help rebuild one of OutThere's most cherished destinations, while offering much-needed help to those living in the city and surrounding area. Another fantastic initiative was started by Le Farnatchi, which has transformed its popular Le Trou Au Mur restaurant into 'Medina Meals', providing up to 350 meals a day to those in need. So far, Le Farnatchi has fundraised upwards of £36,000 – if you would like to support Medina Meals, visit their GoFundMe page here. You can also purchase our Marvellous Marrakech Issue (print or digital), 100% of the proceeds of which will go to disaster relief.
Photography courtesy of IZZA Marrakech