Uncomfortable in his own skin, artist Toni Garau fled his native Mallorca as a troubled teenager, but it was his return to this rocky island as an out man that was the defining moment in his life. Intricate, complex and beautiful, his work today is an elaborate weaving together of the stories and lives of his fellow islanders, reflecting his own new-found sense of identity and belonging.
Wandering around Pollença, I happened upon some gorgeous, quintessentially Mallorcan fabrics. The sight of them stopped me in my tracks, as they were not dissimilar to those made in the long-houses of my native Borneo. Imagine my surprise, then, to find that they're called the same thing here in the Balearics as on my island halfway across the world – 'ikat', from the native Dayak word meaning to tie or weave.
Delving further into the history of ikat, it turns out that the fabric's roots are actually in the Far East. When Silk Route merchants took time out to relax in Mallorca, just as travellers like us do today, the islanders fell in love with the fabrics and adopted them for themselves. The rusty reds of my people's cloths were inspired by their surroundings; and here on Mallorca, the ikats are blue and white, echoing the beauty of the sky and sea. It's amazing how much your environment can inspire you.
Fabric and textiles are at the heart of the work of Toni Garau, an artist as well as a graphic and industrial designer. A proud Mallorcan, from Sóller in the northwest of the island, Toni is entrenched in raising the awareness of the history and impact the textile industry have had in his hometown. Through his art, he's keen to honour a whole generation of labourers that made Sóller and, on a greater level, Mallorca itself what they are today. His message is about growth, strength and resilience – about the Sólleric community and its industries – and the medium he's chosen is wholly textile. I guess it lets one weave in a good yarn.
I catch up with Toni as he prepares for his next exhibition at ABA ART LAB in Palma. His studio is in the middle of the Sóller Valley, between orange trees and fruit orchards. It's a beautiful set-up and the only place, he tells me, where he's able to disconnect from everything and immerse himself in his art. He's excited to share that it's here that he realised that this next body of work is going to be much more minimalist than his current.
"I'm usually all about looms, plotters, heddles, shuttles and warp beams," he says, "the tools of the trade that have been left forgotten and no longer weave the memory of the common people. In my previous works, you'll see threads that go inside and out, over and under. They cross and weave intricately with each other; sometimes purposefully, but at other times without any apparent direction. These threads tell great stories and span generations, keeping the memory and the collective history of our small town in the Serra de Tramuntana alive. In my upcoming collection, I want to present the thread in its pure form."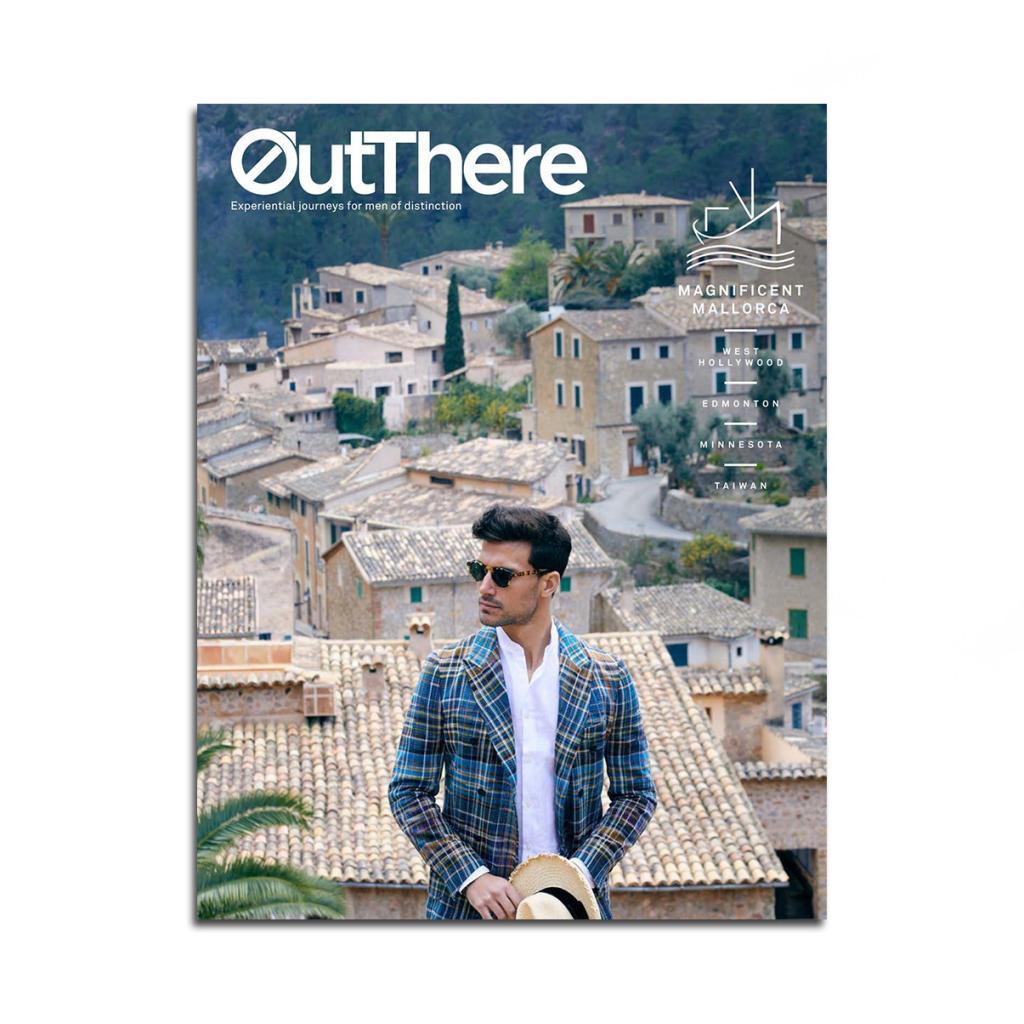 I'm compelled to ask Toni about his childhood and what it was like being OutThere in a small town.
"I knew that I liked men even as a teenager and, honestly, I did everything possible to suppress it because I didn't want to become the big gay fish in a small pond. I held it all in until I went to university, where I persuaded myself to come out. I have a very normal family and knew they would accept me as I am. My challenge was far more personal – learning to accept myself. But since I turned that on its head, it's no longer been a problem and I've been infinitely happier."
"My concept of happiness is far from linear, though," he adds. "My rural upbringing meant I was able to enjoy many other aspects of being young and carefree. I liked being on my own, finding deserted places, looking for four-leaf clovers and ladybugs with odd numbers of spots, sitting out all night to watch a meteor shower, chasing sheep (or rather them chasing me). I grew up in direct contact with nature, a special Mallorcan nature that was all around me. Plus, I can tell you where the Great Bear is."
We both agree that this is what's missing from many childhoods these days. Perhaps it's a sign that I'm ageing, but I really do feel that having the ability, the experience of getting in touch with your surroundings creates an awakened sensitivity and profound love for all that's around us. We notice things more and take a lot more from it. Toni's upbringing in Sóller has certainly influenced his life.
"It has shaped the man I am today: hard-working, committed, sensitive and concerned about the environment and the world we live in. I was in Barcelona for four years and another in Madrid. I left home because my adolescent soul was demanding adventure. I wanted to push my limits in the big city. But I realised that it was actually in Mallorca that I lived adventures and crossed the geographic and social boundaries. That's why I came back to my beloved, rocky island."
Set in a valley and surrounded by mountains, Sóller was isolated from the rest of the island for a long time. The only way to reach Palma was by boat or by a long and hazardous road, the infamous mountain pass called Coll de Sóller. That's why Sóllerics were dedicated to trade – especially by sea – with Barcelona and France. To these neighbouring countries, they exported fresh Mallorcan produce – oranges, lemons, almonds, olives and figs – and from there they brought furniture, fashion and a French flavour still present in the architecture and aesthetics of this little municipality.