Uncomfortable in his own skin, artist Toni Garau fled his native Mallorca as a troubled teenager, but it was his return to this rocky island as an out man that was the defining moment in his life. Intricate, complex and beautiful, his work today is an elaborate weaving together of the stories and lives of his fellow islanders, reflecting his own new-found sense of identity and belonging.
Wandering around Pollença, I happened upon some gorgeous, quintessentially Mallorcan fabrics. The sight of them stopped me in my tracks, as they were not dissimilar to those made in the long-houses of my native Borneo. Imagine my surprise, then, to find that they're called the same thing here in the Balearics as on my island halfway across the world – 'ikat', from the native Dayak word meaning to tie or weave.
Delving further into the history of ikat, it turns out that the fabric's roots are actually in the Far East. When Silk Route merchants took time out to relax in Mallorca, just as travellers like us do today, the islanders fell in love with the fabrics and adopted them for themselves. The rusty reds of my people's cloths were inspired by their surroundings; and here on Mallorca, the ikats are blue and white, echoing the beauty of the sky and sea. It's amazing how much your environment can inspire you.
Fabric and textiles are at the heart of the work of Toni Garau, an artist as well as a graphic and industrial designer. A proud Mallorcan, from Sóller in the northwest of the island, Toni is entrenched in raising the awareness of the history and impact the textile industry have had in his hometown. Through his art, he's keen to honour a whole generation of labourers that made Sóller and, on a greater level, Mallorca itself what they are today. His message is about growth, strength and resilience – about the Sólleric community and its industries – and the medium he's chosen is wholly textile. I guess it lets one weave in a good yarn.
I catch up with Toni as he prepares for his next exhibition at ABA ART LAB in Palma. His studio is in the middle of the Sóller Valley, between orange trees and fruit orchards. It's a beautiful set-up and the only place, he tells me, where he's able to disconnect from everything and immerse himself in his art. He's excited to share that it's here that he realised that this next body of work is going to be much more minimalist than his current.
"I'm usually all about looms, plotters, heddles, shuttles and warp beams," he says, "the tools of the trade that have been left forgotten and no longer weave the memory of the common people. In my previous works, you'll see threads that go inside and out, over and under. They cross and weave intricately with each other; sometimes purposefully, but at other times without any apparent direction. These threads tell great stories and span generations, keeping the memory and the collective history of our small town in the Serra de Tramuntana alive. In my upcoming collection, I want to present the thread in its pure form."
I'm compelled to ask Toni about his childhood and what it was like being OutThere in a small town.
"I knew that I liked men even as a teenager and, honestly, I did everything possible to suppress it because I didn't want to become the big gay fish in a small pond. I held it all in until I went to university, where I persuaded myself to come out. I have a very normal family and knew they would accept me as I am. My challenge was far more personal – learning to accept myself. But since I turned that on its head, it's no longer been a problem and I've been infinitely happier."
"My concept of happiness is far from linear, though," he adds. "My rural upbringing meant I was able to enjoy many other aspects of being young and carefree. I liked being on my own, finding deserted places, looking for four-leaf clovers and ladybugs with odd numbers of spots, sitting out all night to watch a meteor shower, chasing sheep (or rather them chasing me). I grew up in direct contact with nature, a special Mallorcan nature that was all around me. Plus, I can tell you where the Great Bear is."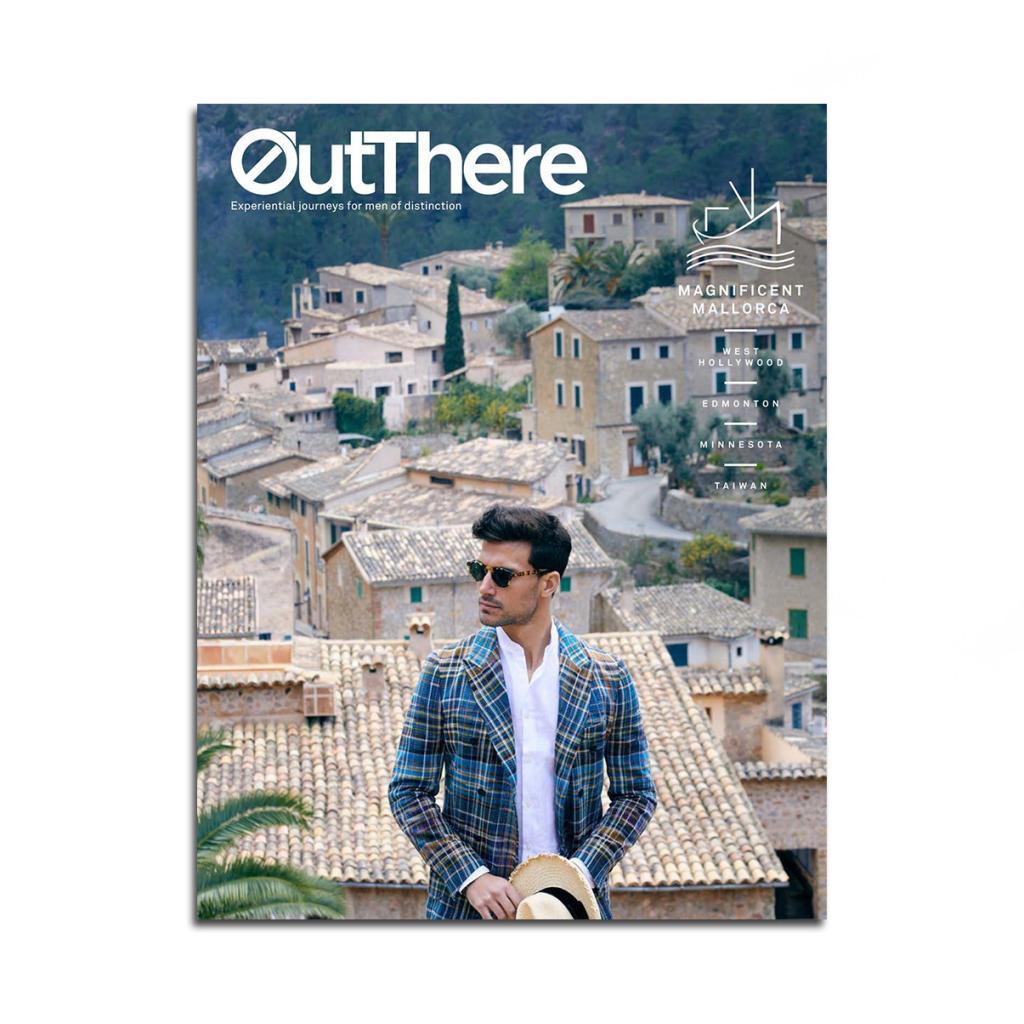 We both agree that this is what's missing from many childhoods these days. Perhaps it's a sign that I'm ageing, but I really do feel that having the ability, the experience of getting in touch with your surroundings creates an awakened sensitivity and profound love for all that's around us. We notice things more and take a lot more from it. Toni's upbringing in Sóller has certainly influenced his life.
"It has shaped the man I am today: hard-working, committed, sensitive and concerned about the environment and the world we live in. I was in Barcelona for four years and another in Madrid. I left home because my adolescent soul was demanding adventure. I wanted to push my limits in the big city. But I realised that it was actually in Mallorca that I lived adventures and crossed the geographic and social boundaries. That's why I came back to my beloved, rocky island."
Set in a valley and surrounded by mountains, Sóller was isolated from the rest of the island for a long time. The only way to reach Palma was by boat or by a long and hazardous road, the infamous mountain pass called Coll de Sóller. That's why Sóllerics were dedicated to trade – especially by sea – with Barcelona and France. To these neighbouring countries, they exported fresh Mallorcan produce – oranges, lemons, almonds, olives and figs – and from there they brought furniture, fashion and a French flavour still present in the architecture and aesthetics of this little municipality.
Then, in 1865 a terrible plague ruined the orange and lemon trees of the valley and the only economic future for many peasants was to emigrate to France or America. When the citrus business recovered at the beginning of the 20th century, many returned to Mallorca with their pockets full of New World money. They built homes on the Gran Via that resembled French Art Nouveau buildings or the colonial houses of South America.
As a consequence, Sóller has a somewhat more 'European' vibe. Not that I'd ever say that out loud. From my short time on the island, I've worked out that Mallorcans – and folk from Sóller, in particular – are quite passionate about where they're from. Don't ever call them Catalan, for instance. Especially with the recent goings-on, they're keen to distance themselves from that, putting it down to something they haplessly inherited, but have since evolved away from. I ask Toni why he feels being from the island is something so special.
"It's quite difficult to define our identity. We're quite reserved compared with other red-blooded Spaniards – probably because we don't feel very comfortable talking about our inner selves. But, while we may not define ourselves, that doesn't put us in any existential anguish, because inside we know very well who we are. We're people who, in a selfless way, come together in associations and collective groups to defend our traditions, our roots and our culture. I think that's what holds us together. We're all born with eyes that are nourished by and worship the blue sea and the year-round sunshine. Yes, you get this in all the other Balearic islands, alongside picture-postcard villages, lighthouses and beautiful landscapes. But there's something about Mallorca that makes it extra special. Here, I can be myself, develop and show my art in cosmopolitan Palma and, yet, find a small bay and dive into the water with my boyfriend and dog and break away from the world. I have found in diving one of my greatest escapes for disconnecting and relaxing. Under the sea, among the fish, rocks, algae and all kinds of marine life, I find the peace that I need. There, I'm able to extricate myself from my problems and take pleasure in enjoying a sport that entertains me and helps me in equal measure."
Despite his belief that it's hard to pinpoint the Mallorcan identity, Toni often coins his art as distinctively Mallorcan. Characteristically, his latest piece of work, Fil, tells a story of his hometown. His art is from the island and of the island.
He laughs, "I guess you're right. I often let myself be carried away by wistfulness for the past and a bucolic point of view. My work reinterprets and reuses a material with a history – thread – turning it into the main element of a collection of works of art. Together with that, I present a part of Mallorca's history that, in an artistic way, continues in time until this moment. What motivates my mind is art itself. I'm constantly aware of my surroundings, so in that sense, I guess my inspiration comes from the island. I'm very curious, I observe conversations, the environment, the people, animals. I always carry a pencil and a notebook around with me in case I find something inspirational. I love my island, its quirky residents, the light, the atmosphere. And I love the way people here are always smiling and greet you, even if they don't know you. I adore simple folk, honest people who enjoy all the marvellous details that Mallorca gives us 365 days of the year."
I ask Toni about the future.
"I'm very spiritual, although I sometimes feel things so intensely, they hurt too much. I cannot accept unjust situations that others don't care about and I clash with people who don't give importance to the things that I believe matter. I want to spend more time combining my great passion for art with humanitarian aid. Apart from being an artist, my profession is in design. I want to continue working with my partners and friends in the Som2 design studio. My job nowadays is important to me and brings a sense of balance, but truthfully I'd like to be able to dedicate more time to art and less to design."
Before we part, I ask him what he feels his role could be in helping younger LGBT+ people here.
"We have experienced such a big change. Today, the little ones have fewer prejudices. They understand diversity better. Young gay people hide less and have some fantastic role models, which I don't remember having, growing up here on the island. Before, I felt embarrassed when I thought people suspected I was gay and now it's the complete opposite. I hope to be one of their role models. I would like to serve as an example to children and young people that being gay is never an obstacle to having the life you want. Some day 'coming out' will cease to be. I'm so happy that we've made progress, but there's still a long way to go, a lot of steps to take."
I leave inspired by what Toni has had to say. In fact, I leave inspired by Mallorca in general. I ask myself what it is about this island that sets it apart. Toni, like others, talks a lot about the magical quality the light has here. Others speak more spiritually about its soul and it doesn't take much to see how these things might have led to the island evolving as a haven for a community of artists. Having spent all this time here myself, I think it's only natural you feel inspired when you live in or come from a place of great beauty like this.
Toni's work can be seen at Fera restaurant in Palma, as well as at exhibitions in galleries across the island and internationally.
Photography by Philippe Degrotte