As far as original places to stay in McLaren Vale go, the Hotel California Road at Inkwell Wines is a step or two ahead of local competition. Sustainability was a consideration from the very moment the hotel was conceptualised, and looking through the large windows of this contemporary property, it's easy to see why they'd want to help safeguard the beautiful scenery on all sides.
Over a glass of sustainably produced shiraz, the fascinating co-owner of Inkwell Wines, Irina Santiago-Brown, explained that during a period of illness, her husband Dudley had asked her for a box of Lego to occupy his mind. This puzzled her, but he told her some of the bricks have the exact proportions of the double-height recycled shipping containers they were considering building their three-suite hotel and cellar door with.
This ethos of curious experimentation is key to the whole Inkwell operation. Whether that's in developing new planting techniques to maintain cooler soil temperatures during increasingly hot Australian summers or employing the mycelium network created by fungi to maintain a naturally balanced flow of nutrients around their 17-hectare winery. Equally important is their commitment to sustainability. The shipping containers at Hotel California Road are recycled – having been used to transport wine around the world – Irina proudly assured us on the way to check into our ground floor suite.
Despite the many sustainable features, from up-cycled materials and furnishings and their genuine drive towards sustainability and off-grid living, the Hotel California Road retains a very high standard of design and comfort. The accessibility to the rooms could be improved however, with the only access we saw being via a stairwell.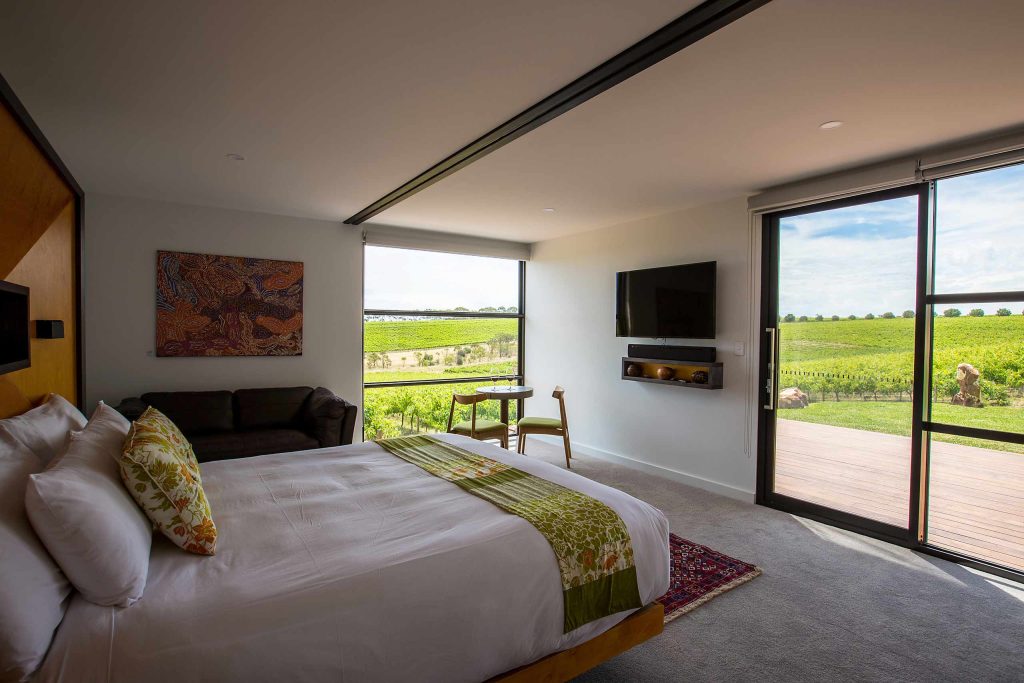 | | | |
| --- | --- | --- |
| Perfect for | Fly into | Right on time |
| The Escapist | ADL | GMT +9:30 |
While you're Out There
At just short of 2 miles, this stretch of sandy beach bathed in the South Australian sun is worthy of any visit to McLaren Vale. But for those wishing to get that bit closer to nature, the southern half, lined with spectacular colourful cliffs, is clothing optional and hosts The Pilwarren Maslin Beach 'Nude Olympics' every January. You don't have to be a naturist to enjoy this glorious beach as there is plenty of space for everyone. Just bring some kind of shade or head there later in the afternoon to enjoy the awe-inspiring sunsets.
Once inside our suite we were hard-pushed to know that this was anything other than a conventionally built, boutique hotel with high levels of comfort and well-considered amenities. We especially loved our stand-alone bath set against a floor-to-ceiling window with views over our substantial deck, across the vineyards, framed by a line of picturesque gum trees silhouetted against stunning sunsets. There was even a wooden bookrest provided with a slot to safely hold a glass of wine. This bath-with-a-view is a feature of all three suites, and if, like us, you can't get enough of this stunning vista, it can also be enjoyed from the viewing deck adjacent to the Inkwell Wines cellar door (which is worth a visit on its own).
This micro hotel doesn't have a kitchen or dining facilities, but that's no problem being based in the middle of Tatachilla: McLaren Vale, with its abundance of high-quality eateries, is accessible within a short drive. You'd be hard-pressed to beat the outstanding beachside Pearl Aldinga Restaurant at Aldinga Beach, less than a 10-minute drive away.
The Hotel California Road really is a delightful place to unwind. Arriving back here at the end of a day of exploring the exquisite region of McLaren Vale, with its many wineries, cute small towns and expansive beaches, was a real delight. The total peace and tranquillity of staying in the middle of a family-run vineyard is something that will stay with us for a long time, and the genuinely warm welcome of the laid-back hosts made it somewhere we'd very happily return to.
Photography courtesy of Inkwell Wines