Walking around the grounds of this soulful sanctuary at the foot of Mount Suthep, you'd be excused for thinking you've travelled back in time. That's because the 24 traditional teak villas that make up Villa Mahabhirom (which loosely translates to 'villa of great pleasures') are 100+ years old. To call one of them your own for a few nights is a kind of luxury you'll struggle to find elsewhere in the Kingdom.
The resort, a passion project by three friends, took seven years to materialise, with all villas having been sourced from Thailand's central plains, dismantled, transported and carefully reassembled in the traditional Siamese way – using not a single nail. Though if you're thinking creaky floors and old-fashioned interiors, you're wrong. Each structure that sits on the hotel's grounds has been modernised in one way or another, something that's helped shining a light on just how sophisticated this type of architecture really is. As always with these things, the apple doesn't fall far from the tree, and when co-owner Sing Preechar personally greeted us upon arrival, we immediately saw where the style and refinement came from.
Only 14 teak mansions serve as guest accommodation, which ups the exclusivity factor and keeps Villa Mahabhirom blissfully tranquil. Waking up in our stilted Artist Pool Villa Royale, to warm shimmers of light pouring through the emerald roof tiles above, we felt a profound sense of connection to Thai heritage. It's something similar addresses attempt to recreate, but rarely with such dedication. That's not to say we didn't welcome a number of tasteful, contemporary touches in this cultural cocoon; from opulent chandeliers to Italian marble bathrooms and fashionable wallpapers to naturally-scented and locally-made Sabu-Sabu toiletries. And those bathroom door handles in our villa? Oh, the cheek!
There's a spa at Villa Mahabhirom, too, which was designed to look just as whimsical as the rest of the property. We took a stroll around it to get some interior design inspiration, spotting amongst other treasures an outdoor copper bathtub in a hidden corner, set against grey stone slabs and surrounded by a myriad of potted plants – mission accomplished. Aside from spa treatments, the hotel also organises yoga or tai chi classes, though personally, we found our zen ordering iced teas and sunbathing by Villa Mahabhirom's saltwater pool.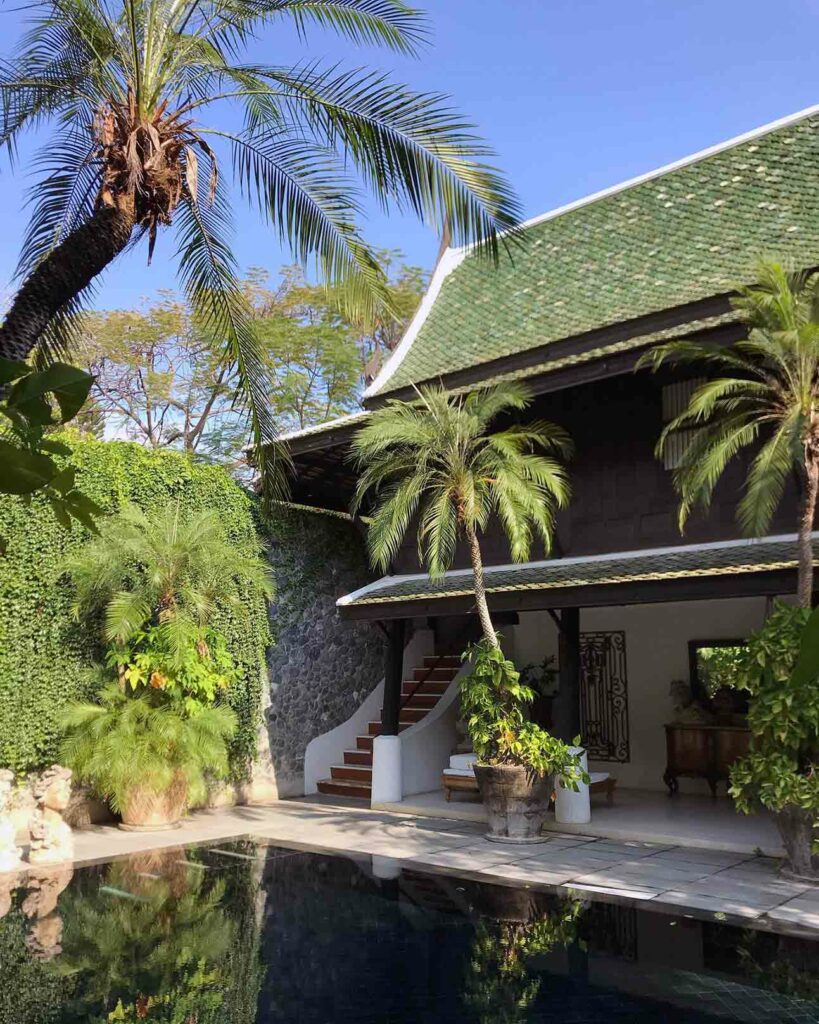 | | | |
| --- | --- | --- |
| Perfect for | Fly into | Right on time |
| The Insider | CNX | GMT +7 |
While you're Out There
There's a stupendous amount of ancient ruins and Buddhist temples to visit in and around Chiang Mai, but for an experience away from the masses, Wat Umong Suan Puthatham is within easy walking distance from the hotel. If you're lucky, you might even catch a local deer herd that occasionally stops by the temple to be fed by the monks.
It's by the pool that we felt most encouraged to make friends with fellow guests of this somewhat under-the-radar hideaway. The people who stay here look for a hub that's more intimate and shielded than many of the big-name addresses in town – a place where the soundtrack of birdsong, water features and a constant hum of relaxing music appears so natural, you'd think it's always been there. What's special about this is that this sense of having found a genuinely undiscovered paradise is increasingly difficult to come by in a country that has, in recent decades, so immensely benefited from tourism. With the masses always come developments and somewhere along the way to a supersized tourism industry, soul and character are often bulldozed… but not so at this small-scale property.
At dusk, the hotel is at its most magical and romantic: a walk through the lush grounds interspersed with specially commissioned sculptures and water features sets the tone for dinner, served between frangipani trees and paper lanterns swaying above the resort's main pool. Few, uninspired veggie options at Villa Mahabhirom's Vietnamese restaurant left us quite disenchanted on our first night, but once we'd told staff, they went above and beyond to conjure up all sorts of delectable, plant-based meals from day two onwards – in this day and age, though, guests shouldn't be forced to ask for makeshift vegan options. Fantastic, veggie meals quite simply deserve a space on the menu.
We also felt like the team was at times almost mothering in their communication, advising us to catch up on sleep (don't you just love to hear you look tired?), while wearing t-shirts that read 'Go Pho Yourself'. While we enjoyed that ordering food here reminded us a bit of ordering from a food stall in a walking street market – fun and informal – we'd argue luxury travellers used to an international standard would expect a more polished style of service.
That's not to say we didn't like our interactions with staff. In fact, virtually everyone we met at Villa Mahabhirom was exceedingly warm and welcoming; and for lack of better words, the whole team just seemed to have chemistry. Young, zealous and clearly proud of the stunning surroundings they get to share with guests, they do their job with passion and a sense of lightheartedness. Getting to know some of the hotel's staff over the course of a few days, for us, was a most gratifying reminder of just why Thailand is known as the Land of Smiles. It'd be hard not to smile along between Villa Mahabhirom's uniquely artsy and utterly original villas. If we look this good at 100, it'll be a 'great pleasure', too.
Photography by Steffen Michels and courtesy of Villa Mahabhirom