For a magical glimpse into a Thailand that's rural and authentic but increasingly hard to find, Steffen Michels books a Chiang Mai tuk-tuk lesson and heads out on an ethical tour of an eco valley, where responsible tourism helps locals keep the traditions of their forebears alive.
It all starts at the top. More precisely, at the peak of Thailand's highest mountain, which enjoys the kind of celebrity among locals otherwise reserved for members of the Thai royal family or the Lord Buddha himself. Perhaps in a nod to this, Doi Inthanon's 2,565m-high summit is graced by two monumental twin pagodas, built to commemorate the 60th birthdays of the late King and Queen. As I approach the peak, a gust of wind pushes a mix of morning mist and clouds into the valley below, suddenly revealing the Queen Pagoda to my right. Covered in soft-lilac mosaics and topped with a golden stupa, the bell-shaped structure is quite a sight, although, with increasing visibility, my gaze is soon drawn towards the horizon.
The mountain range stretching out all around me is as ancient as they come. Incredibly, these are the foothills of the Himalayas, although the moss-green blanket of rainforest cloaking Doi Inthanon National Park would never make you think so. Neither would the city of Chiang Mai itself, from which travellers explore this part of the country, sometimes referred to as the 'roof of Thailand'. I've visited Chiang Mai before, ticking the historic temples and walking street markets of the former seat of the Lanna Kingdom off my list. But this time, my goal is to go beyond the city walls and meet locals who for centuries have called these mountains home.
One of them is Nu, a Pakayaw tribesman and heir to his father's farm a few miles down from the twin pagodas. He picks me up at a small rest area near the village of Baan Mae Klang Luang and gestures to me to jump on the back of his pickup truck for a brief but eyes-widening ride down a steep dirt path. It's the kind of descent my German-native sensibilities suggest should come with a warning (or a security fence, for that matter), but this being rural Thailand, adventure grows on trees. So do peaches, mangosteens and rose apples, and I can smell Nu's plantation before I can see it. Hidden away in an eco valley, the farm has been family-owned for more than 30 years, but it wasn't until Nu took over that production went all organic.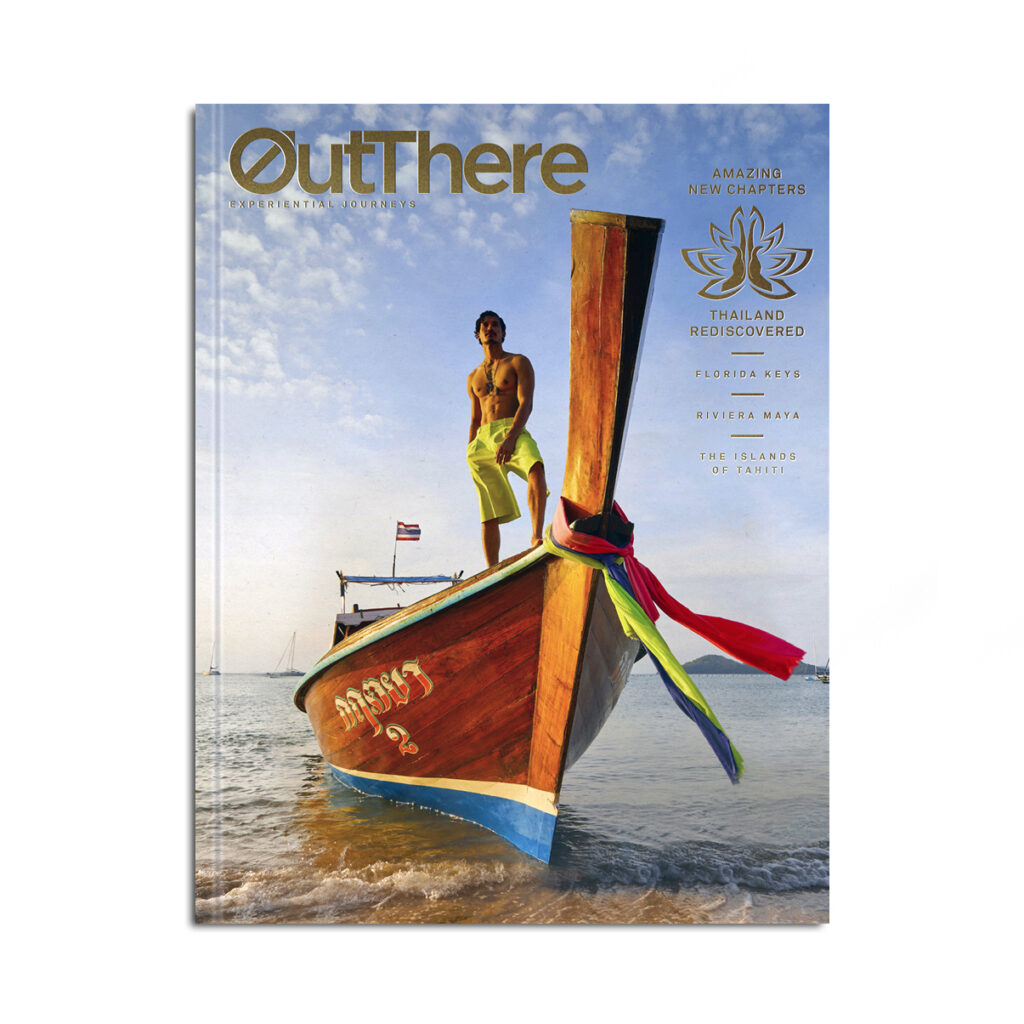 As we pick flowers and coffee beans, Nu explains that much of his produce is sold at markets in Chiang Mai, although a proportion of each harvest travels all the way down to Bangkok, where chefs at top restaurants appreciate it for its superb, chemical-free quality. His eco valley may be far from a huge business, but Nu is clearly proud of the environmentally sound operation he runs in this hillside oasis – that much is clear as I take pictures of him climbing a tree in an embroidered, crimson hill-tribe top, a boyish smile on his face.
Brilliantly, almost everything I see here is made from the natural resources growing on all sides. As we sit down for lunch at a table made out of husked bamboo, Nu's wife dishes up fragrant rice, tofu, mushrooms, vegetables and fruits from the farm. It all comes either wrapped in banana leaves or served on rattan trays, with a proper dollop of the kind of fiery chilli paste that the palate of a farang like me was never intended to make the acquaintance of: it's the good stuff and I eat every murderous drop.
Only upon scrambling back up the winding paths on the back of Nu's pickup truck – now with a mixture of sparkling water and spicy sauce lining the inside of my stomach – do I start to regret recent life decisions, but, with a trek along Doi Inthanon's popular Pha Dok Siaw nature trail ahead, my remorse is short-lived. The hike takes us past postcard-worthy rice terraces and a part of the jungle so old that several trees are cloaked in saffron-coloured Buddhist robes that denote their sanctity and award them 'no-cut' status. But it's the waterfall, after which the trail is named, that marks its highlight. In awe of the cascade, I stand rooted to the ground, taking in its sheer force for a minute or two.
Nu, on the other hand, quickly skips across the pool at our feet like a flat stone on still water. As he reaches the centre of the basin, I can see why: a bright orange plastic bottle is stuck between two boulders. He picks it up and puts it into his jute bag. The Pakayaw have an age-old maxim every five-year-old can recite: 'aw te ka taw te, aw kaw ka taw kaw', which loosely translates as 'if we drink water, we have to protect water'. In its utter simplicity, harking back to a time when pollution didn't cross borders, I find this incredibly wise. The people of these mountains have lived off the land they stand on for centuries and continue to be self-sufficient in a way unthinkable in other parts of Thailand, much less the world. Their respect for this land is absolute. No ifs or buts: if we drink water, we have to protect water.
It's a sentiment shared by the Hmong and Akha peoples of Mae Wang district, which sits between Doi Inthanon National Park and the city of Chiang Mai. Once overlooked, Mae Wang is home to its very own anthology of sights and sounds that have put it on my itinerary. And one particular sound would bang to the foreground of any acoustic setting: that of an approaching tuk-tuk. Until recently, Thailand's universally loved auto-rickshaws were as rare in Mae Wang as the white-handed gibbon, but the Tuk Tuk Club, founded by travel-industry veteran Bruce Haxton in 2017, has put them on the district's roads – and travellers behind the wheel.
While the club offers everything up to 11-day journeys into the most remote corners of Chiang Mai province's forested valleys, I've come to see how far we can go in a single day. Driving on the left side of the road frankly intimidates me at first; not least because the last time I did it, I nearly crashed my rental outside the city of Kuching in Borneo. But my guide, a young Thai man with a passion for responsible tourism and a heart the size of a jackfruit, eases me into the experience in no time. His name? Why, Boyz, of course.
"I'm reminded that cultural exchange goes both ways and that my desire for immersion is not without its limitations"
Following a brief lesson that every aspiring tuk-tuk driver needs to pass, we head deep into Mae Wang district. The vehicles, equipped with Bluetooth speakers and rollback roofs, have been custom-designed to accommodate travellers on a, shall we say, 'Western' diet. They offer a joyride so fun, I feel increasingly sorry for those who decide to temple-hop along with the masses back in town without taking the time to come out here. Each turn holds the promise of a new, beautiful sight to behold: children playing soccer barefoot, small trails overhung with fruit-laden trees, and crosslegged locals making traditional phuang malai garlands from flowers. Scenes like these portray a rural, authentic Thailand that's become hard to find elsewhere.
'It's important to bring people out to these communities' says Boyz, as we stop by a small Buddhist shrine carved into the side of a hill. 'We want to give locals outside Chiang Mai the chance to benefit from tourism. That's why all the travel partners we use are owned and staffed by locals, from the homestays our guests sleep in, to the restaurants we take them to. The money you spend here stays here'.
And it's not just money. Improved language skills are another catalyst for the career trajectories of Mae Wang's youth, and so is cultural exchange – although as Boyz spots a red-ant nest in a mango tree above our heads and starts raving about khai mot daeng, a sour, zesty blend of ants' eggs and pupae eaten in this part of Thailand, as well as in neighbouring Laos, I'm reminded that cultural exchange goes both ways and that my desire for immersion is not without its limitations.
The final stop on our tuk-tuk tour is Wat Luang Khun Win, a stunning temple complex so deep in the forest, you'd expect to stumble upon a clouded leopard juggling coconuts on roller skates sooner than any human-built structure up here. Set between acres of untamed jungle, the temple is quite literally off the beaten track, forcing us to switch to a four-wheeled mode of transportation for the last few miles. As we arrive, the temple is as shrouded in mist as it is in legend. I feel tiny droplets of warm water form on my neck and soon a wall of rain falls from the sky in a way you only ever experience in tropical latitudes. Taking refuge in the temple as a symphony of plinks hammers down onto its tiered roof, I notice myriad intricate artworks carved into the teak interiors. To think that a place like this exists in the vicinity of one of Thailand's best-explored destinations, yet continues to feel near-undiscovered, makes me wonder how many more treasures lie hidden beneath the thick foliage of the kingdom's mountainous north.
That night, I dine at Kiti Panit back in Chiang Mai. The restaurant, housed in a history book of a villa built in 1888, serves traditional Lanna cuisine. Between unripe rice with shredded coconut and fermented tea leaf salad (a rarity outside Myanmar), many travellers will discover a new – yet age-old – taste of Thailand here. It makes me think of Boyz, who, after telling me he's set to become a father, talked about how important it is to pass on traditions in these valleys, which are kept verdant by tribespeople to this day. His child will inherit a home as fair as it is fragile, and travellers who choose to interact with these communities in a responsible way can contribute to this environment's sustained health.
I'm also reminded of Nu. Upon reaching a clearing near his eco valley the previous day, he built a small windmill out of leaves. When he was a child, he said, his father would make these to keep him entertained on long hikes through the forest. And although I can't sense a breeze by any stretch of the imagination, the windmill's vanes start spinning as if by magic. I'm flabbergasted. Clearly satisfied with my bewilderment, he lets go of the construct and we watch it waltz its way into the valley below, swaying from side to side mid-air. Just perhaps, I think, if you're kind to the ground you stand on and the air you breathe, they might put on a little show for you every now and then.
Steffen stayed at Raya Heritage in Chiang Mai (see our review of the hotel here) and took part in its signature Day of Eco Valley experience, which includes a picnic lunch and refreshments, entrance fees, a driver and an expert guide. Luxury travel company Abercrombie & Kent can organise tailor-made trips across Thailand with personalised VIP service. Its unique experiences include the tuk-tuk tour of Chiang Mai province.
www.rayaheritage.com | www.abercrombiekent.co.uk
Photography by Steffen Michels and Bruce Haxton, courtesy of The Tuk Tuk Club