We can't say that we've ever really had the urge to throw a TV out of a hotel window. But when in West Hollywood and at the property that was once the infamous rock and roll Continental Hotel where it actually happened… we could be persuaded, especially as the hedonistic lifestyle is immortalised and embodied at the Andaz West Hollywood.
Well, it turned out that even if we wanted to rack up some serious rock and roll-style hotel charges, we actually couldn't. We have been told that the suites at the Andaz West Hollywood (once the Continental Hotel where some of the world's best and bombastic bands stayed when their tours hit the music motherlode of Los Angeles) with balconies like the one that Led Zeplin graced with their television-lobbing antics have now been closed up and turned into garden rooms
But fear not, the hotel team here at the Andaz West Hollywood are more than happy to regale you with tales of drug-fueled orgies and motorbikes being ridden down the corridors of yesteryear. However, the Andaz West Hollywood is still set up to let guests holiday like rockstars. We certainly did!
We loved its rooftop pool – one of the highest in L.A. – and our 800-square-feet / 75-square-metre (ANDAZ)RED suite, designed by Jonathan Adler, which let us rock out (and in) with a conscience. Not only does it look good, but it also does good, as 30% of the room rate goes towards helping fight HIV/AIDS through Bono and Bobby Shriver's landmark charitable organisation.
The suite was eclectic, to say the least; an ode to the punk rock heyday of the 1970s, a whimsical party pad of an apartment with its own dining room, not to mention amazing views over the city's skyline and the rolling Hollywood Hills.
Want to go big or go home? Check out the Beatrice Girelli / Indidesign-designed Panorama Suite, a 1,700-square-foot / 157-square-metre accommodation that also pays homage to the hotel's musical past. The contemporary art-filled space is super colourful, yet sleek and sophisticated; and the curated photography depicts some of the musical talents who frequented the Andaz or Continental. They certainly would love the decor.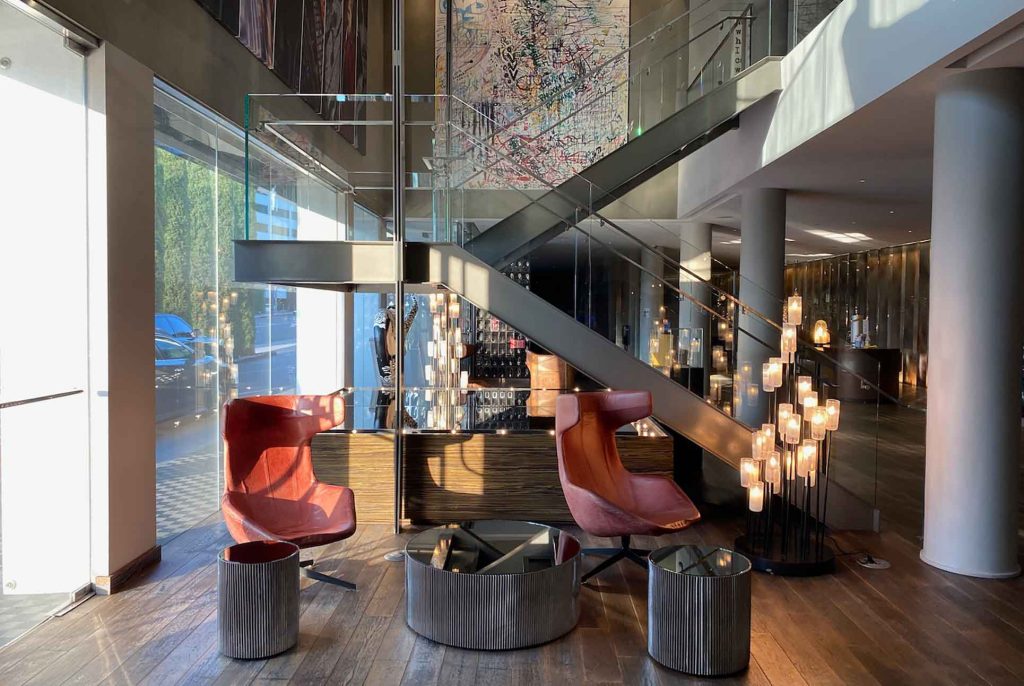 | | | |
| --- | --- | --- |
| Perfect for | Fly into | Right on time |
| The Hedonist | LAX | GMT -8 |
While you're Out There
Just outside the hotel, the Sunset Strip teems with sites of rock interest. It's the place where notorious bands played small dive bars and went on to make it big. It is also the home of legendary music venues like the Viper Room and Roxy, and attracts world-class acts and their fans from around the world. Cult rock jewellery maker Mitchell Binder (aka King Baby) has a store on the Strip, too, and you can get yourself kitted out at the rock world's favourite high-end designer John Varvatos at his Melrose Avenue flagship.
The Andaz West Hollywood goes the distance to add value to each stay. It's pet friendly (you have to be in Los Angeles these days) and there are complimentary snacks and drinks in the lobby.
The hotel's restaurant again plays on its party-hearty heritage (do you see a theme here?): called the Riot House, it serves up amazing cocktails and delicious, SoCal comfort food.
Lest to say, it's not all rainbows, unicorns and drag queens when you come to visit West Hollywood, although it is arguably America's queerest small city. So, if you're Rock 'n' Roll-leaning and your favourite colour is black, you'll find that there's a space and tribe for you here too.
Photography by Mike Schwartz and John Russo, courtesy of the Andaz West Hollywood