Travel and its culture-blending opportunities were always key inspirations for Colombo native Dinesh Perera. So he ditched a covetable advertising career to chance a progressive vacation concept that today welcomes LGBT+ visitors with a smart, celebratory sensibility unparalleled in Sri Lanka.
Three years ago, digital marketer Dinesh Perera's advertising career was flying high. His creative direction for leading Sri Lankan brands had earned him a clutch of awards, global megabank HSBC was among his international clients and a job offer with a consultancy in Melbourne was about to land. Partly educated in Dubai, he had travelled in North America, Europe and much of South Asia. Dinesh, one of a new breed of cosmopolitan, self-made, millennial Sri Lankans, looked to have life licked.
"There was a phase when I used to have to wear all the latest designer brands, have the latest stuff," laughs the mild-mannered Colombo native. "I had grown up in a very westernised culture in Colombo. Sometimes I would know more about the latest plot twist in some Hollywood TV show than what was happening in my country. But I started to feel more and more at odds with my conscience helping companies sell stuff to people who didn't need it. I just found I couldn't do it anymore."
Beyond his career, changes were unfolding in Dinesh that were to shift the course of his life. An out gay man – a rare creature in Sri Lanka – Dinesh was three years into a relationship that was helping open up his world view.
"We travelled around the country together every chance we got," he says. "Suddenly, every weekend was a new adventure, introducing us to new people, conversations, perspectives and ideas from all over the world that enriched our lives."
Inspired by their experiences, Dinesh and his partner began renting out three bedrooms in their apartment through Airbnb, 'so we could keep meeting amazing people, even when we didn't have time to travel'. Then, on the drive home from yet another weekend trip, they decided to make mindful travelling their lives' mission.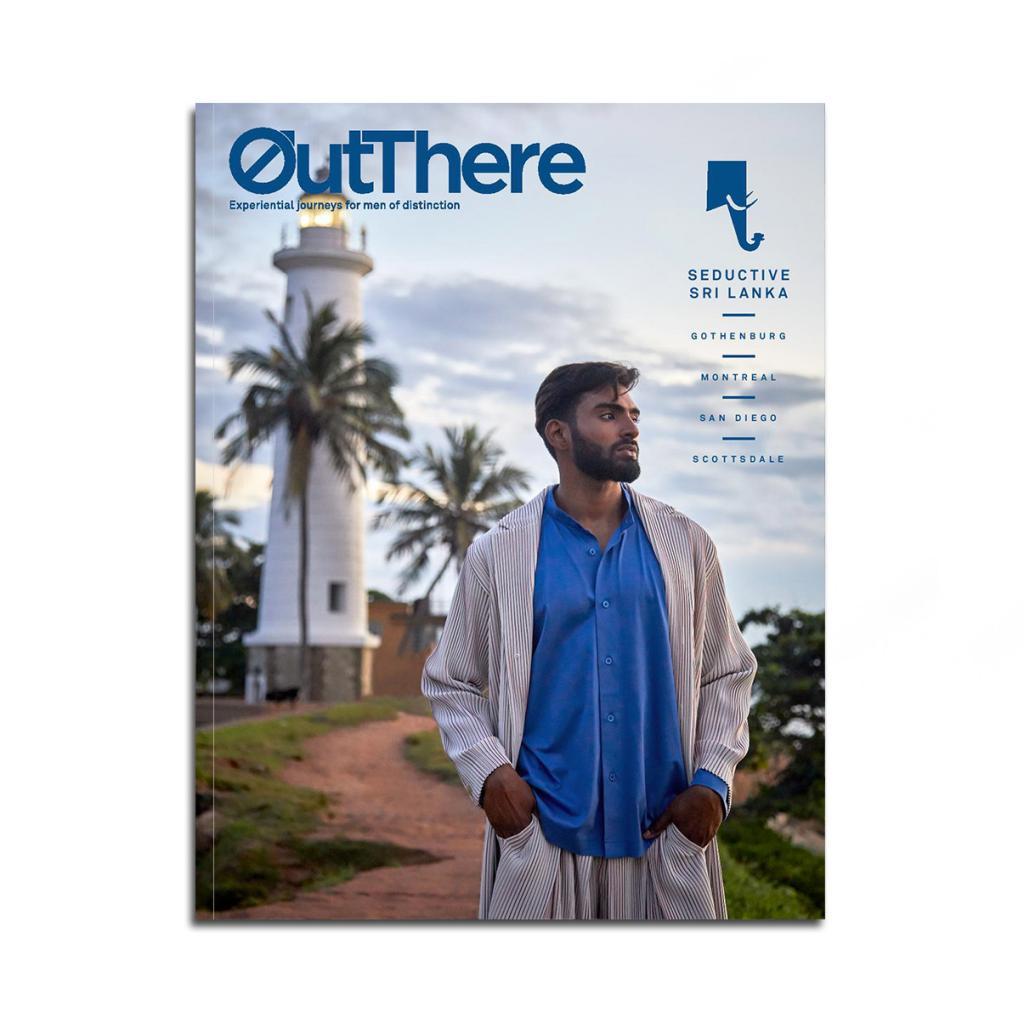 Today, the couple run two guest houses on the same street in Colombo's smart 05 district, just steps from prestigious, attraction-packed 07. On the day the OutThere team checks in at Mahasen by Foozoo, the first of the properties to open in 2017, we leave our flip-flops with all the other guests' and staff's by a fish pond surrounded by exotic hanging plants, pet a few of the friendly resident cats and take in a cute, kitschy shrine in the lounge dedicated to the deities of all four of Sri Lanka's principal religions. Meanwhile, smiling relaxed staff welcome us, offering us tea and asking if they can make us a sandwich, even though it's hours until dinner.
Liberally used by Mahasen's guests as relaxed social spaces, the building's airy, bright communal areas, simply and colourfully decorated in an artsy, upcycled style, give on to seven budget and mid-range bedrooms, each furbished with vivid tropical flowers and hand-painted wall art. But it's the warm homestay vibe, which also infuses the sister property Mahasen Terrace, that is its most compelling feature and unique in Sri Lanka.
Alongside a passion for sustainability and authentic, experiential travel that truly connects with the country and its culture, inclusivity is at the heart of Foozoo, now a travel mini-empire that encompasses both guest houses and a tour company. 'Everybody's welcome' is the company's strapline and guiding philosophy and guests are young and old, gay and straight, international and native – and occasionally canine and feline.
"We wanted to create a space where labels don't matter and where everybody feels safe," explains Dinesh. "And that has resonated with a lot of very diverse people."
Launched last year, Foozoo Travel adds to the mix a broad and flexible range of imaginatively designed, off-the-peg and bespoke itineraries around the country, from simple beach-hopping jaunts and immersive cultural and nature odysseys to lavishly pampered stays in the pick of Sri Lanka's exceptional luxury hotels – all with enticing options to deviate from tourism's well-worn paths and forge unique experiences.
Among those seeking to have a real understanding of this country, this is perhaps most transformative for LGBT+ travellers. In a legislative hangover from colonial times, homosexuality remains a criminal offence in Sri Lanka, technically punishable by up to 10 years' imprisonment. And, though no one has been convicted under anti-gay laws for more than 70 years and most worldly Sri Lankans consider them effectively obsolete, powerful social stigma remains, especially for natives of the country. (Despite proudly offering LGBT+-supportive travel services in Sri Lanka as one of Foozoo's three co-
directors, Dinesh's partner prefers not to be named in this article.)
For the visitor, such prejudice is less of an issue and, while the island's own gay life goes on mainly under the radar, LGBT+ travellers, culturally cocooned by their outsider status, rarely experience friction. But for all the inclusivity training now offered by big international hotel groups and the urbane sophistication of the modern boutique hotels that have sprung up in Sri Lanka in the past 10 years guaranteeing guests equal treatment in-house, if it's a connection with authentic local LGBT+ culture you seek, Foozoo's guest offer is without peer.