The Sala Bang Pa-In, 20 minutes from the old Siamese capital of Ayutthaya (and not to be confused with their sister hotel in the city itself) is the perfect Thai country escape and a great base from which to explore the historical UNESCO World Heritage Site.
We'd go as far to say that the Sala Bang Pa-In is a game changer for hospitality in the region, offering up a luxurious, beautifully designed and effortlessly experiential place to stay for us city-slicker travellers looking to get under the skin of rural Thailand, only an hour from Bangkok.
Blink and you might miss the tall, red, wooden reception house for the Sala, hidden down a rustic path in a village of old wooden houses on stilts, right by the riverside. But upon checking in, you're led over a crimson arc bridge – somewhat of an emblem for the resort – over the river… and a gorgeous, contemporary design-led complex, built entirely on it is own island, reveals itself.
Here the aesthetic is 'Scandi-Thai', with creamy woods, light paints, slatted partitioning and earthy furnishings. We loved that the communal spaces almost look like they've been worked around the natural landscape and the trees, rather than the other way around. In all aspects, sustainability in design, build and operations is at the heart of the resort.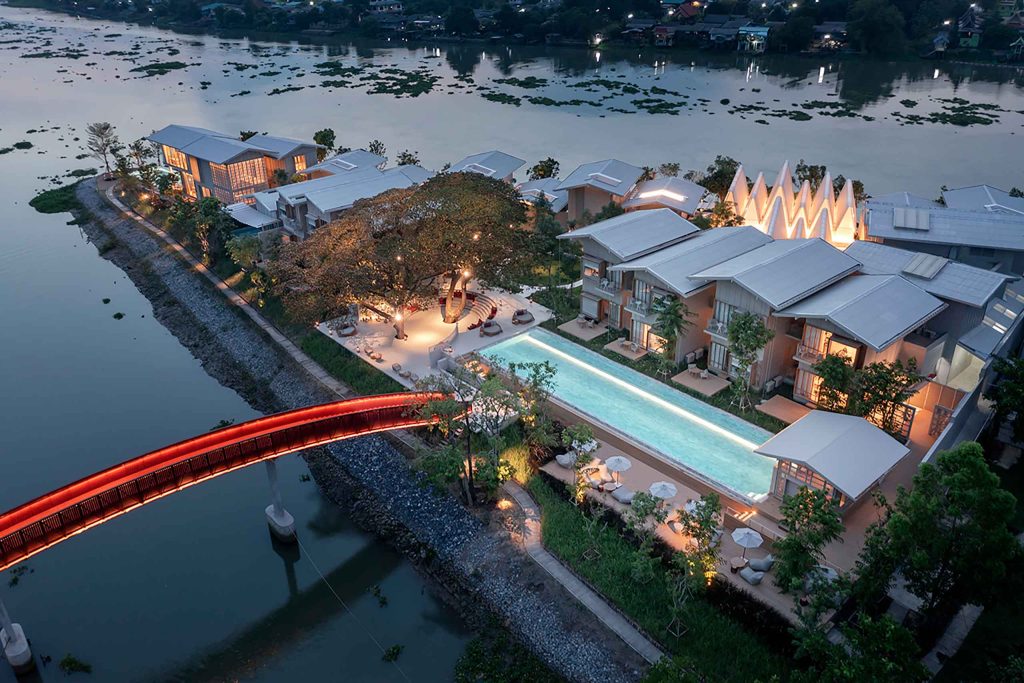 | | | |
| --- | --- | --- |
| Perfect for | Fly into | Right on time |
| The Insider | BKK / DMK | GMT +7 |
While you're Out There
While not specifically in Ayuthaya, the Sala Bang Pa-In is a short drive away from the ancient capital of old Siam, so while domestic travellers may be more inclined to stay in, international visitors will no doubt want to head out to explore what this amazing heritage site has to offer. Its story is not all ancient, there are plenty of modern things to see too, particularly its contemporary architecture, creative coffee culture (check out the Busaba Cafe and Bake Lab) and amazing riverside places to eat and drink like The Grand Chao Phraya with its adjacent F&B concepts The Wine and The Woman (which celebrates the culinary achievements of single and widowed women from the local community).
At the centre of Sala Bang Pa-In is a gorgeous blue pool, inviting cabanas, the hotel's main restaurant (where a delicious breakfast choice is served each morning, to a soundtrack of chanting from the monastery across the river) and an amphitheatre-like terrace area, where guests can relax or watch scenes of village life from. We'd also hasten to add that the resort is wonderfully landscaped, tall reed grasses and colourful plants form an instinctive wall between what has been built here and the rugged, natural surroundings.
Our almost all-glass 'River View Pool Villa' is best described as a terrarium of a suite – with double-height windows looking out to a hanging garden courtyard. It's a beautiful and ample space, complete with all the modern comforts that today's travellers need, yet taking elements of rural Thailand and adding a contemporary twist to it all. Accents of colour punctuate the clean space… green for the flora and blue for the river and sky. But the suite's highlight is by far its stunning, curvy outdoor plunge pool, overlooking the river and real life on its banks. 
For OutThere travellers who want to upgrade, the signature three-bedroom Villa One, a stunning edifice, is built right on the island's tip with an amazing private swimming pool that almost melts into the Chao Phraya.
The Sala Bang Pa-In oozes in charm. It's a tranquil and wholly different retreat from what we've come to expect of Thailand. For OutThere travellers seeking an off-the-beaten-path experience within an easy drive of Bangkok and a base to explore Ayuthaya, Sala Bang Pa-In offers a genuinely serene hideaway amidst the authentic allure of rural Thailand.
Photography courtesy of SALA Hospitality Group