The inside track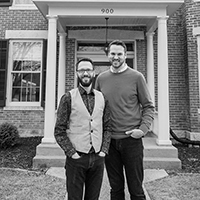 Husbands and business partners Robert and Douglas Mahan are the sixth owners of the Aldrich Guest House, a charming heritage bed and breakfast property in Galena. By mixing modern conveniences, great homemade food, refined decor and service that is intuitive and professional yet unobtrusive, they've been able to become the leaders in the next generation of bed and breakfasts.
Get native
Casper Bluffs is on one of the sloughs of the Mississippi River, site of the only Thunderbird Effigy Mound created by Native Americans nearly 1500 years ago. It's under ten minutes away from the guesthouse and one of the highest points in the area. The view is so stunning and on a clear day, you can be standing in Illinois and see two other states.
Eat
Fritz & Frites – you'll soon realise that Galena has a very European vibe because of its earliest communities. F&F is by far our favourite restaurant in town. It feels like an authentic European bistro and offers a menu that is half German and half French. We send our guests here all the time because we know they can always expect amazing food prepared by the owner, Fred.
Drink
The brewery on Main Street is home to Red Stripe beer, which many believe to be a Jamaican beer, but it was actually brewed in Galena for nearly 100 years before it was sold during prohibition to two Englishmen in Jamaica. There are four wineries within a 45-minute drive. Also, Blaum Brother's Distillery is just a 5-minute drive from Aldrich. Their gin is one of our favourites.

Live
Check out 'The Women of Courage & Commitment' – with Galena being as old as it is, we have no shortage of stories to tell. This group of women entertains audiences with stories of the women who shaped our history.
Absorb
Definitely a hidden gem, the West Street Sculpture Park is full of metal sculptures by John Martinson. Each piece is clever and perfectly tucked into its surrounding landscape, creating the most whimsical and enchanting park space in the city!