Stepping foot in Manhattan for the first time since the start of the global coronavirus pandemic was emotional in itself, let alone coming full circle to stay once again at the very first hotel that OutThere reviewed in the city, the Gansevoort Meatpacking NYC. A lot has changed, but like old friends reunited, we picked up where we left off.
Everyone's first time in New York City characterises the nostalgia they have for the place. Those who came in the 1970s were dazzled by the disco days of Studio 54. Visitors in the 80s found NYC to be the beating heart of a vibrant, global, counter-cultural movement that redefined societal norms and life as we knew it for decades to come (despite the dangers, drugs and disease). Club-kid friends who arrived in the 90s tell us that it was this continued creative renaissance, matched by an almost about-turn to zero tolerance on crime, that drew them here. And throughout that decade, endless episodes of Seinfeld, Friends, Will & Grace and Sex and the City beamed simultaneously onto our TV sets bringing this faraway city so much closer – at least, virtually.
The story of New York City's evolution is best represented by the change in the Lower Manhattan area around Gansevoort Street. From the 1900s, this low-rise zone of warehouses, tenements and old cobblestone streets was home to the slaughterhouses that provided meat to the booming city and beyond, giving it its name 'the Meatpacking District'. A literal meat market, it was branded as a neighbourhood for the city's misfits by snobby, affluent Upper Manhattanites, because of its impoverished, blue-collar demographic.
Little did they know, however, just how right they were – or would be. By the end of the 1960s, in line with the general decline of NYC as a port, combined with advertising folk on Madison Avenue extolling the benefits of supermarket shopping (and with that, the way food was distributed), the area, like other parts of the USA, plunged into hard times. But then, the new-found LGBTQ+ 'liberation' of the era breathed some alt-queer life into the area. Its vast, low-rent warehouses and dilapidated buildings set back from the prying eyes of the city's puritans (and just a few blocks from the infamous Christopher Street Pier) made it home to LGBTQ+ nightlife, transgender sex workers and BDSM subculture. Legendary queer sex clubs such as The Anvil, Manhole and Mineshaft were founded here, as immortalised in the 1980 thriller Cruising, starring Al Pacino. It was the city's underbelly – for the best and the worst of reasons.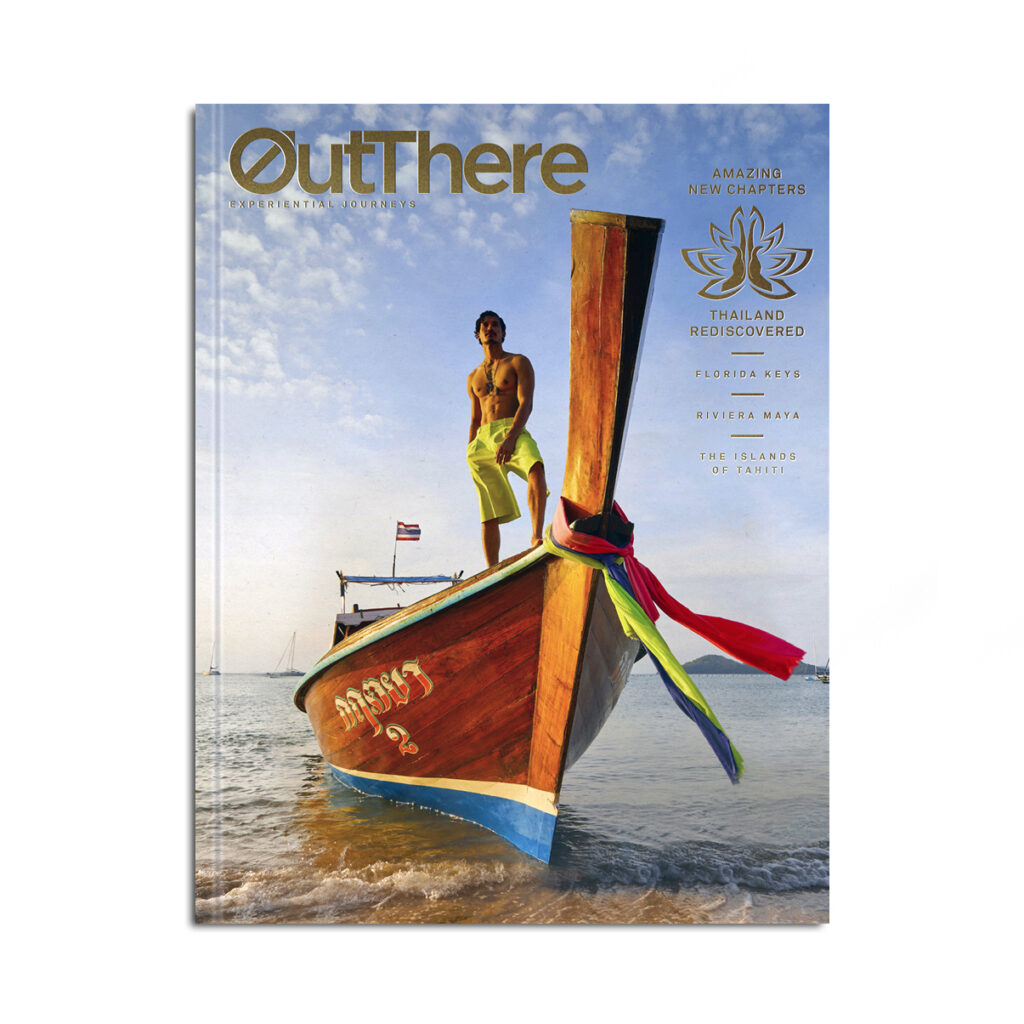 When HIV and the AIDS epidemic of the 80s and 90s decimated queer goings-on in the area, a new bunch of 'misfits' arrived in the form of avantgarde gallerists, fashion designers and hospitality entrepreneurs looking for respite from the monotony and expense of Fifth Avenue. They were backed by powerful real-estate money from those hungry to get their hands on an area ripe for redevelopment. The architecture was perfect for their purpose: concept retailing and entertainment. By the early noughties, the Meatpacking District had gone through a wholesale transformation, with luxury clothing stores, restaurants, members' clubs, high-spec nightclubs and a number of upscale hotels – including the one at the centre of this story, Gansevoort Meatpacking NYC – opening up at a bewildering pace.
It immediately blurred the borders between 'civilised' Manhattan and this once down-at-heel hinterland. Then, a well-timed preservation order placed the district on the National Register of Historic Places, protecting close to 150 buildings, structures and streets from being completely torn down and rebuilt; only sympathetic renovations and restorations would now be allowed. This meant that the Meatpacking District – aesthetically and atmospherically – retained a flavour of its past.
Our personal reminiscences of NYC were from this time and of this place. We arrived in a city that was resilient but still reeling from 9/11, its energy undiminished despite that tragic event. We were New York virgins, thrust right into the heart of the district that New York Magazine called the city's 'most fashionable neighbourhood'. And, in our eyes, the Gansevoort Meatpacking NYC hotel was (and this is exactly how we wrote it up) 'one seriously funky place to pop your New York cherry'.
It was a particularly searing NYC summer. From the hotel's rooftop, we watched the Fourth of July fireworks light up the skies over the east and west Hudson riversides. We were high on life and strong, free-pour cocktails. Descending to street level in new clothes we'd bought at Jeffrey boutique, we turned drunkenly-navigating-the-cobblestone-streets into fancy-footwork on the dancefloor of Cielo nightclub until the sun came up, and then blew a hundred dollars on a soul-redeeming breakfast at Pastis restaurant. Then, best of all, we collapsed into our gorgeous bed at the Gansevoort, waking up some time mid-afternoon to dust off the cobwebs from the night before poolside. Then repeat.
Over 15 years later, we're back to where it all started. Returning to a place that holds dear memories for you is like meeting an old friend you haven't seen in ages – there's some trepidation that it may not be the same as you remembered, but there's also the realistic view that things inevitably change, as we ourselves do.
"From the outside, Gansevoort Meatpacking NYC is exactly as we remembered it. On the inside, however, the property has been given an extensive makeover. Using the time over the pandemic for long-anticipated and deep-wallet renovations, the hotel has reopened with a new vision and a keen eye on art, design and technology"
In line with the rest of New York City, the Meatpacking District has gentrified to its furthest possibility. There's now a Starbucks Reserve and a Sephora, an Apple Store with its competing Samsung 837 flagship, a Hermès boutique, and a Gucci pop-up is mooted to be moving to permanent digs on West 14th Street. Diane von Furstenberg's flagship is still here, and her expansion into and influence on the area are marked by a sundeck in her and her husband Barry Diller's name on the now fully operational (and flourishing) High Line park. Their development work here stretches beyond the Meatpacking District's cobbled streets onto Little Island, a 'floating', Heatherwick Studio-designed park, commissioned by Diller himself. Other philanthropic efforts include the new home to the Whitney Museum of American Art, which, when we first heard about it, made an image spring to mind of 1930s socialite Gertrude Vanderbilt Whitney clutching her pearls at the thought of an institution in her name being installed in this misfit neighbourhood of her days.
Sadly, the recent pandemic has claimed some casualties in the area. The eponymous Jeffrey store – said to be the first to lead the concept-fashion charge here – has shuttered for good. With it, a number of bars and restaurants have also changed, but we're uncertain whether this has to do with the natural passage of time or COVID. The area has also permanently adopted the city's Open Streets programme, pedestrianising many parts of it and creating outdoor dining areas, adding an even more European vibe to this already low-rise part of town.
From the outside, Gansevoort Meatpacking NYC hotel is exactly as we remembered it. On the inside, however, the property has been given an extensive makeover. Using the time over the pandemic for long-anticipated and deep-wallet renovations, the hotel has reopened with a new vision and a keen eye on art, design and technology. From an interior design perspective, the property is unrecognisable: gone are the lurid pink, funky neon lighting and provocateur club-kid vibe. In their place is a rather more mature colour palette of royal blue and contemporary wood panelling.
Critical to the new incarnation's identity is a highly curated contemporary art collection in the hotel's lobby by artists that define this generation. An original Banksy, Flying Copper, stands proud in the space. Looking further, we spotted works by a diverse group of artists, such as one by Richard Hambleton of what looks like the shadow of a leather clone – perhaps in homage to the area's queer Cruising past. The colours of Marques 2013, a mixed-media, multi-dimensional work by Hassan Hajjaj (dubbed 'the Andy Warhol of Marrakech') drew us in hypnotically, while along the corridors Olivier Weppe's photographs of the area around the hotel shot 20 years apart bring the journey and storytelling fully to life. In rooms, artworks by Stephanie Klein and Adi Oren create a mood of vibrancy and exuberance and are juxtaposed by more of Weppe's colourful photographic narrative.
Our Gansevoort Suite in a quiet corner of the building's 12th floor showed off more of the hotel's coming of age, where the homage to Mid-century Modern and Italian Modernism is executed to contemporary taste, without leaning too heavily on the retro. We liked the black and blue ombré wallpaper, the backlit walnut headboard and stylish furniture throughout, all set against a neutral backdrop of urban-industrial hues in a space flooded with natural light. Soft touches punctuated the room, as did colourful cushions, pottery and a handsome drinks trolley with stylish Krosno decanters and glassware that tempted us to pour out everything from our well-stocked minibar. A chilled, tasteful (and tasty) bottle of wine, selected by the management, had been put on ice; some delicately baked pastries completed the welcome.
"It is clear that the Gansevoort Meatpacking NYC has matured significantly in its outlook since our first visit, but that's no accident, because its clientele has too, ourselves included"
In our bathroom, honeycomb floor tiles with matte black hardware rounded off the feel of a modern, quintessentially New York loft apartment. Amenities included a CBD facemask, which helped infinitely with our jetlag. The bathing goods were from L'Occitane en Provence, which, if we were to nitpick, jarred with the rest of the suite's modern theming. Yes, the Gansevoort's guests may have matured, but they've certainly not morphed into a French grandmother. Considering New York City has so much to offer in the way of cutting-edge beauty and wellness products, a brand with a greater sense of place would have been preferable.
State-of-the-art technology featured throughout the suite: 'first-in-the-industry' smart-mirror interactive workouts, for instance, are available in all accommodation types, in addition to the hotel's well-stocked gym (talk about feeding our narcissism). As part of the property's tech overhaul, a Marshall Bluetooth speaker, bedside tablet assistant and Google Nest also come as standard.
For those who want to experience the very best accommodation the Gansevoort Meatpacking NYC has to offer, an upgrade to the Poliform Penthouse is a must. A 157-square metre duplex bathed in light from striking floor-to-ceiling windows that also offer unbelievable views, it's the result of a collaboration with the renowned furniture maker. The furnishings and fittings are exemplary, as are a fully loaded tech arsenal and even more beautiful artwork, intermixed with exclusive pop-culture photography.
Up on the roof – where we spent so much of our first visit – we found that the space has been embellished, making even more of the uninterrupted 360° views across the Manhattan skyline. A refresh around the pool deck makes it feel more adult. In fact, the entire Gansevoort Rooftop also feels more grown up. The inside-out and outside-in space now sports a neutral, Scandinavian-inspired look and feel, which is brought to life (and elegance) by sophisticated lighting at night. On our previous visit, the mood was somewhat rowdy. The vibe now is much more chilled, with well-dressed Manhattanites sipping cocktails. But we have no doubt that, at a flick of a switch and a change of DJ, this would transform back into the booming fashion-week-esque party we vaguely remember.
Tucked away in a chic corner of the rooftop space, we found Saishin, the hotel's omakase-sushi speakeasy restaurant, glowing in a golden hue. What started as a pop-up proved so popular that it is now a permanent feature of the hotel, with head chef Frankie serving up a perfectly presented modern interpretation of Kaiseki traditional dishes that took us on a culinary journey to Japan via his New York and southern Chinese upbringing. His food is rooted in inventive and sustainable ingredient sourcing and can only be described as gastro-artistry. Bellies full, we opted for a night in with champagne, popcorn and a movie in our suite rather than seeking out nightlife. How things have changed.
It is clear that the Gansevoort Meatpacking NYC has matured significantly in its outlook since our first visit, but that's no accident, because its clientele has too, ourselves included. To our delight, it's done it in a timeless way; the old hotel was unquestionably fashionable, but the new one comes across as a lot more stylish and refined. And while this stay at the Gansevoort Meatpacking NYC may have marked new beginnings all around, it still reminded us of the very best of times and captured their joyous spirit.
Photography courtesy of the Gansevoort Hotel Group