Bangkok isn't shy of heritage homes, but when you're done visiting Jim Thompson's House and M.R. Kukrit's teak residence, the Art Deco-inspired and Bill Bensley-designed Preferred Legend property that's The Siam Bangkok, in the city's elegant Dusit district, adds a layer of immersion you won't find at another home-turned-museum: an overnight stay.
Granted, The Siam isn't actually a home, but its fine art collection featuring Neolithic pottery and 16th-century Burmese Buddha statues certainly adds to just how personal this urban resort feels. Owned by Thailand's 'musical hoteliers', the famous Sukosol family, The Siam sits on three acres of land facing Bangkok's iconic Chao Phraya River. It's a little further from Silom's and Sukhumvit's legendary nightlife than similar addresses, but the hotel's private pier and regular, scheduled shuttle boat transfers offer a convenient and highly enjoyable way of getting around town.
Though we quite happily spent a few days kicking back on-resort to make the most of The Siam's second-to-none facilities. There's an excellent gym, once frequented by a rather noteworthy Thai Princess, before she had a private gym built in her nearby Palace (whether HRH ever climbed into the hotel's Muay Thai boxing ring, we can't say for sure). The Opium Spa is equally impressive, delivering both on treatments as well as ambiance: a spa that feels very much like an urban oasis, it's a womb within The Siam; calm and protected. We enjoyed a much-needed and very relaxing post-arrival signature massage here, which was followed up by a cup of ginger tea and sweet treats that remind guests of their tropical whereabouts. For those looking to get more active, there's a library filled with world literature, a quirky screening room, a traditional Sak Yant tattoo studio and, oh well, so much more…
The hotel's 39 suites and villas, meanwhile, are as spacious as they are original, featuring free-standing tubs, enormous beds, built-in wardrobes and all sorts of authentic collectibles across their sharp, monochrome surfaces. Our Suite felt masculine and grown-up in the same way a Tom Ford fragrance flacon does, though there's a sense of lightheartedness, too, and the chirping birds in The Siam's show-stopping jungle atrium have a lot to do with it. Two particularly beautiful feathered friends sit in a cage in the snooker room. We'll be honest with you: animals – and certainly birds – behind bars for the merriment of guests make for a sad sight and are not in keeping with the times. When we next stay here, we hope to see these flying around the property as freely as the butlers.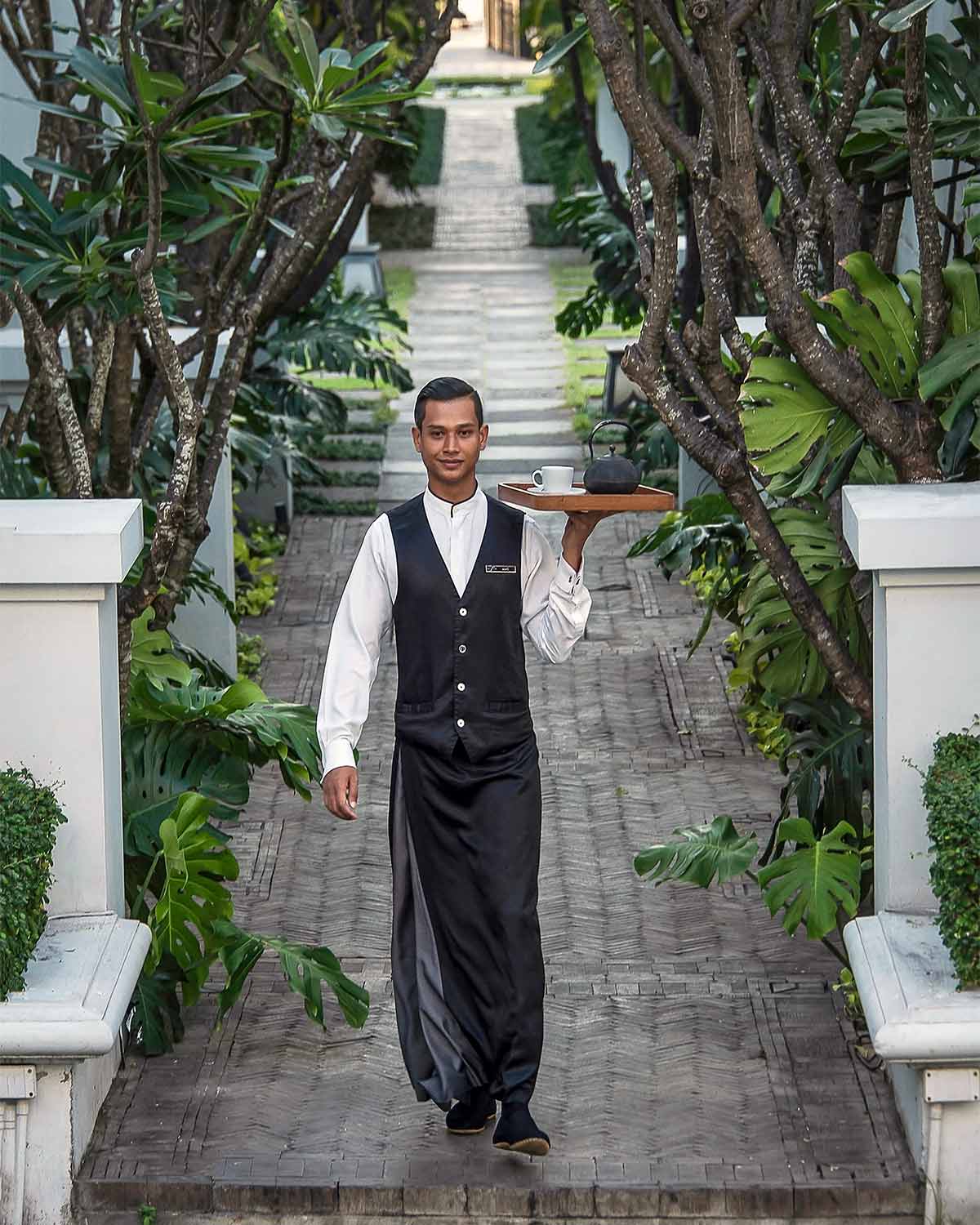 | | | |
| --- | --- | --- |
| Perfect for | Fly into | Right on time |
| The Sophisticate | BKK / DMK | GMT +7 |
While you're Out There
Enjoy the hotel's exquisite butler service – there's a very special place in our hearts for the troupe of The Siam butlers (we've been told pretty much all are part of the 'OutThere community'), each immaculately groomed and ever helpful. Also, when you want to dine like a local, we enjoyed Steve Café & Cuisine, just a stop down the Chao Phraya via the hotel's very own boat.
Impeccably groomed and always one step ahead, The Siam's team really is what made our stay. Should you choose to bed down here, look forward to the hotel's army of personal butlers, who were never more than a quick message away and couldn't be more welcoming or accommodating if they tried. What stood out to us the most, other than their stylish, apron-like uniforms (serving drinks while serving leg), is just how switched on they were. When we asked to be relocated to a suite closer to that of our travel companion's, our butler had us set up in a new room in no time, remembering that we're trying to travel with as little waste as possible, and transferring our already unpacked hotel slippers to our new suite. This might sound like a small thing to do, but it was testimony to our butler's great attention to detail. We certainly appreciate good listeners, and the team here is just that, and so much more.
They proved this during breakfast by the Chao Phraya River, too, when we ordered what felt like half the menu. We found our meals at the hotel consistently delicious, which is not least to do with the super-fresh and sun-ripened fruits and vegetables sourced daily, no doubt, from Bangkok's top produce markets. The Siam's Chon Thai restaurant will be familiar to those who have stayed here before, though it's the hotel's new eatery, The Story House, that's been turning heads around the capital recently. Each room here convinces with its very own, visual narrative, though what ties them all together is their bold maximalism: high contrasts, a wealth of plants, one-of-a-kind artworks and statement lighting create an environment so rich in aesthetic stimuli, you could almost fill up on visuals alone (though don't… you'd be missing out on the food).
Its fierce style is arguably The Siam's biggest drawing card, for there isn't another hotel in town that looks quite so inimitable, and boutique despite its scale. With Bangkok's five-starred hospitality reaching ever-greater heights, and suites often literally soaring high above the rest of the city, staying in this more traditional building in the Dusit district allows for a much greater sense of place. In spite of all the luxuries and amenities available at this urban resort, we never felt more than a stone's throw away from the hustle and bustle of the backstreets of the Thai capital – one of Asia's liveliest and most exciting destinations to explore. Wake up here in the morning and you'll feel the city pull on your sleeve, tempting you to throw on some clothes and dive right into its wonderful chaos. Return to The Siam in the evening and you'll notice a sense not unlike that of a child who's found a hiding place, pleased with being out of reach and out of sight, if only momentarily. There aren't many hotels that make us feel this way. Perhaps it's why we always love to return.
Photography courtesy of The Siam