The Experientialist® heads to the world's largest festival and jamboree of Bavarian beer culture, under the aegis of the Mandarin Oriental Munich. MOktoberfest (as the luxury outpost of the upscale Asian hotel group terms it) is an experiential, raucous, merry and oftentimes bizarre spectacle. We enjoyed it thoroughly… so much so, we think you should do it next year!
If there's one thing that the pandemic inspired us to do, it is to throw ourselves into the world's top live experiences. And Oktoberfest in Munich, Germany is as top – and certainly over the top – as it gets. The world's biggest 'Volksfest', now over two centuries old, saw over six million revellers this year, over its 17-day run. Nearly all clad in traditional Bavarian dress (Lederhosen and Dirndl to you, and even some more contemporary variations of it: we were told of a previous MOktoberfest guest arriving in pink, Dior couture lederhosen, just one of only two in the world), they take to the festival to drink, drink, drink and be merry.
The elegant Mandarin Oriental Munich hotel, near the infamous Maximilianstraße, takes MOktoberfest to heart… giant Lebkuchen hearts in fact, as well as equally large Brezeln (pretzels) hanging as décor among Bavarian blue and white diamond heraldry, everywhere you look. Attractive staff, rakishly dressed to theme, welcome us into its opulent lobby while thrusting commemorative, ceramic and collectable beer steins (the hotel produces a new design every year), filled with the locally brewed Augustiner-Bräu, in our hands. Allegedly, locals have drunk it like water since 1328, when the brewery was first founded.

As all MOktoberfest guests are advised to line their stomachs, a Bavarian-delicacy lunch of cold cuts (Presskopf, Bierschinken, Griebenschmalz (a spread that translates only as 'lard') and our nemesis, Aspik (a savoury meat jelly), Obatzda cheese (a dairy spread that's two-thirds camembert and a third butter), Leberkäse (meatloaf) burgers and Krustenbraten (roast pork, crackling and potatoes), was served. It's not for the faint-hearted… literally, as our cholesterol levels go through the roof. Fear not, light-eaters, the hotel's lounge menu does include a club sandwich, or Mandarin Oriental signature Asian dishes are at hand should we prefer.
"I'm so glad I live in a world where there are Octobers."
The potted history of Oktoberfest goes back to 1810, when one Andreas Michael Dall'Armi, a close aide of the then prince regent Ludwig of Bavaria had the idea to celebrate the royal's wedding to Therese of Saxony-Hildburghausen in a different way. The idea was to have a huge horse race and one hell of a celebration to go along with it. Bavarian politics at the time was complex. First a French ally, it was at war with neighbouring Austria. Then switching sides, it was heavily embroiled in the Napoleonic Wars. With dark times in Europe and a spell of harsh winters, any form of public merriment was welcomed. The event proved so popular that the end-of-summer celebration quickly became an annual thing, which gained great favour for the royals among the populace and filled the Bavarian capital's coffers with the proceeds from tourism.

This in part allowed King Ludwig to turn Munich into a beautiful, world-class city. He commissioned the development of many neoclassical buildings, like the regal edifices that line Ludwigstrasse. Under his reign, the arts flourished in Bavaria and you'll see many of the works produced from the time in the Bayerisches National Museum and the Bayerische Staatsgemäldesammlungen at die Pinakotheken.
It's quite something to soak in the two-hundred-year-old vibe of the city's architecture, especially when dressed in our rented Lederhosen and drinking even more beer at Mahjong, the Mandarin Oriental's rooftop terrace and pool deck, which affords a view that showcases the city in all its Ludwigian splendour. Looking over Munich's red-tiled rooftops, we see a mix of historic old-world buildings with intricate designs, peppered by the occasional modern construction. Here, there's a sense of calm, as we psyche up for the merriment ahead.
Ludwig I's passion for creativity was echoed by his grandson King Ludwig II, known as the 'Swan King'. He built and personally oversaw some incredible fairytale castles inspired by Germanic sagas, across his domain, not to mention the Central-Säle, Munich's state ballrooms and home to Kaim Orchestra, forerunner of the Munich Philharmonic. Incidentally, it is this building that we're in, the one Mandarin Oriental Munich calls home today.
LGBTQ+ OutThere travellers may be interested to know that never-married King Ludwig II is widely regarded to have been gay. Scholars often quote his obsession and patronage with composer Richard Wagner as proof of this, immortalised in a number of love letters that they sent each other.
It excited us to find that MOktoberfest had a queer love story at its heart. For those in search of more LGBTQ+ interest during the festival, there are a number of events – some that have achieved cult status – like Gay-Sunday and RoslMontag at the Bräurosl tent (every first Sunday and Monday at Oktoberfest), Proud Wiesn at the Armbrustschützen tent and Prosecco-Wiesn in the Fischer-Vroni.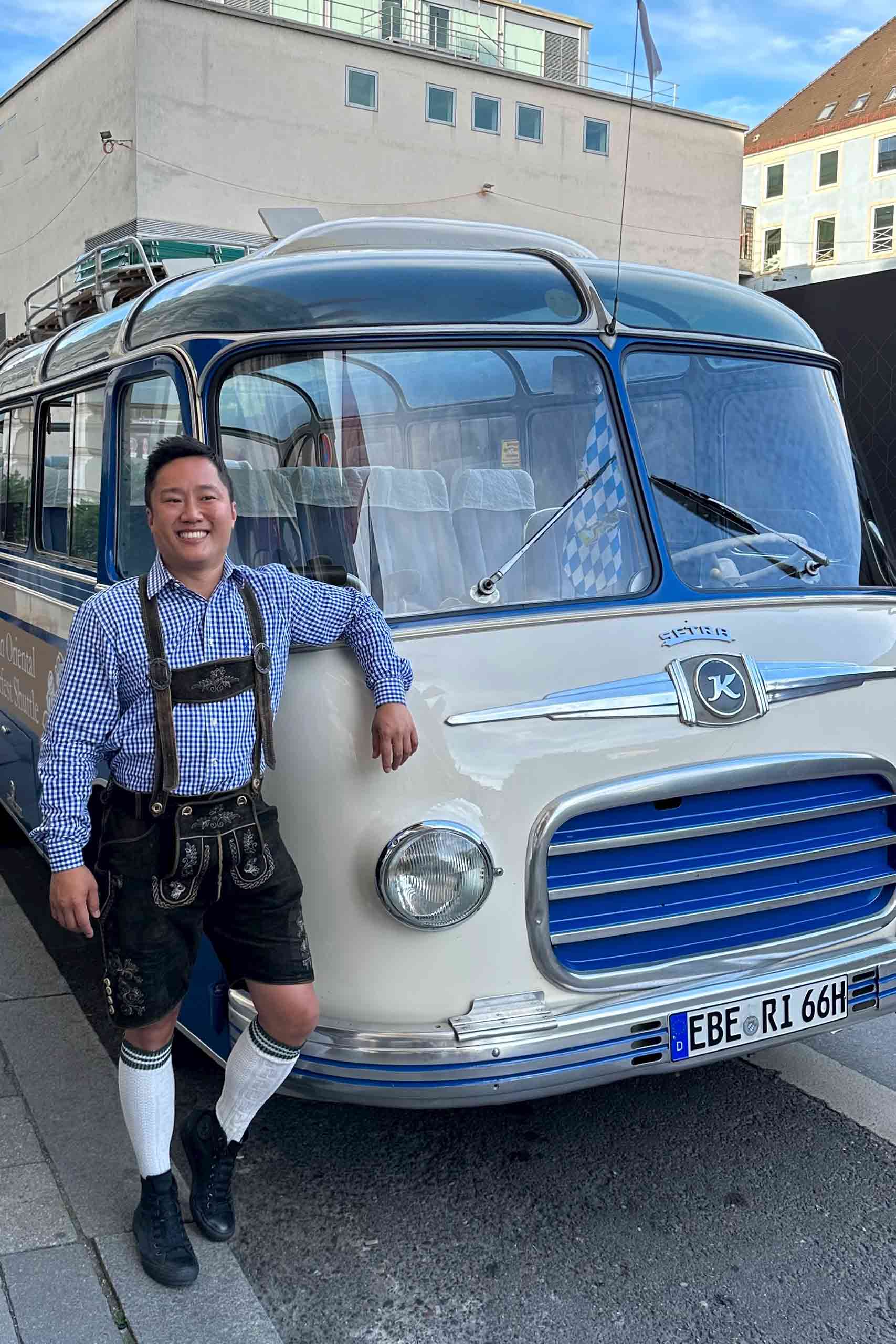 Treated like royalty
So what's different about MOktoberfest, compared to the typical Oktoberfest experience? Well firstly, you have the luxurious Mandarin Oriental Munich as your Basecamp. That's a great start.
Secondly, they plan out a unique VIP experience, guided by a member of their guest experience team, which is great for first-timers like us who know not what to expect. The guide can be as hands-on as you want, from spending the entire evening with you to just walking you in and pointing out which beer tents to experience.
Waiting outside the hotel to ferry us to the festival grounds was a specially commissioned MOktoberfest vintage Kässbohrer Setra S6 panoramic 'Reisebus' from the 1960s. It's a Mandarin Oriental Munich exclusive that shuttles hotel guests to the festival during Oktoberfest only. It's quite the head-turner and a rather special experience.
The Oktoberfest site itself is huge (the festival grounds on Theresienwiese cover 31 hectares), and resembles a music festival, complete with stalls, fairground rides and of course, the 14 major beer tents with the amber nectar provided by the six original Munich breweries. Thus, everything is unsurprisingly, beer-themed.
The Mandarin Oriental Munich has secured us a table at Schützen-Festzelt, one of the more VIP beer tents, where reservations are usually booked out a year in advance. The history of this particular tent goes back to 1896 when the royal riflemen devised the first shooting competition at the festival (because guns and beers go well together!). Evidently, they did, as the event became so popular that it made sense for it to have its own beer tent to celebrate the winners in 1926. It is one of the 'smaller' tents at Oktoberfest (although its capacity is still 6,500) and it is considered to be on the festival's fringes, so it stayed rather niche until 1979, when the Reinbold family, who still run the tent today took it over, placing emphasis on top-notch service, food and more contemporary music and bands in addition to the traditional oompah music. It attracted a younger and more upmarket crowd as a result and today it is known universally as one of the more 'bougie' tents. The word 'tent' also undersells the place. While it is a non-permanent construction, Schützen-Festzelt is a rustic, two-storey drinking wooden barn with mezzanine balconies and terraces, adorned with traditional Bavarian decorations, agricultural paraphernalia, plants, chandeliers, scarecrows and long wooden tables and benches. Right in the centre is a large bandstand, where musicians bang out both traditional tunes and modern hits alike, to a totally wasted, but up-for-it crowd.
It's charmingly chaotic, lively and bustling. Servers, bring multiple one-litre Maß, or beer steins to the table to ensure that ale flows freely. They skillfully dodge other waiters carrying huge trays of more artery-clogging food – roast chicken being a festival speciality and roast port being a favourite in this particular tent – above their heads, side-stepping drunken revellers with every move. Other vendors sell hats, souvenirs or pickles. It's an impressively choreographed, albeit quirky affair.
But what we love most is the sociality of it all. While we are among hundreds of drunk people, the atmosphere – even as the evening progresses – remains upbeat, laughter-filled and positive. It's easy to strike up conversations with fellow festival goers, whether local or visiting, especially when raising your Maß in a toast or ten.
And despite what you may think of as a beer-fueled mainstream folk festival, Oktoberfest stands for open-mindedness, tolerance and diversity. It's a firm statement of intent by the event's organisers and among the crowd we see plenty of queer folk around, not to mention women, families, disabled revellers and BIPOC guests and people of all ages. Some tents even hoist the rainbow flag.
The communal setting encourages a real sense of camaraderie, as does the cheesy music… and we make a lot of new friends over a shared love of beer and celebration, beyond our own table. So much of post-pandemic travel trends talk of connection and reconnection and we'd say that this is definitely an instance that encourages that. Don't be surprised if you inherit souvenirs like the Wiesn Glupperl (engraved/customized wooden clothing pegs) clipped to your lederhosen as you walk the floor by a passing stranger or even a rubber chicken hat placed on your head. People will reach out to hug you, ask for a selfie and where you're from, or insist you participate in a schnapps drinking game or five. Whether or not you're a beer enthusiast, or you just want to experience the throng of the festival, being at Oktoberfest (especially doing it the MOktoberfest way) will leave an indelible memory of fun times in Munich, that is of course if you have any memory of it at all!
Photography by Uwern Jong