When it comes to the best of Thailand's southern beach paradise resorts, Rosewood Phuket sets the tone. It's an alluring haven that intricately balances opulence and serenity in a way that transcends the ordinary, offering a sublime journey into exquisite, tropical luxury.
First impressions count and this was one of the most theatrical welcomes we've experienced in Thailand. Walking into the Rosewood Phuket felt like walking onto a film set, with 30-foot-high walls and much of the floor space filled with water and lily pads (which created a natural soundtrack of a frog chorus as night fell).
This set the tone for the rest of the resort, which beautifully fuses nature and modernist architecture, in line with an ethos of sustainability with a deep reverence for the natural surroundings. The architecture harmoniously weaves into the landscaping, and each space in the resort has been thoughtfully arranged to provide a seamless flow between indoors and outdoors, resulting in an ambience that sums up Phuket's coastal allure.
Our spacious and elegantly appointed villa at the Rosewood Phuket was at the end of a narrow path lined with tropical plants – a hideaway complete with its own pool, outdoor bath and shower. It felt very private but offered stunning Andaman Sea views thanks to the terraced layout of the property. Thoughtful interior design blended local Thai elements and contemporary comforts to ensure that we were cocooned in luxury while still getting to experience the authentic spirit of Thailand.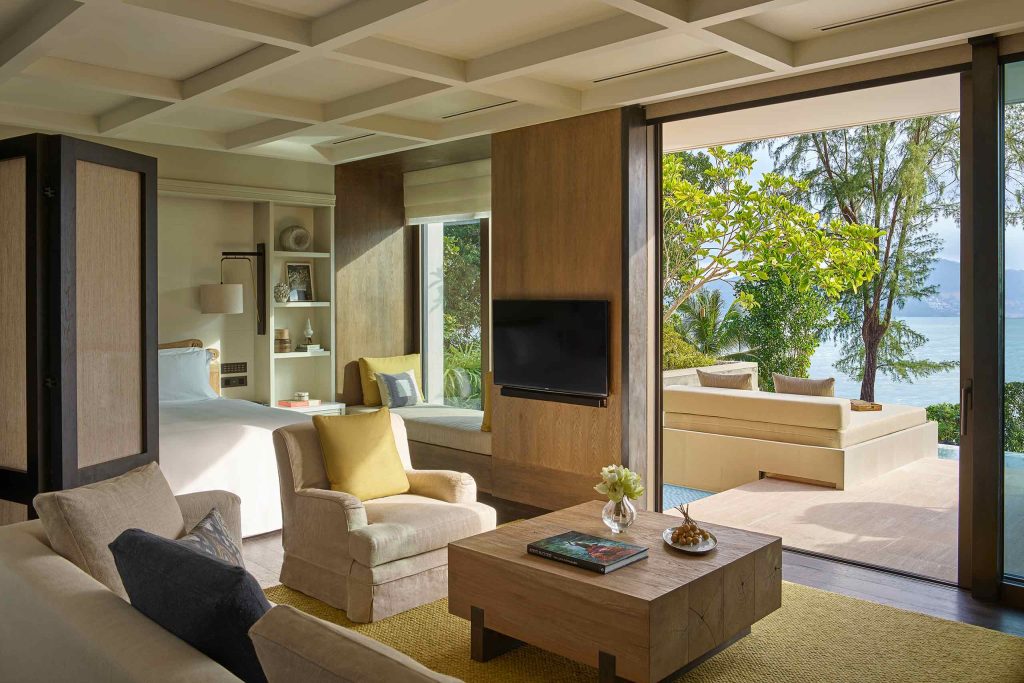 | | | |
| --- | --- | --- |
| Perfect for | Fly into | Right on time |
| The Escapist | HKT | GMT +7 |
While you're Out There
Even better than cooking it yourself at a Thai cooking class, is to have an expert chef cook up a storm for you. If you're intent on having the week off doing nothing – you are on holiday after all – then you'll certainly enjoy the collection of exceptional dining venues on offer at the Rosewood Phuket. Our favourite was Ta Khai, where traditional recipes are prepared using fresh, locally-sourced ingredients. We also enjoyed cocktails at Mai, before venturing out into Patong's hangover-inducing revelry.
We discovered early on that the hotel's gym had complimentary bicycles, which we used as our main way of getting around, making a few wrong turns and discovering the adjoining beach. Looking across the bay, we even saw an elephant casually wandering along the shoreline.
In case there was any chance of us being bored here at the Rosewood Phuket, a treasure trove of experiences awaited. From immersive cultural encounters to indulgent moments of relaxation, the array of activities available meant we were spoilt for choice.
We spent a lot of time in the Rosewood Phuket Spa, a sanctuary of relaxation and rejuvenation, offering a menu of holistic treatments inspired by Thai healing traditions. Expert local therapists employ a thoughtful blend of age-old practices and modern techniques to soothe guests' minds, bodies, and spirits.
As we were keen to experience as much Thai culture as possible, we also took part in a cooking class that revealed some of the secrets of the country's culinary artistry. There were also a number of off-menu experiences that we had the pleasure of partaking in. We enjoyed a private candlelit dinner on the beach, which was a surprise, after an amazing day out with the in-house experience manager, on a photography tour of the island's off-the-beaten-path, hidden gems… ones that only locals really know about.
Rosewood Phuket's seamless fusion of modern opulence and Thai charm delighted our senses. It's an idyllic sanctuary, and even on an island full of exquisite luxury resorts, we'd put this one right up there on the top of our list.
Photography courtesy of Rosewood Hotels & Resorts