Of all the hotels you could stay at on the White Isle, OKU Ibiza offers perhaps the greatest contrasts of any one property: guests here retreat to a wabi-sabi-inspired and earthy-coloured spa for solitude and relaxation in the morning before the sounds of live EDM lure them out to mingle by a jaw-droppingly enormous and made-for-Instagram pool in the afternoon. Its blend between tranquil delights and hedonistic extravagance is probably why this high-end lifestyle property is so very popular.
There was a time when five-star luxury in Ibiza meant white walls, an abundance of glass and steel, and a magnum bottle of champagne in a branded ice bucket. Checking into OKU Ibiza, which only opened in May 2021 but has since become one of the Balearics' most coveted new hotels, guests will quickly notice that this time is well and truly over (we didn't think we'd see the day). Unlike its predecessors, this more contemporary property near Cala Gració advocates a return to a warmer, more natural aesthetic which appeals not only to any millennial with a Zara Home linen duvet cover in their home, but also to a more mature audience that remembers what the bohemian island was like before international DJs and hotel heiresses started headlining local music festivals.
Although you'd be mistaken to attribute the wealth of greige surfaces and rattan baskets to the Balearics themselves. Instead, OKU Ibiza takes inspiration from the Japanese philosophy of wabi-sabi, which has acquired vogue with the advent of social media aesthetics in recent years. That's not to say guests should expect to find a minimalist dojo: the hotel has made sure to intersperse all that zen with plenty of trendy artworks by Steve Tepas, whose larger-than-life paintings and sculptures of heads greeted us at every turn. While we appreciated the use of natural materials and found the earthy hues of the property soothing to look at, some interiors looked almost as if they'd been curated by an algorithm and sprung to life from your Instagram explore page. In all fairness, however, the essence of wabi-sabi can arguably only go skin-deep in Ibiza – this isn't Kyoto after all, and you're not here for a tea ceremony (we hope).
Tea was in fact the last thing we thought of having on our Deluxe Junior Suite, one of 184 rooms and suites available. The second-largest room type after OKU Ibiza's single 140 square-metre Signature Suite and a standalone four-bedroom villa fit for a Spanish escape with your very best amigos (and amigas), our top-floor suite offered all the conveniences you'd hope to find. A small working area and a not-so-small sofa hinted at how most visitors would be spending their time, with the theme of leisure continuing on our generously proportioned, private balcony cleverly concealed by a sliding, timber privacy shield which, open being opened, revealed views of a fellow guest working on his abs on a balcony straight ahead. Truly, this was a sight to behold – not that we stared.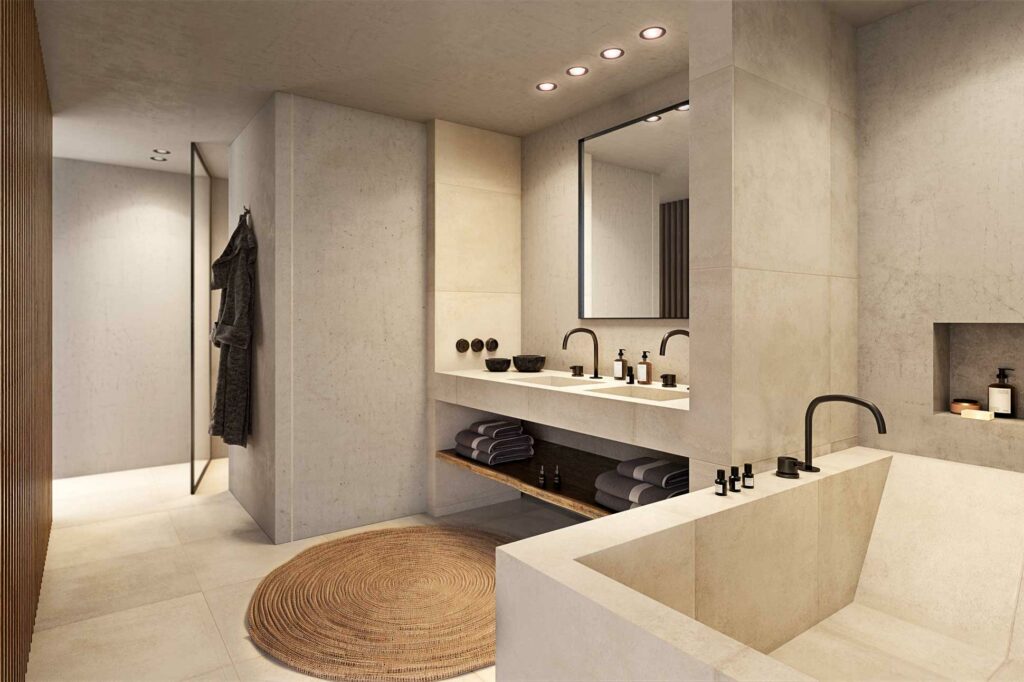 | | | |
| --- | --- | --- |
| Perfect for | Fly into | Right on time |
| The Hedonist | IBZ | GMT +1 |
While you're Out There
You're a short walk from pretty Cala Gració, but we made the extra effort of going up to Cala Salada and the adjoining Cala Saladeta instead. Both feel a lot more local while being well-hidden and accessible only via narrow stairs leading down a path flanked by pine trees on either side (that's unless you arrive by charter boat, of course). When we visited, the small bay's traditional Ibizan chiringuito underwent an extensive renovation, but drinks and popsicles were available from a small stand on the beach. What more could you ask for?
Our bathroom was perhaps our favourite bit of the suite, with its minimal yet luxuriously large bathtub, separate sinks, a rainfall shower, kimono-style linen bathrobes and Aesop amenities from our favourite range, Santal. Should you find yourself with a hangover that calls for more than in-room wellness, OKU Ibiza is also home to a small spa. There is no sauna or a steam room here, but guests can experience occasional sound ceremonies, gong baths and reiki sessions, as well as choose between a variety of facials and massages, including OTO CBD-infused signature treatments. We went for a massage, which was certainly enjoyable, although the bass from a late afternoon, pool-side DJ set, audible in the spa, meant our treatment wasn't as relaxing as we'd wished. We'll be honest here; wellness isn't the property's forte and there were times we could have done without the loud music around the main pool area (like, when we tried to sleep and the tunes didn't stop until 1am).
Luckily, the local consensus is that late mornings and early afternoons are there for extended siestas and lazy socialising, and this is something OKU Ibiza does better than anywhere else we've seen on the island. Recline on a poolside lounger at 11am and you'll soon be greeted by courteous staff eager to take your order of Sangria or Tinto de Verano, while fellow visitors flip through the pages of Architectural Digest, take turns in posing for pictures or dip their little toes into the island's biggest pool. Just once, our inner daredevil actually decided to swim laps in front of the crowd. Amazingly, it felt like having an ocean all to ourselves. And in any case, we still hadn't set foot in the hotel's gym, equipped with stylish NOHrD resistance machines and Casall yoga mats – a lost opportunity that required making up for.
This is especially true because we enjoyed the property's gastronomic offering a little too much. The OKU Restaurant, which in 2022 opened with a brand-new look courtesy of design studio Woodfever and inspired by the bird of paradise flower, prides itself on an extensive menu of Japanese, pan-Asian and global tastes that leave no one hungry. Each dinner we had here was an experience; not least because of the theatricality of certain teppanyaki dishes and the occasional waiter sporting a head-set as if this was Mission Impossible and there'd been a realistic chance our mushroom tobanyaki cooked in coconut cream wasn't going to be delicious (which, of course, it was). There's also To Kima, the hotel's second eatery, where light bites and lunches are served throughout the day. We only had breakfast here, which offered an impressive variety of foods, although we found curiously few vegan options, especially compared to other properties on the island.
To its credit, proceeds made from local-ingredients-only meals served at To Kima go to the Ibiza Preservation Fund, a charity doing fantastic work in supporting local farmers and producers. It's a great initiative to support for a hotel that could easily live off its reputation of being the rebel of the White Isle's hospitality scene – cool, confident and perhaps a little cocky, though in a good way. Like many youngsters, OKU Ibiza is trying to do a bit of everything; hence the stark contrasts between its calm, grounded aesthetic and offering of wellness retreats juxtaposed with edgy artworks and electronic beats. This mix of sensitivities is without a doubt what many modern luxury travellers will be looking for in a trip to the island. We, for one, had a fabulous time.
Photography courtesy of OKU Hotels