As the window in the back of our taxi rolls down, a friendly security officer in an all-black uniform asks to see our booking reference. 'All good' she says, waving us through while a gate opens and the airport terminal comes into full view. Pulling up to the futuristic building, we're greeted by an employee who quickly relieves us of our luggage: 'Welcome to Farnborough Airport' he says, 'allow me to take your passports to the check-in counter while you relax in the lounge'. With that, we enter the lap of luxury that's our journey from London to Ibiza with Aero – it's a rather pleasant take-off, we think.
There's really not a lot that could deter us from flying. Although with Covid-related staff shortages still grounding planes and infection anxiety feeling particularly real as you're about to embark on a well-deserved holiday, we'd be the first to admit that busy airports and crowded cabins can amount to quite the headache for the inner travel aficionado. That's why, on a recent trip to rest and relax in one of Europe's most talked-about new hotels, the Six Senses Ibiza (which we loved), we chose to travel on a semi-private jet with Aero.
What, you haven't heard of Aero? The brand, in short, allows holidaymakers to 'jet-share' with fellow travellers. Although that's not the whole story. Aero has been slowly but steadily carving a niche out for itself in premium aviation, gaining quite the celebrity following along the way (we'll leave you to do your own Insta-research). So when they recently announced the return of their European summer schedule, just as we were getting ready to book a getaway, we took it as a sign: after all, there's perhaps never been a better time to ditch the crowds.
And leaving the crowds behind is certainly what we do as we're ushered into a light-flooded lounge in Farnborough, which we can't imagine ever being busy. While there's plenty to keep you entertained, we head straight for a seat overlooking the landing strip straight ahead. A gorgeous, silvery jet rolls in as we sit down. It glitters in the morning sun and gently turns a corner en route to its parking spot. Just as we're served a freshly brewed cup of coffee, we think to ourselves that this is the most relaxed we've felt on 'travel day' in a long time.
Staff, as you'd imagine, is of the kind that simply can't do enough for you. Although we're certain we have all the documentation required to enter Spain, they double-check, explain, ascertain and do just about everything to ease whatever worries (or, in some cases, travel traumata) customers might have carried away from crossing borders in a pandemic-plagued world. Before we know it, wait time is over and we're escorted to the second-fastest security check we've ever gone through (only PS at LAX was quicker!). Our Aero, a bit like an Uber, is parked almost immediately outside the terminal exit, allowing us to go from lounge to cabin within the space of some 5+ minutes – convenient, that.
Though before we board the plane, we take a second to marvel at its streamlined exterior: there it stands under a blue sky, a gorgeous Embraer Legacy 600 jet with what we're inclined to describe as a confident expression on its face, as if eager to take to the skies. We get lucky on our Thursday morning journey, sharing with just one other couple that very much stick to themselves and their phones, which appear permanently attached to their hands. Of the Embraer's 16 seats, less than a handful are taken on our off-season trip, making this semi-private experience a near-entirely private one. Whoever said travel has to be stressful, right?
Take-off is quick and once we reach our cruising altitude, we've got just under 2.5 hours to enjoy the journey. This particular service being so quiet, we take a quick nap (which, we'll admit, is perhaps induced by our second glass of 'can I offer you a top-up?' champagne). There's also an in-flight meal, including dessert for our travel companion, although we plant-eaters must content ourselves with a small bowl of fruit. Thank God for our flight attendant, who shares an alternative sweet treat in the shape of an anecdote about flying on a private jet with rather famous rock star offspring, in a pre-Aero world, a few years ago (we can't disclose any details, but should you travel on the same route anytime soon, we insist you ask).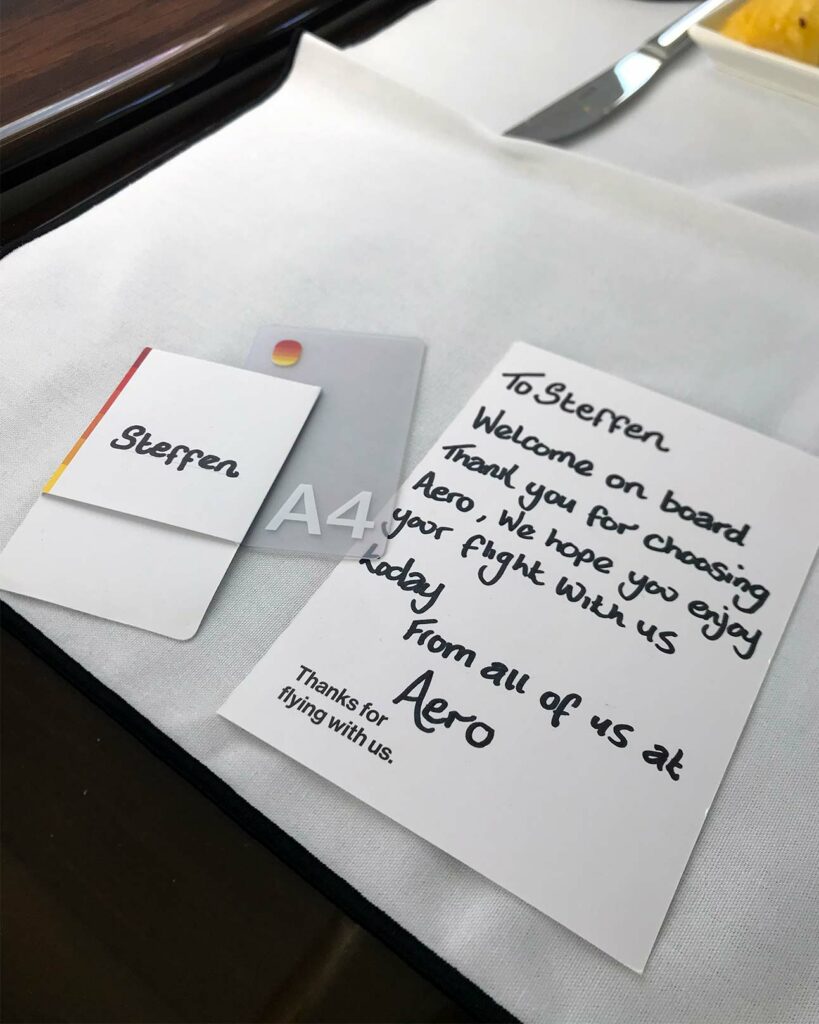 As the Embraer slowly begins its final descent into Ibiza, and we spot iconic Es Vedra just off the White Isle's coast to our left, we almost find ourselves wishing we had another hour on the aircraft. Immersed in the jet's luxurious interior with wooden surfaces and soothing beige colours throughout, the idea of entering an airport building isn't exactly something we look forward to.
It helps that Aero connects travellers to private terminals, as the Terminal Aviación General next to Ibiza's regular airport building offers an immigration experience that could hardly be more swift or efficient (plus, you won't find yourself queuing behind the cast of Love Island). Furthermore, with the airline's staff meeting us immediately after immigration, it also feels exceedingly welcoming: a friendly Aero employee with a megawatt smile guides us every step of the way as our suitcase is picked up and hauled into the back of a van for our transfer to the Six Senses.
So what do we make of our journey? Well, first of all, it hardly felt like much of a journey at all. That's because even Business and First Class travellers are accustomed to some extent of shared spaces, and the unwanted side effects that tend to come with them: noises, sights and if you're particularly unlucky, smells. A semi-private jet can't fully shield you from these, but it does mean you're a lot less likely to encounter the downsides usually associated with travel – a huge bonus for anyone looking forward to being away, but not actually getting away. And while the pandemic has given many a holidaymaker a kaleidoscope of new reasons to dread travel day, some sorrows aren't new: nervous flyers, for instance, appreciate private jet travel for aircraft ascend to greater heights, circumventing both turbulence (which decreases with altitude), as well as commercial air traffic, allowing for more direct routes.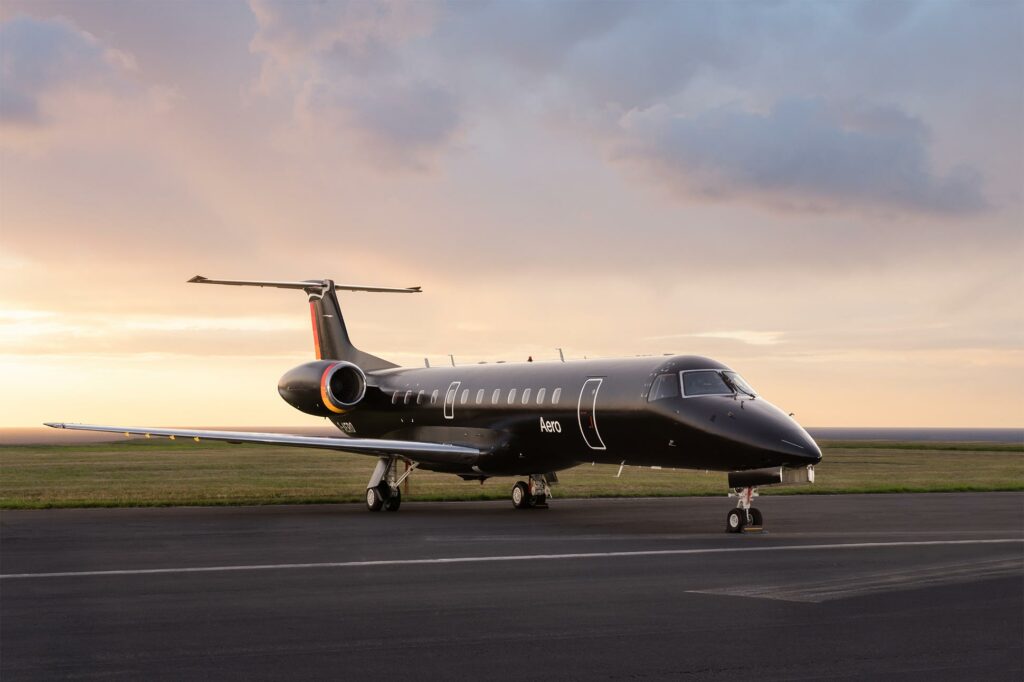 Still, there is room for improvement. It's a given, for one, that dietary requirements should be catered to. A bowl of fruits and a makeshift granola bar from an on-board snack selection simply don't cut it as the vegan option in 2022; especially seeing luxury travellers expect bespoke, tailor-made service more than anything at this level of travel. There's also a point to be made about plant-based options helping to offset emissions, and airlines have been urged to offer veggie options as their default in-flight meals, encouraging flyers to reduce the environmental impact of their journey. On that note, although we enjoyed its original credit card format, a boarding pass made out of plastic doesn't seem particularly eco-friendly. Nor does the material feel upmarket – quite the contrary, in fact.
We'd also argue a door-to-door service including pre-departure pick-ups and transfers after arrival would render the experience of flying with Aero even more complete. Although admittedly, the inclusion of ground transport to turn the brand into a super-convenient 'one-stop shop' would require additional licenses, vehicles, staff and more: we wouldn't blame them if that's just not their focus at the moment.
As it stands, the journey from London to Ibiza on a semi-private jet with Aero is already tremendously more convenient than any alternative option we can think of. That's aside from, perhaps, travelling on a fully private jet – but then again, we don't actually have one (can you believe it!). High-flying holidaymakers can look forward to heightened privacy, a stress-free environment, courteous and helpful staff and a much lower risk of exposure to Covid-positive travellers. Tops, those jets won't look half bad on your Instagram feed.
All that comes in addition to the sense that your holiday starts early. When we board our Legacy 600 jet, it feels as much part of the day's itinerary as the yoga class we attend on our first afternoon in Ibiza. And by the time we bed down at night, we do so without the usual fatigue that comes with cross-border air travel, even if it's short-haul. For us, the question of whether you should opt for Aero on an upcoming escape to the White Isle can be reframed as follows: if you treat yourself to a private villa or a suite in a five-star resort to make the most of your precious time, why shouldn't you arrive in pure bliss?
Photography courtesy of Aero and by Steffen Michels