With southern Spain's famous Costa del Sol being somewhat of a hit-and-miss at times, it pays to do one's research and find a place to stay that offers more than cookie-cutter luxury. Puente Romano Beach Resort has a few tricks up its five-starred sleeve, putting this beachside getaway on the radar for many a luxury traveller to Marbella.
Puente Romano Beach Resort, Marbella is a village unto itself: a fine dining mecca, built around a thousand-year-old bridge that gives the resort its name. Here the beautiful and the trendy come to do what they do – drink at the most glamorous bars, do morning yoga on the beach, shop for designer clothes or work out at one of the coolest hotel gyms we've ever seen, complete with its own DJ. Located on the 'golden mile' of southern Spain, where the ocean laps sandy beaches mere footsteps from your hotel room and the smell of world-class cuisine wafts through your balcony doors, the hotel offers a truly elevated experience.
Arriving at Puente Romano can be an overwhelming experience. Thankfully we had time to acclimatise in our hotel room which was as elegant as we'd expected. Our split-level room was spacious and bright with a small balcony. Design-wise it's chic and open plan – we liked the light, creamy tones and sleek surfaces with a sunken seating area for a cold wine from the mini bar.
Leaving our bags to explore, we immediately found ourselves lost; wandering the winding, sun-drenched pathways, passing luxury restaurant after luxury restaurant as we tried to find the beach, pausing only to notice Andy Murray walking away from the world-class tennis courts on site.
Following the sound of the ocean, we found ourselves at Chiringuito, an open-air restaurant on the glorious golden beach, a cold Aperol spritz and salted fish, fresh from the ocean, and cooked right in front of us, in hand.
We counted three pools at Puente Romano but Nobu's private, adults-only pool is the top choice. It has just the right temperature with an abundance of sun loungers and a shaded bar where attentive staff can mix you an electrolyte-loaded mocktail if you're nursing a hangover (or the real deal, if hair of the dog is your method of choice).
The Nobu gym is perhaps the most impressive hotel gym we've seen. Tucked in behind the seafront pool, down a low-lit stairway and past a DJ banging out tunes at 8 am, we took in the state-of-the-art facility that was as stylish as it was effective. Offering a range of classes from boxing to yoga plus all the latest kit, we visited every morning to feel good about ourselves, before the day's dining got underway and out of hand.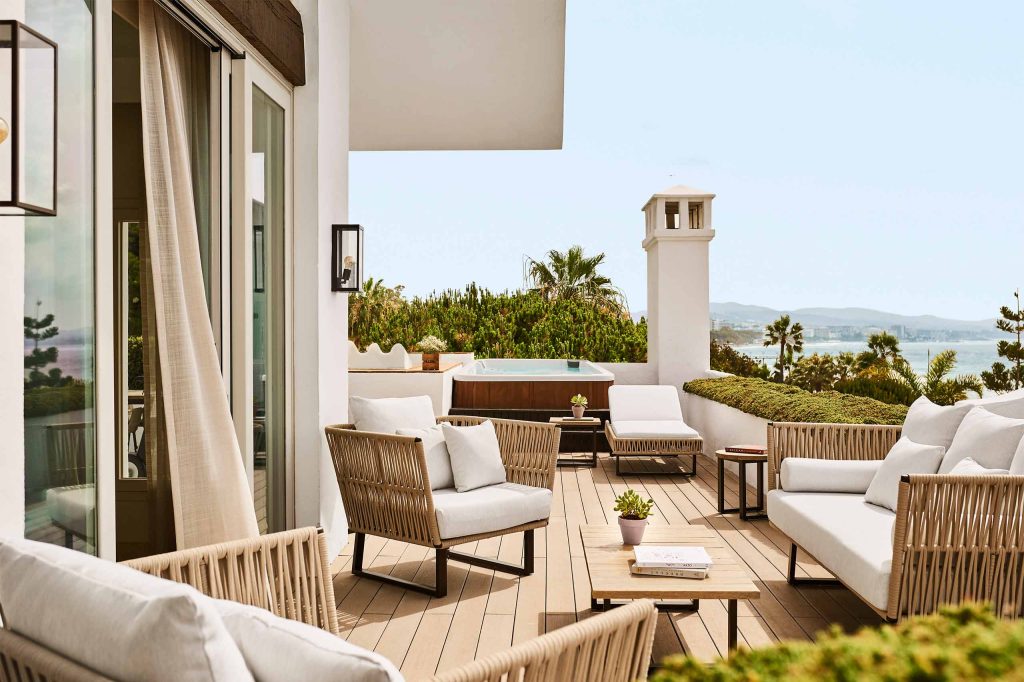 | | | |
| --- | --- | --- |
| Perfect for | Fly into | Right on time |
| The Hedonist | AGP | GMT +1 |
While you're Out There
Take a bike and cycle into the old town along the beach. It only takes 15 minutes and bikes are available from the hotel. Go for an early morning jog along the water or take part in the free morning yoga classes with the sound of the sea in the background.
And by the by, we have a new contender for the best-smelling hotel. We're not sure what they're piping into those elegant, aromatic hallways, but it was really doing it for us. Maybe it's a personal thing, but it counts for a lot.
That said, it was the restaurants that we had come to town for. Puente Romano is a gastronomic landmark in southern Spain, with something for even the most discerning palate.
The resort's restaurants are the real star of the show and arguably the thing that attracts so many of the cool kids. You can choose between ultra-cool Nobu, steak from world-famous Dani Garcia, or a delicious sushi experience at Jardin Sur Mer.
Obviously, Nobu has long made its name in the culinary world and doesn't disappoint. A sample of black cod miso, Japanese wagyu and Sushi Maki were utterly mouth-watering and well worth us coming.
There's also the newest addition, the recently opened COYA Marbella. Executive chef Fabrizio Fossati has masterminded world-class Peruvian cuisine, prepared with Japanese, Chinese and Spanish cooking techniques. It's an intriguing fusion that nestles well next to the other heavy-hitting restaurants here, offering something unique and refreshing. With everything from refreshing ceviche, to mouth-watering grilled meat, COYA aims to take diners on 'a journey for the senses'. Although what restaurant doesn't make such a claim these days? Let's face it, it sounds far more interesting than 'we cook food', but here, we'll admit it fits.
Whether you're a seasoned local or a new visitor to the area, the stunning location of Puente Romano will guarantee you a stylish, exciting and delicious stay.
Photography courtesy of Puente Romano Beach Resort