Every now and then, when a new hotel opens, it becomes the benchmark of local luxury and raises the bar for high-end hospitality in the destination it's in. That's exactly what happened when Raya Heritage first welcomed guests to its exclusive range of just 38 suites some 20 minutes outside Chiang Mai back in 2018.
You'll no doubt find yourself admiring all the little things that make this place special, but it's the resort's open-air sanctuary of a lobby that offers its most breathtaking sight. Step through the wooden beams at the entrance and into the warm light of an enormous rattan light fixture above and your eyes will gravitate towards an elegant water feature straight ahead. The feature itself grounds the scene beyond not unlike an altar in the foreground of a Flemish Renaissance painting; a scene dominated by two majestic trees growing in a grassy pit framed by a succession of high, white pillars on both sides. You feel the luxury of space standing here, with air, light and a sense of openness all around. And, if you're like us, you might also feel reminded of an Aman property.
Set along the Ping River, Raya Heritage, a Leading Hotels of the World member, pays homage to the former Lanna Kingdom with a harmonious blend of Lanna-inspired and locally crafted terracotta tiles, paper screens, lacquerware and hand-carved teak accessories. Wherever you step on the resort's grounds (and we encourage you to explore as much as your itinerary allows), you'll be reminded of Lanna traditions and culture. But the references don't hit you in the face. Instead, the resort has made a conscious effort to keep all there is to love about it subtle and sophisticated – even its main pool, perhaps the loudest feature in the design of most five-star hotels, is discreetly hidden behind bushes, with poolside loungers not looking towards the blue basin, but the muddy Ping River just steps away.
Our suite, meanwhile, had an equally calm allure. We thought the cream-coloured interiors, designed by Vichada Sitakalin, were wonderfully wabi sabi; and not pretentiously so. Soft lights, a low bed, a reading corner decked out with large cushions and sliding doors behind which a luxurious bathroom fitted with a freestanding bathtub hid, played into an omnipresent sense of Raya Heritage offering breathing space from the hustle and bustle of everyday Thai life. There was room for warm touches and indulgent treats (delivered to our suite as nightly surprises), and preparing a cuppa from the sophisticated selection of loose leaf infusions on our private balcony at night, with a choir of a thousand frogs croaking below, we downright felt as though we'd checked into a wellness and meditation retreat.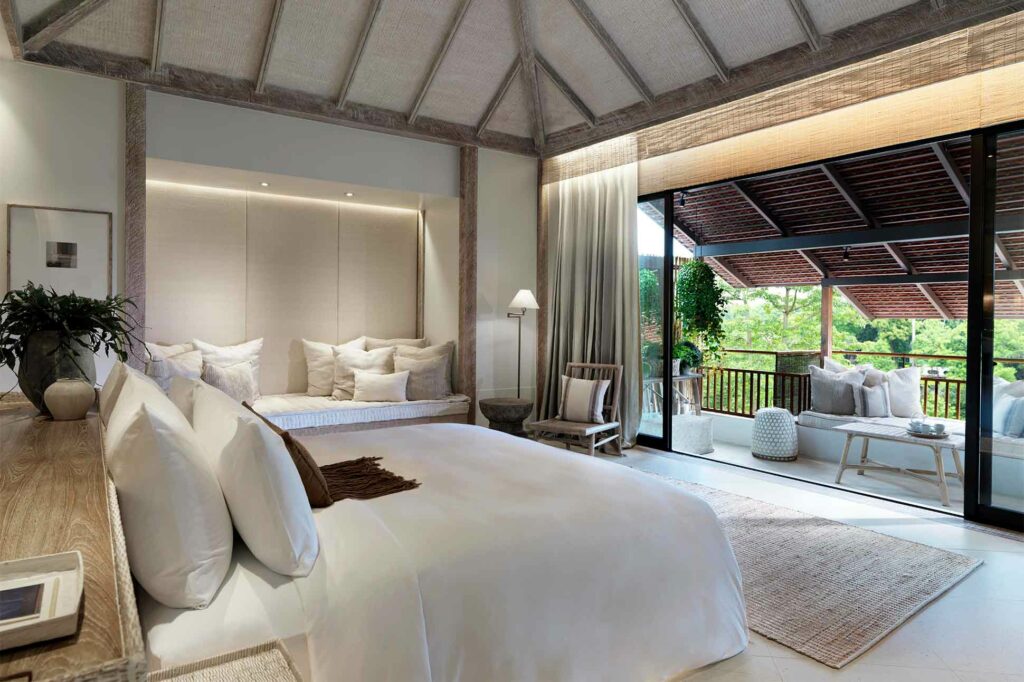 | | | |
| --- | --- | --- |
| Perfect for | Fly into | Right on time |
| The Sophisticate | CNX | GMT +7 |
While you're Out There
Raya Heritage is home to its very own boutique selling all sorts of locally-made, artisanal products, though we'd suggest you take a trip to Chiang Mai's famous Wua Lai Road, where talented silversmiths sell trinkets, jewellery and home decor you won't find anywhere else. While you're there, stop by Wat Sri Suphan, an all-silver Buddhist temple built around 1500, and pay your respects.
And speaking of wellness, the resort's Ai Waan spa is arguably where holidaymakers spend a lot if not most of their time when they're not out exploring. Treatments are locally inspired and include oil-free Northern Thai massages, Myanmarese Tanaka facials and signature ancient bamboo therapies, during which lightly heated bamboo canes are used to facilitate pain relief and bring about a comforting sense of relaxation. It's no coincidence, we think, that we stumbled upon the hotel's Laan Cha Tea Terrace, located near the spa, after our treatment. Laan Cha is just the place for a silky oolong as you watch mist rise from the river and boatsmen pass by, as if nothing had changed here in a hundred years or more. At second glance, you'll see developments are starting to spring up across the stream. We saw quite a bit of construction work going on during our stay, and it frankly didn't make for the most pleasing of sights. But you can hardly blame Raya Heritage for that – nor, as a matter of fact, the locals who build on their land.
The meals we enjoyed at Raya's signature dining outlet Khu Khao felt as balanced as the rest of the resort, with each dish having been fresh, nutritious and utterly delicious. Run by Executive Chef Somyot Pokpong, the restaurant focuses on recipes from the greater Lanna region, again paying tribute to this refined culture by way of cuisine, but also in its tasteful interiors, with actual rice threshing baskets ('khu khao') hanging overhead. We particularly enjoyed our à la carte breakfasts here: international favourites, Asian classics and a dedicated 'healthy' section provide sufficient variety for guests not to get bored with breakfast during their stay – plus, for the smoothest of lattes your palate will ever know, try their homemade Jasmin rice milk.
When the time of the day calls for something a little stronger, there's also the Baan Ta Lounge & Lawn, which we were told serves up a mean mojito in the evenings, although we never got around to trying this. It's perhaps because we were so busy taking in all the thoughtful details that make Raya Heritage the game-changing resort it is within the Chiang Mai region; from the thin glass flacons of mosquito spray we found in our bathroom, disguised in rattan sleeves made specifically for their size, to naturally scented white ginger toiletries and the program on local handicrafts playing on our suite upon check-in.
What really sold us, besides a motivated and beautifully uniformed staff with impeccable English, was just how much care has gone into creating Raya Heritage: wherever you look, every aspect has been considered to create an atmosphere that goes beyond that of merely a hotel, suggesting instead a retreat with a strong vision and philosophy. It's a refined take on Asian hospitality you might know from Japan, except the whole resort feels like one long, warm hug – a distinctively Thai twist.
Photography courtesy of Raya Heritage