Old meets new at one of Tel Aviv's latest and most talked-about places to stay, The Jaffa, a Luxury Collection Hotel, where a 19th-century former French hospital and monastery sit opposite a sleek, contemporary building. 120 rooms and suites are spread across the two, and our personal lodgings in the historic wing featured a vaulted ceiling, arched windows and a futuristic, mirror-panelled cube containing our bathroom. In one word: wow.
As the world's most ancient port city, Jaffa's history encompasses some four millennia of human settlements and trade, the traces of which remain visible around what is now the southernmost neighbourhood of Tel Aviv. There's one remnant from the past impossible to miss as you enter the lobby of The Jaffa, a Luxury Collection Hotel: a 700-year-old crusader wall protruding from the floor. It's discoveries like this that have made opening a property in this very spot a time-consuming and potentially nerve-racking effort. Something tells us, however, that the team responsible for turning the grounds of this former Renaissance Revival monastery – designer John Pawson and conservation architect Ramy Gill – must've felt like they struck gold when construction laid bare a vestige of the city's past.
From the lobby, home to backgammon sets, Shiro Kuramata tables, Marcel Breuer chairs and a Damien Hirst 'Spin' painting, guests step into the hotel's courtyard, a tranquil respite from heady Tel Aviv. Look past the cypress trees (and hear past the birdsong) and you're surrounded by beautifully preserved cloisters on three sides. If you ask us, the historic wing's architecture is a sight to behold, though when walking around the 1879-built cloisters themselves, and looking out through an arch towards the perfectly framed contemporary wing, we found the dialogue between old and new is what ultimately makes The Jaffa, a Luxury Collection Hotel, the special place it is.
You could say the same about the on-site Chapel, an oratory the hotel had desanctified by the Vatican, so they could repurpose the space as a bar and wedding venue where every couple (yes, every couple) is welcome to have a ceremony. It took ten workers some two years to remove paint that had been applied to the walls in the 1970s and reveal the original frescos of a star-studded night sky over Bethlehem underneath. The result, as you'd imagine, is predictably gorgeous. Moreover, The Chapel is perhaps where The Jaffa, a Luxury Collection Hotel, is at its most fun, daring and out-of-the-ordinary – values we felt the hotel tried very much to incorporate into a guest's stay. This was all the more noteworthy seeing The Luxury Collection of course forms part of the huge Marriott family of hospitality brands, and while you'd certainly expect playfulness from a Tel Aviv boutique hotel, seeing it under this more corporate ownership was rather remarkable.
Our room, with its 6 metres high, arched ceiling and near cathedral-like acoustics, was in some ways just as unconventional. Sure, it featured the usual King-sized bed, user-friendly smart-tech to turn down the lights (and up the AC), as well as stylish furniture and a fully-stocked minibar. But beyond that, its walls had been left radically bare with the exception of a single artwork by Israeli photographer Tal Shochat. We thought this 'naked' appearance, noticeable throughout the property, suits it just fine, as historic walls look best left untouched and unassuming. If one thing commanded our attention, it was without a doubt the futuristic mirror box that sat across our bed (with the tinted mirrors conveniently concealing a 65-inch TV). Within the walls of this modern 'implant', we found a bathroom decked in travertine and equipped with aromatic, citrus-scented toiletries – like the aptly named cakes, Jaffa, of course, is all about oranges.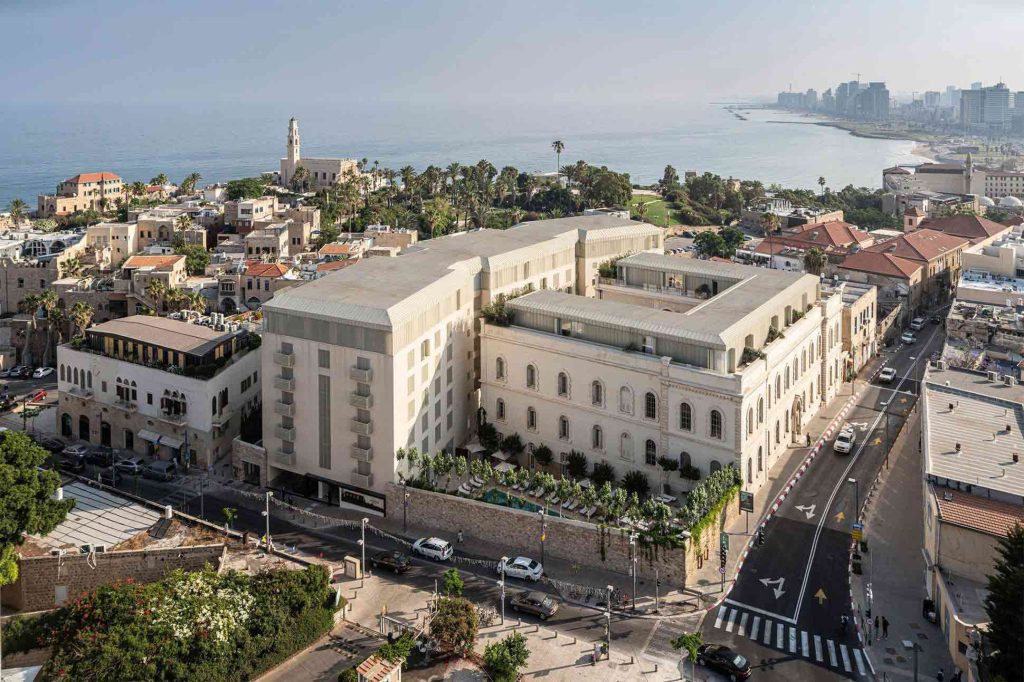 | | | |
| --- | --- | --- |
| Perfect for | Fly into | Right on time |
| The Sophisticate | TLV | GMT +2 |
While you're Out There
Whatever you do, don't miss out on Jaffa's incredible flea market, where everything from oil paintings and vintage sunglasses to mid-century furniture and authentic Chinese lanterns is on offer (how half the stuff that's available ever even got here in the first place, we don't quite understand). Since any second-hand haul will inevitably make you hungry, Beit Kandinof is arguably Jaffa's most happening restaurant. Wonderfully, every taste and diet is looked after.
Those looking for that extra bit of luxury will find it in one of the seventeen suites, several of which offer top-floor views over the Mediterranean and the 'non-stop city'. We would've preferred this to looking out over the pool area, which can get rather loud and feels just a tad exposed, with several floors of guest accommodation towering over it on two sides. This is forgivable, of course, as any new project built around an existing structure will come with some restrictions, and in a densely populated area, additional space doesn't just magically appear.
What should have, however, appeared a little more magically, were the staff at The Jaffa, a Luxury Collection Hotel, who seemed particularly relaxed around the pool area. During our stay, used loungers weren't frequently made up, poolside refreshments and sun lotion weren't offered to us (unless we asked for them), and upon returning to our room, we were greeted – not once, but several times – by a nearby open door that revealed a staff corridor just beyond, in which several about-to-burst bin bags had been left unattended. None of this is technically speaking a deal breaker, but when staying in a surrounding that'as been created with such meticulous attention to detail, bin bags do take away from the illusion (we don't care if Balenciaga made them 'cool'!).
Thankfully, the team at the hotel's Golda's restaurant was more proactive and looked after us very well as we savoured extended breakfasts in the courtyard. We never got to try the eatery's offering of Jewish and Israeli cuisine, though we'll happily vouch for the scrumptious salads, chia seed bowls and hearty shakshoukas topped with grilled aubergine available from the menu-meets-buffet breakfast. There were plenty of health-conscious options on offer, meaning we never felt weighed down by the first meal of the day, and food generally seemed very much part of the greater idea of wellness, which plays a rather significant role at The Jaffa, a Luxury Collection Hotel.
Accordingly, we had to pay a visit to the property's heavenly spa, run by Swiss brand L.RAPHAEL, which offers what might just be the most comprehensive and innovative treatments you'll find in any hotel spa across town. Try the oxy-lift therapies for 'pore' bliss or a classic massage to decompress. After a personalised consultation with our spa therapist, we opted for a combination of the two, and it turned out to be just what we'd needed: the facial, in particular, was one of the best we've enjoyed all year. To think that we had it in what was once a hospital and monastery only added to the experience. Though the type of visitor who arrives at this sight has fundamentally changed over the years, and the service they receive has arguably become a whole lot more luxurious, this has always been a place where people have been cared for and looked after. Strolling around the cloisters one day, we very nearly pretended to faint, in hopes of being prescribed an extended stay. Who could blame us?
Photography courtesy of The Luxury Collection