It's curious, perhaps, that there seems to be no way around the Six Senses Shaharut, a resort that's among the most out of the way in all of Israel. But the hotel, which opened in 2021, is arguably the hottest new place to stay in the entire country, and for good reason, too. Flying a flag of luxury hospitality that didn't previously exist in the Holy Land, the property is cool, conscious and utterly escapist.
If an 'escape' is what you're looking for after heady Tel Aviv and historic Jerusalem, the Negev Desert certainly makes a fine backdrop for some serious R&R. Once upon a time, this region in southern Israel saw early humans migrate from Africa to Asia and Europe. To think that it now serves as the view from the 60 suites and villas of the Six Senses Shaharut is rather humbling; especially at night, when the rocky territory surrounding the resort turns into a lunar landscape and the desert wind sweeps across the dunes.
Offering the brand's holistic approach to health and wellbeing, a heavenly on-site spa is there to help weary travellers unwind and really maximise on the secluded location's regenerative effects. We enjoyed a deeply relaxing massage in one of the resort's treatment rooms, which look as though they've been carved into the rock and smoothed out from within before an array of rustic lanterns, carpets and Tibetan singing bowls were placed inside them to create maximum comfort – needless to say, we were on our massage table within about two seconds from entering the room.
Those looking for more rest post-treatment will appreciate a yoga studio with expansive views of the surrounding desert and the tranquil indoor pool, although for a livelier experience, the resort's 25-metre outdoor basin with chill-out music and views of an ancient mountain panorama is where most guests sunbathe during the day. It's here that you'll have a chance to socialise with fellow holidaymakers, ordering smoothies from the juice bar and cocktails from the naughty bar (we know how to make friends).
As you'd expect from a Six Senses, the Shaharut's culinary offering is equally tempting. Midian serves elegant creations with delicate flavours while Jamillah does hearty but healthy tapas and fresh salads using ingredients grown mostly on-site or at nearby kibbutzim. We thought the simplicity of the latter felt more authentic given the setting, though whichever you choose to dine at, creative cuisine awaits – so do staggering views of the Arava valley below and just across it, Jordan's red mountains, so-called because of their striking, auburn glow at sunset.
For breakfast, which is served at Midian, the Six Senses Shaharut really puts on a show with its amazingly varied and extensive buffet (the kind that will almost have you reach for your camera), complemented via an equally tempting breakfast menu. We ordered the delicious vegan omelette filled with plant-based cream alongside a healthy spinach stew topped with cheese made from cashews each morning. If there's one thing we love about Six Senses, it's how well the brand looks after us vegans, vegetarians and everyone else looking to embrace more conscious eating habits during their stay or simply try something new for the fun of it.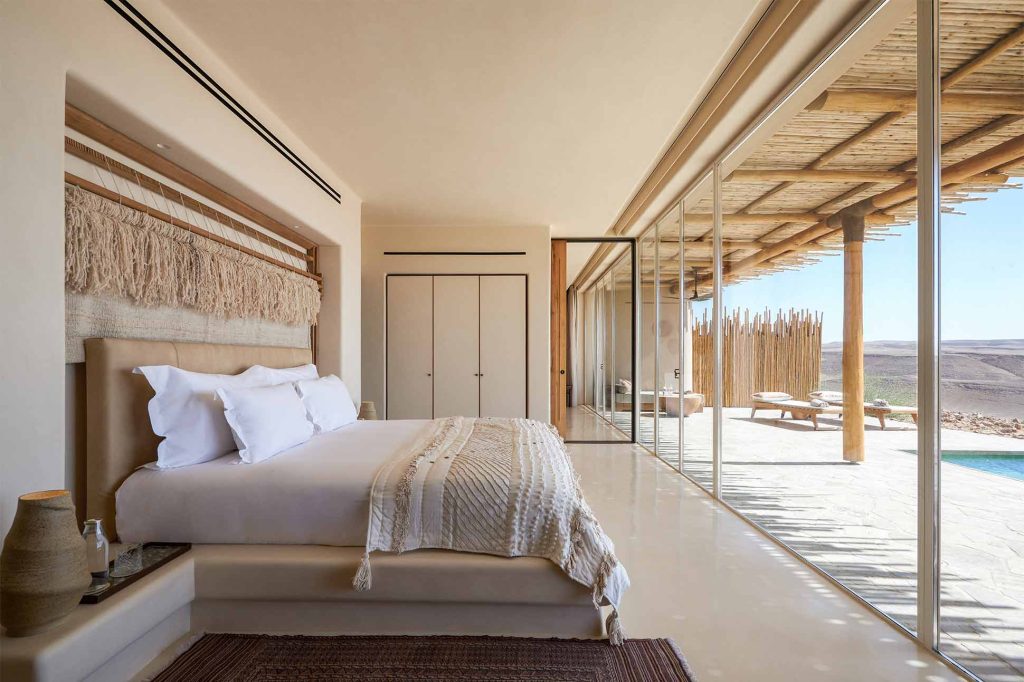 | | | |
| --- | --- | --- |
| Perfect for | Fly into | Right on time |
| The Escapist | ETM | GMT +3 |
While you're Out There
The resort's experience centre right by the entrance comes in handy whenever you're in the mood to venture out into the desert. We thoroughly enjoyed our hike around the Negev, which was made all the more special thanks to the many anecdotes and tidbits provided by our guide. Somewhat amazingly, there seem to be stories or ancient traditions connected to just about every other rock or type of bush, and the hotel's team is thrilled to share them with visitors.
You could also take breakfast on your room, of course, and we were certainly tempted. Our 650 square feet/58 square-metre Panorama Suite was the stuff of therapeutic interior design dreams: diffused lights, generously sized furniture, a flatscreen TV elegantly hidden behind a tapestry that revealed the tech embedded into the wall at the push of a button and rounded walls made from Moroccan Tadelakt, a cool and matte-shimmering material requiring an expert skillset to install – all this added up to a perfect oasis in the desert. Across its suites and villas, the Six Senses Shaharut also provides guests with in-room yoga mats, sun hats and even walking sticks, which came in handy when we took to the landscape beyond our enormous private terrace overlooking the Negev. From here, the sound of wind in the valley below is just captivating.
Though there was a lot we loved about the resort, we thought there was room for improvement when it came to communication among staff. Once, when we came across a steam-less steam room, a member of the team sent for another who never seemed to materialise, confining us to the sauna instead. And on another occasion, when staff attempted to call us to let us know an experience we'd booked needed rearranging, they couldn't get through to us as cleaning personnel had accidentally unplugged our in-suite phone. Why we weren't simply contacted on our mobile instead, we couldn't quite figure out. To turn up (and get ready) for an activity that ultimately won't happen isn't the end of the world, but when your time is limited, every minute wasted feels like a minute of your time not valued. Luckily, the team was able to help us plan another adventure instead.
Aside from these smaller mishaps, the resort's staff was as sweet as pomegranates ripening in the sun. From the keen and clearly knowledgable team members who gave us a tour around the organic gardens of the Six Senses Shaharut, to the attentive waiters and waitresses with their spot-on talent of recommending exactly the types of foods we hadn't realised we were in the mood for, but actually were. We also got the sense that many a member of the team was clearly very creative and thoroughly enjoyed having a conversation with guests. One particular employee who drove us to the airport upon checking out even offered to hug us goodbye – it's the idea of human connection that's noticeably present when staying at a Six Senses property, and we'd love to think the brand actively encourages this. Needless to say, we obliged.
Some guests could no doubt spend a week at the resort and not leave its 46-acre grounds once. But we really advise you do: unless you engage with it, it'd be hard to grasp the magic of this place, and just how special it is to call the desert your home for a few nights. The Six Senses Shaharut offers a number of experiences from guided hikes to 4×4 excursions and stargazing that help you connect to something other than the wifi. Our favourite was an intimate performance by a local woman playing the handpan. Invented some twenty years ago, the instrument itself is rather new. But like the ancient land all around, the melody it played spoke of a past rich with legends.
Photography courtesy of Six Senses Hotels, Resorts and Spas