Ido Cohen is a man who knows people. A walk along the tree-lined boulevards of Tel Aviv is punctuated by passers-by shaking his hand, slapping him on the back, waving as they whoosh past on the battery powered bikes so ubiquitous here. It's especially useful at dinner. Restaurants in Tel Aviv rarely bother with anything so formal as taking bookings, so mostly you wait on the street with a beer until a table frees up, which is pleasingly Mediterranean, but not so great if you're ravenous starving. Not with Ido. Here, doors swing open, tables magically appear and acres of bread and hummus arrive in a matter of seconds.
Partly it is because of his job – or maybe it is why he has the job in the first place. As International Head of Marketing for the city of Tel Aviv, Ido needs to be plugged in. Meeting at his municipal building overlooking Rabin Square, even the gruff security guard cracks a smile as he ushers us in. Ido takes us up to the rooftop for a breathtaking, panoramic view of the city – literally and figuratively.
"I like to say to people that Tel Aviv is very much like a lighthouse. It has always been ten steps ahead of the rest of Israel and the Middle East. In every aspect – from its technology, to its liberalism – and it is super organic. It comes from the people."
The people here are young – a third of the population is between 18 and 35 – and they mostly punch above their weight.
"Israelis aren't afraid of failure. When Tel Aviv was established, all this was just sand and they said they were going to make the New York of the Middle East. They were pretentious, but it worked. Now we've got Facebook and AOL. 50 of the top 100 tech companies are headquartered here in the city."
As we pause to take in the view, I notice the huge skyscrapers. I had read before coming here that there were very few tall buildings, because people couldn't use the elevators on Shabat, the holy day of rest. Ido just smiles and says, "This place is not what you think."
This economic oasis began to blossom only recently, after the Oslo Accords brought relative peace to the region. As we leave the building, we see the site where Yitzhak Rabin – the man instrumental to ushering in that new era – was assassinated.
"Rabin is a symbol for peace everywhere in Israel," says Ido. "He was shot by an extremist Jew. I remember my parents waking me up to tell me. It was like Diana."
It now stands as a monument to freedom of expression, and two nights ago we attended the largest animal rights rally in the world. We took to the streets with a horde of screaming vegans and badly disguised secret police. Afterwards, we went for steak shawarma.
We nip across the busy street to a diminutive pastry and coffee shop sandwiched between two other restaurants. Ido decides he'll pass on the pastry though.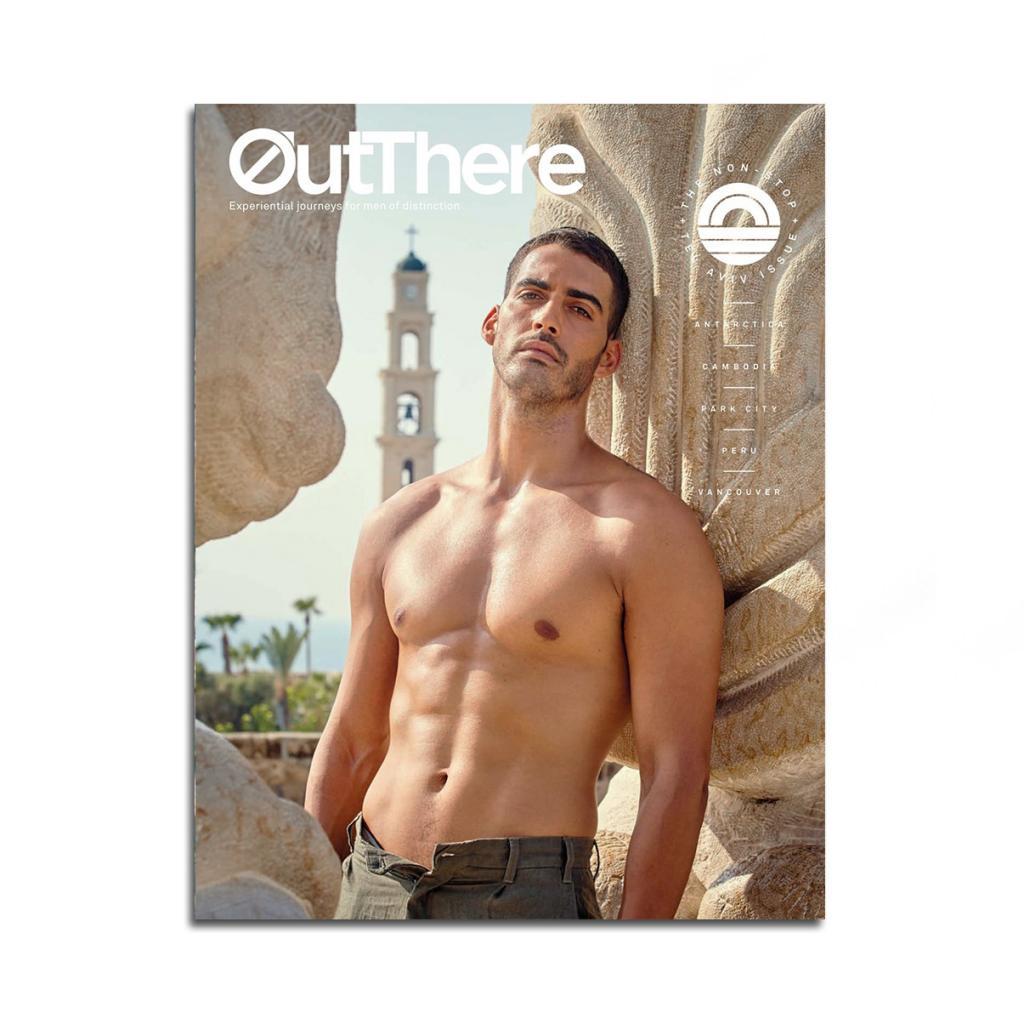 "My boyfriend gains weight easily, so I don't eat this stuff," he says patting his perfectly toned stomach. Like everyone else in this city, Ido is obscenely fit and healthy. "I was a fat kid," he says.
"By Israeli standards, or by normal standards?" I ask
"By Israeli standards," he concedes. Which I infer means only ten percent body fat as opposed to five.
In the two days I've been here, I have seen enough six packs to induce mild body dysmorphia. Ido puts it down to the military service that every Israeli must undertake.
"The army puts you straight, and then for the rest of your life you're set. I did six months of training, then I became a training commander, putting new recruits through the training I had done myself. I basically ran miles every day from 5am."
As for the pastry-averse boyfriend, an engineer and gender studies student, he met him very shortly after he moved to the city. Though he had yet to come out to his family.
"I'm from a picture-perfect family. My brothers are in banking and medicine. Everyone went to the best schools and hold the best jobs."
It seems the Cohens are a high-achieving, ambitious brood, even in a country of ambitious high-achievers.
"Moving to Tel Aviv was like entering a new world, where you realise that you can have any identity you want. I came out when I was 26. I had to get away from my parents and stop lying. But it turned out that coming out was by far the easiest part. It took two weeks to have all those dramatic conversations. It's actually more the ongoing questions about being Jewish, and secular; and gay." He pauses. "But this whole mess just works, for me."
I ask what he means by 'this whole mess'.
"Being gay in the Middle East. While there's still a lot of things we can't do, we can actually be ourselves. I'd much rather be part of a struggle where you're moving forwards all the time, as opposed to somewhere that's boring, or stagnant, or where you're being overlooked. You shouldn't ever judge a country by what you can't do. You should really judge it by what you can."
And there's plenty you can do. Ido even knows many gay, Israeli Arabs who are accepted completely by their families, despite their conservative traditions. There are two kinds of liberalism, the kind extolled and enforced by the state and the kind that arises at a grass roots level. The more time you spend in the Middle East, the more you see just how much of that grass roots progressiveness there is. Like the man said earlier; this place is not what you think.
Ido is bursting with enthusiasm for his city, words and anecdotes almost tripping over each other as they pour forth. He's almost overwhelmed at the prospect of showing me his favourite places. Suprisingly, our next stop is the dog park.
Tel Aviv is a city of 85,000 dogs. That's one dog for every five people. In typically techy Israeli style, it has prompted them to create a 'Digidog' card; essentially a citizen's ID for dogs granting them 24-hour vet care and even doggy tours.
The dog park is in a former cruising area, the kind rendered obsolete by changing attitudes and the growth of dating apps. We watch the dogs play; two huge, blue-eyed huskies are wrestling; the older ones, too tired for this crap, watching from the shade; the ones that think they're human sitting beside their masters on the benches and watching silently, commenting on the craziness to themselves.
Though no longer a cruising area, this is still an important part of the gay community. A centre sponsored by the Israeli Gay Youth association for whom Ido has worked in the past, offers free HIV testing and other resources for young people. A coffee shop on site goes out of its way to employ youth undergoing gender transition.
We walk down Chaim Bialik Street, named for a rock star poet of Jewish-Russian origin and a street with great examples of Bauhaus architecture. Turning a corner, the ocean beckons in the distance.
The sandy coastline stretches 14 golden kilometers and is divided into 13 completely different beaches.
"There's a beach for everyone. Gay, religious, dog…"
Here we see one of Ido's most iconic achievements so far, a lifeguard's hut that's been transformed into a one-room boutique hotel. The project to create this PR piece was his baby for six months and he managed it with military precision.
"I look at Tel Aviv like a product, like in the tech industry."
He also set up a series of trendy tourist information vans that move about the city to help visitors.
"I had to become straight for two months and learn about cars. If you'd asked me about a car before, I'd have said 'it's white'. Now I know about engines and all sorts. I want visitors to feel that regardless of where they are in the city someone is watching over them."
Clearly this is an important, influential role, with plenty of responsibility and an incredible amount of autonomy. I wonder why, considering the hierarchial politics, it went to a young, gay guy?
"I'm super oriented to the LGBT side, but when I market the city, I have to understand that I have to service a number of demographics. We have to be progressive, but we have to include everyone, not too
much of what we like and know from just our world. It's not about being gay, but it is about liberalism, and a certain flow that the city has. We need to be able to see things from everyone's eyes, and I think I can do that, having come from some sort of minority. Of course, we could have focused elsewhere and turned this place into somewhere super-historical or super-Jewish, or all about the weather. But the tension between traditional and liberal is what is most interesting. That is Tel Aviv."
Ido simply leaves us with what he said when we met earlier, "I'm not afraid of failure."
If I were to get psychoanalytic, I might suggest that it's a reflection of Israeli history. That existentially these people have been as low as it gets, so what's so scary about a failed business venture?
If you meet people who work as civil servants, you'll often encounter frustration, people who feel that making any change is like steering a battleship. But Ido seems to have cracked it. So perhaps it's that very entrepreneurialism that allows him do his job with pride. In a city that values innovation and isn't afraid to try new things, creativity certainly pays off.