The Ritz-Carlton Herzliya might not be the most obvious choice when you're looking for a place to stay in Tel Aviv – first and foremost, because the hotel isn't actually in the 'non-stop city', but in the wealthy town of Herzliya just north of it. If you're keen on a quieter kind of stay, however, and being a little removed from the hustle and bustle of Israel's largest urbanity is an added bonus to you, then this seaside luxury hotel should be at the very top of your list.
What can you say about Herzliya that hasn't already been said? Well, quite a lot, actually. A city immediately adjacent to Tel Aviv, this is a destination where tech start-ups, embassies and private homes of Israel's most affluent citizens line the streets, and a wavering sea splashes onto a wide, sun-kissed beach. It's all rather lovely, of course, but the 'Silicon Valley' of Israel does have a problem that'd be difficult to ignore: next to Tel Aviv, it looks just a little sleepy. There's no doubt in our minds that this is exactly why the Ritz-Carlton Herzliya is a favourite escape among locals, and a more relaxed alternative to the lively hotels in the neighbouring non-stop city for all those who, as a matter of fact, do prefer their cities to stop every now and then.
When we arrived late at night, the hotel immediately proved the strong focus on service the Ritz-Carlton brand is known and revered for by advancing some Israeli shekel – no questions asked – so we could pay our taxi driver who claimed his card reader had suddenly broken during our drive from the airport. Of course, this wasn't the case, but during another escapade the following day, we went on to learn that most local taxis drivers are rarely held accountable for their scamming tactics and hence not to be trusted: since staying in Herzliya while wanting to explore Tel Aviv will inevitably require you getting on a four-wheeled mode of transportation, we cannot stress enough just how important it is to download Israel's Uber equivalent Gett.
Luckily, the team at the Ritz-Carlton Herzliya had a way of quickly reassuring us that our taxi drama wasn't going to ruin our night, and with a welcome drink in hand and the prospect of another at the upstairs rooftop bar, we very quickly eased into our stay at the hotel. The staff here aren't just trained to offer help and solve problems, should they occur, but they're genuinely kind and proud to be working for a prestigious brand. On more than one occasion did we find ourselves having a quick chat or even a laugh with the hotel's team, which made our visit all the more memorable.
At 61 square-metres/646 square-feet and featuring an open layout with clear, uninterrupted lines, our Deluxe Room was certainly spacious, if rather dated: from its furniture to the decor and the very art on its walls, the room looked straight out of 2005. Surfaces were slick and shiny while the edges of our glass-topped desk looked razor-sharp. We'd argue the inclusion of natural materials like wood and a few soft touches here and there would make the hotel's rooms and suites a lot more homely and inviting – but to really bring the Ritz-Carlton Herzliya's aesthetics to a contemporary standard, it'll take a fully-fledged renovation.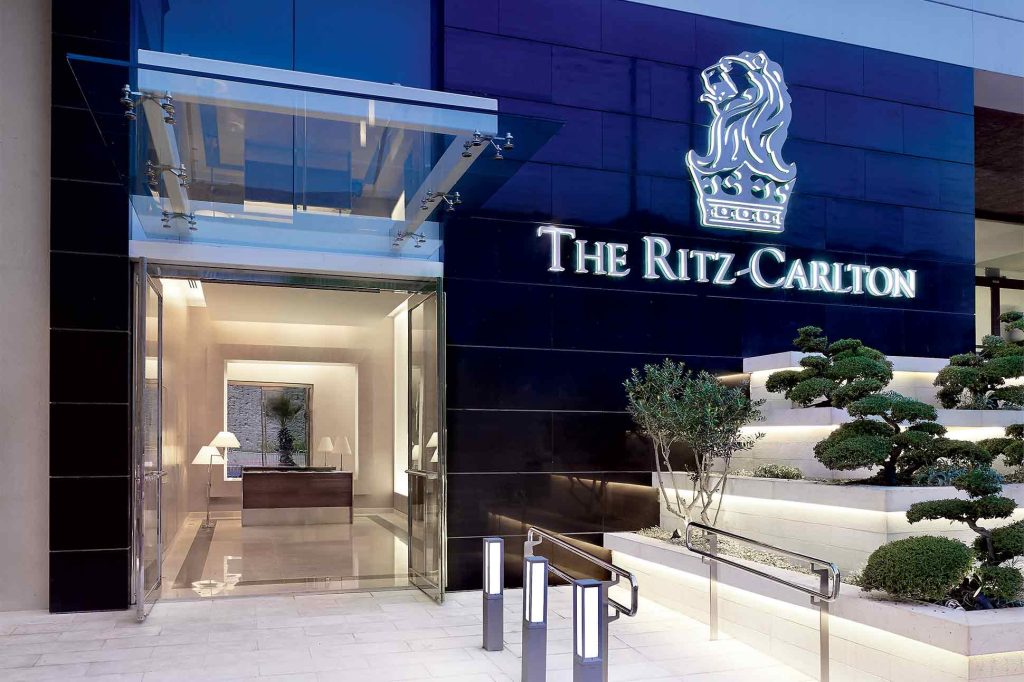 | | | |
| --- | --- | --- |
| Perfect for | Fly into | Right on time |
| The Escapist | TLV | GMT +2 |
While you're Out There
Just ten minutes by car from the Ritz-Carlton Herzliya, sprawling HaYarkon is Tel Aviv's single-largest park. We spent an afternoon exploring its many treasures hidden in plain sight: from a number of contemporary sculptures to a tropical garden and a boating lake. Follow the Yarkon River to the west and you'll eventually end up where it meets the sea (and, conveniently, a cluster of cute cafés and restaurants).
That's not to say we didn't appreciate certain aspects of our lodgings, however. Waking up to excellent views of the adjacent marina (which just so happens to be the country's largest) was a treat, not least because our private balcony would beckon us out to welcome the first rays of sunshine each morning. If your accommodation happens to be on the other side of the building, you'll still be guaranteed views of the Mediterranean, owing to the hotel's location paired with the angle at which it faces the sea. Our room furthermore featured ample storage space for our clothes, an enormous bathtub, double sinks, a rainfall shower and Diptyque amenities. In short, there's a lot to enjoy here, just don't expect things to be particularly easy on the eyes or Instagrammable.
With us spending most of our days in Tel Aviv, wanting to get under the skin of one of the world's most exciting culinary destinations, we never actually came around to try the gastronomic offering at the Ritz-Carlton Herzliya. The hotel's main restaurant, Herbert Samuel, was headed by Aviel Sandrusi at the time of our stay, and if the breakfast served here is any indication, we'd say diners are in for some truly tasty Middle Eastern fare. We did also welcome just how attentive the team was at breakfast, remembering our dietary requirements and bringing vegan alternatives like soy milk and margarine to our table without us having to ask for them – that's an A+ in our book.
On a side note, non-smokers should be aware that a door leading out to a number of tables on the adjoining balcony will sometimes be left ajar. Unless you like the smell of smoke over breakfast, we advise you to ask for a table as far removed from said door as possible. Aside from the restaurant, there's also the Blends Lounge, where afternoon tea is served in an elegant setting, as well as the rooftop bar, home to the must-try tahini martini, which is as perfect of a concoction as they come when you're looking to laze away some time by the heated rooftop pool as the sun sets into the emerald sea straight ahead.
You could also book yourself into the Ritz-Carlton Herzliya's spa, featuring a 24h fitness centre, a hammam, a Swedish sauna and a total of six treatment rooms, including a couples suite. We enjoyed a soothing massage here, before the friendly team, anticipating that we could do with a bite to eat afterwards, whizzed us away to meet Head Pastry Chef Gal Zeiger, who surprised us with a specially made, plant-based chocolate and hazelnut 'palm tree' dessert. Why something so delicious wasn't on the afternoon tea menu already, we still don't understand – but we sure hope to see it there when we next visit. All in all, we'd recommend bedding down at this luxurious place to say. It's easy to like the hotel, and if in the future the brand decides to refresh the property's furnishings and fill the space with just a little more local flavour, you might even find yourself loving it. We'll be sure to keep an eye out for news.
Photography courtesy of The Ritz-Carlton Hotel Company