The idyllic shores of the island of Koh Samui are home to many luxurious hotels or resorts, but the boutique, design hotel – The Library Samui – stands out as an artful sanctuary that captivates beach-seekers with its melding of unique, avant-garde decor with serene, natural surroundings.
It was hard not to be impressed with the Bauhaus-inspired architecture, iconic red pools and general focus on story-telling of this publishing-themed property. The Library's striking minimalist architecture, painted in pristine, bright white, is an arresting sight against the lush tropical island landscape. The juxtaposition of its structural minimalism and use of vibrant accent colours set the tone for our unconventional stay in this eccentric escape, one that challenges the norms of luxury hospitality in Thailand.
We already knew this stay would be extraordinary, but we were then led through a secret door into what seemed like a parallel universe of double-storey slate walls and wooden-decked hallways. There and then, we were told that we had been upgraded to a part of the resort known as the 'Secret Chapter.'
This ultra-luxurious wing of The Library is high on design and pure drama; and it is home to the resort's 20 top suites. An extension of The Library's artistic ethos, the Secret Chapter Suites promise an enigmatic journey into uncharted territories of design and imagination. They're a daring departure from the hotel's signature minimalist aesthetics, embracing darker tones and busier decor. An unorthodox blend of contemporary design and traditional Thai influences invoked our sense of wonder.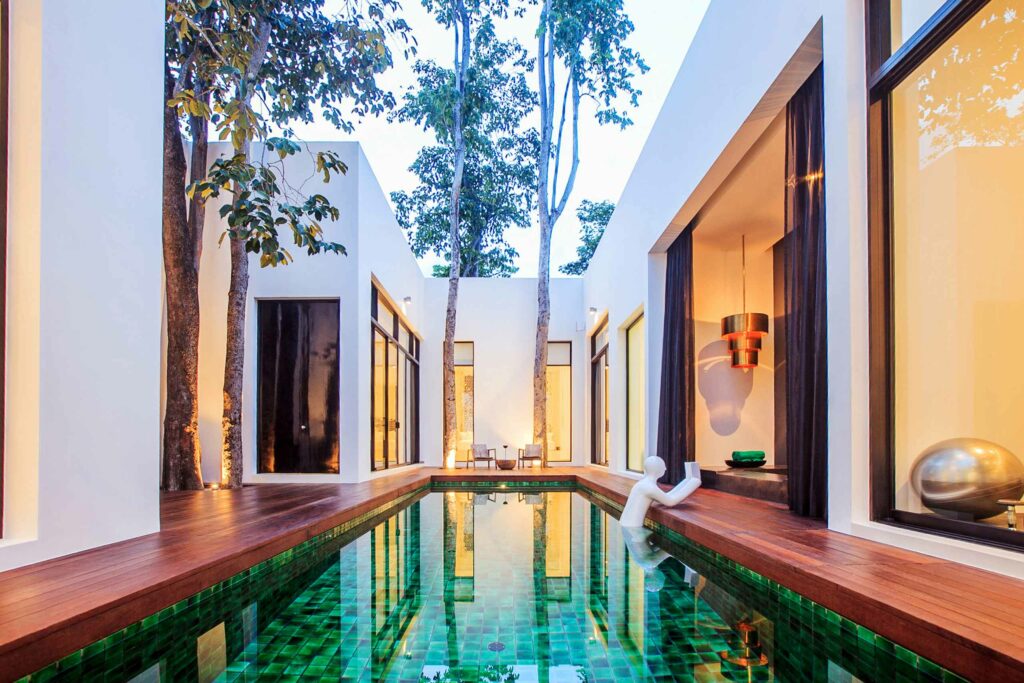 | | | |
| --- | --- | --- |
| Perfect for | Fly into | Right on time |
| The Culturalist | USM | GMT +7 |
While you're Out There
The celebrated Cabaret Paris Follies is an entertaining gender-bending cabaret show and a uniquely Thai, queer experience that mustn't be missed. Plus, it's just a ten-minute walk from the hotel. There are four shows every evening, hourly from 8pm, and we'd recommend the two later shows, which are a tad more risqué. Entrance is free, but one quite expensive drink is compulsory.
Our 'Secret Pool Villa' here was supersized in every dimension, from a gigantic bed to a 3-metre-high tandem rain shower and a dining table that would've easily sat ten people. Even our eight-metre-long private, emerald-green, saltwater pool, set in an internal courtyard with a separate jacuzzi, seemed bigger than some of the hotel's communal ones.
The entire Secret Chapter is ultra-contemporary, which we adored, but we realise that it might not resonate with everyone's taste. As with any artistic endeavour, interpretation is subjective, and some guests might find they may actually prefer to step back through the door into more simple vibes in the main part of The Library.
'The Writer' and 'The Editor' suites here at the Secret Chapter are the hot properties. They each have stunning ocean views and there is direct access to the infamous five-kilometre stretch of Samui sand that is Chaweng Beach.
In terms of service, The Library Samui affords an exceptional standard of approachable hospitality, like much of Thailand. The 'librarians' are attentive and accommodating, ensuring we were very well looked after throughout our stay. However, in the realm of the Secret Chapter Suites, they provided the perfect balance between attentiveness and respect for our personal space. It's not always easy, but here they managed it with aplomb.
The Library's Secret Chapter is something rather unique. If you travel with a passion for creative expression and a yearning for unconventional design, we'd confidently say that it'll be hard to find better on the island.
Photography courtesy of The Library Samui