For a slice of British eccentricity with an international flavour (think Hooray Henry with a dash of Feng Shui), this reimagined 16th-century coaching inn and beloved regatta hotspot right on the western reaches of the river Thames in Oxfordshire, The Relais Henley, is the talk of the town.
There was a time when the thought of overnighting let alone 'weekend-ing' in a British 'pub-with-rooms' would send shivers down our OutThere spines. For some there's something inherently experiential about them because of their heritage and history (and in some cases even ghosts!), and for others, there's the nostalgia. But the stereotypes and childhood memories of tarred carpets and absolute adherence to house rules (a list of all the things you are not allowed to do – including enjoying yourself – often laminated and firmly staple-gunned to the back of the bedroom door) have meant that we've stayed well clear for decades.
But today, up and down the country, there's a new wave of refurbished, reconceptualised and service-led places to stay for the modern traveller, propelled perhaps by discerning British travellers demanding more from local establishments post-pandemic. There is also a new generation of hoteliers who have seen and are realising the potential in the UK's old coaching inns.
One of these properties is The Relais Henley, a quirky reconceiving of the handsome red-brick 16th-century building in Henley-on-Thames that was once the Red Lion. It teeters over the river at Henley Bridge, in a town famed for the Henley Royal Regatta and the Henley Festival. Moreover, this place is also said to be among the most resplendent settlements in Britain.
History buffs will tell you that King Charles (not the current one, but Charles I) visited it during his reign. Can we be sure? Well, almost certainly. In fact, he liked it so much that he stayed twice; as did many other illustrious royal names in the four centuries since.
The room that he allegedly slept in has been crowned the 'King Charles I room' (not a suite, surprisingly). And in it, there is a stunning piece of 17th-century 'graffiti'. Inscribed into the wall here is an immaculately preserved, original royal coat of arms dating back to his visit in 1632.
The décor of the rooms of the Relais Henley is not with the taste of the Stuarts though. Yes, we slept on an antique, carved-wood four-poster bed in our 'heritage room', but everything else had been designed specifically to meet the functional needs of modern travellers, sympathetic and with a nod to the original building's eccentricities.
The other rooms (categorised by their location either facing the courtyard or by the river) that we peeked into were more modern and minimalist. They featured eye-catching pendant lanterns, colourful rugs or white marble bathrooms. No two spaces are identical, but our top picks of accommodation would definitely come from the heritage room portfolio… our only caveat is that if you are staying for more than a few days, the antique novelty might start to wain in preference of a much simpler space.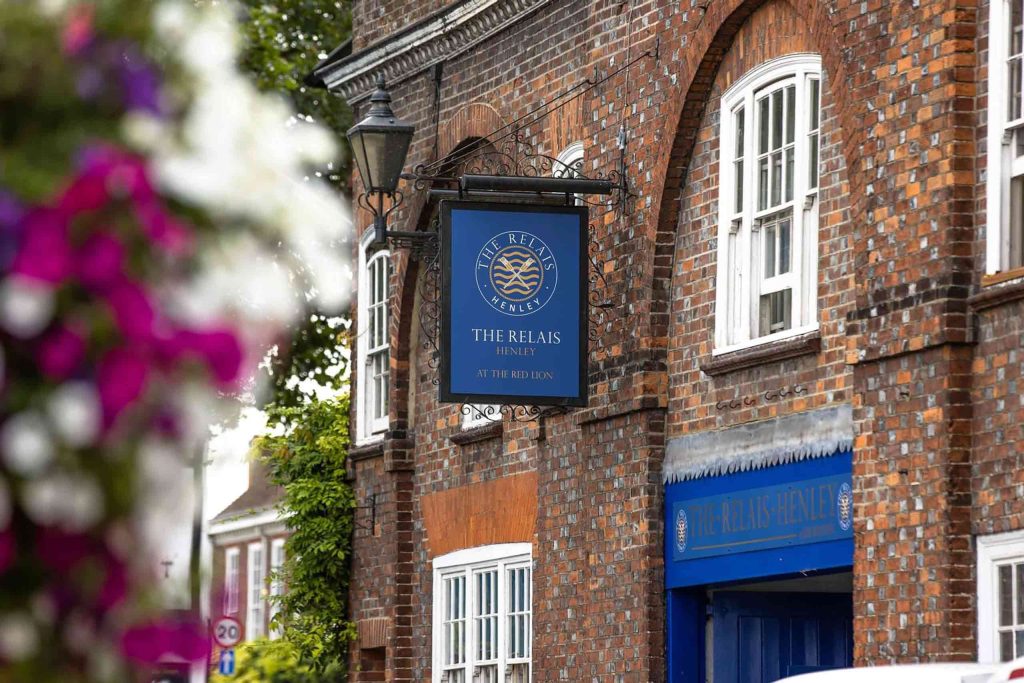 | | | |
| --- | --- | --- |
| Perfect for | Fly into | Right on time |
| The Insider | LHR / LGW | GMT |
While you're Out There
Hobbs of Henley is the most luxurious way to experience Henley from the River Thames with many different types of pleasurecraft for hire. A local, family-run business for more than 150 years, they make cruising up- and downriver easy for visitors. It makes for a magnificent afternoon, especially on regatta days (do book well in advance) and with a gin and tonic in hand. Serendipitously (for us), they also distil their own London Dry, Mr. Hobbs Gin. It's tasty and a bottle is the perfect souvenir from your time in town. Want to experience both together? Ask Hobbs of Henley about their floating gin-tasting journeys.
Outside, we couldn't help but be charmed by the sense of place brought through in the 'boat-club-inspired' design elements and English heritage décor. Everywhere we looked at the Relais Henley, there were hand-picked objets d'art or ornate vases spilling with extravagant floral arrangements, to a background of bold and colourful wallpaper. The carpets are lush too, sometimes Persian, sometimes Laura Ashley, and other times, boating stripes.
The Clipper Restaurant at the Relais Henley has quickly become the destination to dine in town. At the time of our visit, the kitchen and waiting staff were still finding their feet (but to be absolutely fair to them, we visited on opening day).
As people who love characterful hotels, we retired with a full belly to one of the hotel's little nooks, the cosy Quarterdeck bar, with its old, exposed wood beams and plush sofas. The space's quirkiness makes it super popular, but fear not if you can't bag a seat; there is always the adjacent Clip Bar with its restored wood panelling and inviting fireplace.
The level of finesse at The Relais Henley is refreshing for UK hotels, albeit there was nothing too over the top. Instead, there is a relaxed informality about the place which makes it very homely. This is all down to a keen and uncompromising eye for detail, and hospitality 'savoir faire' has been applied throughout. We must take a moment to commend that.
Owner Grace Leo, a passionate and visionary hotelier of Hong Kong-Chinese background who has cut her teeth on creating some of the world's most exclusive hotels, is the woman behind the project. Her experience and pedigree shine through. It couldn't have been easy as an outsider, to take this old building (not to mention one that's a well-loved place in the local community) and turn it into a boutique hotel of international standard in a small town outside of London. But Grace loves a challenge and The Relais Henley is just part of her mission to develop a portfolio of small hotels near water, under The Relais Retreats brand. Grace has a love for the flow of water and Feng Shui design principles are her guiding (geomancy) compass.
While we see a potential for great prosperity and abundance for the hotel in line with those principles, we also know that it's going to be a lot of hard work. Henley is not immediately on the go-to list of the international jet-set just yet. And with the magnetic draws of the Cotswolds and Bath, it is at most a one-nighter. But the town certainly has the potential to be a holiday destination if marketed well. It's within easy reach of the capital, Heathrow Airport and the other west-of-London attractions; plus Henley's eponymous festivals are proving to be a bigger draw than ever before, and the whole place oozes the quaint English charm that OutThere travellers are looking for. With places to stay like The Relais Henley spearheading its evolution in hospitality (and attitude), it can only grow in notoriety.
Photography courtesy of The Relais Retreats