Bringing new life to a grand building in the cultural heart of Oxford, The Randolph Hotel promises to deliver everything modern luxury travellers could ask for while exploring the city: rooms and suites with desirable amenities, a tasty F&B offering and even an intimate spa beneath the streets of this storied town.
Oxford is a city steeped in history, known for producing some of the world's greatest minds and inspiring some of its greatest stories. Gothic architecture collides with the romantic as you explore its charming streets and visit the iconic English colleges that have influenced the creative works of countless writers over the centuries. It is at the cultural epicentre of this beautiful and atmospheric city that you'll find The Randolph Hotel.
Having originally opened in 1866, the hotel has since become a landmark in itself. Directly opposite the Ashmolean Museum, and a short walk from sites such as the Covered Market and the world-famous Old Bodleian Library, the hotel has undergone a complete renovation in recent years. Now owned and operated by Graduate Hotels, The Randolph Hotel pays homage to its heritage, celebrating those who helped bring the city, and this particular address, to prominence.
A grand exterior, complete with an ornately carved archway and recently restored gargoyles above the door, suggests an air of pomposity, but once you step a foot inside you realise the hotel is anything but pompous. Warm and friendly staff greet and guide you through to the front desk, above which the atrium is filled with hanging flags that instantly draw your mind to a certain magical film series, which just so happened to be partially filmed at Christ Church College, a ten-minute walk from the hotel.
As expected of an older building, the route to certain rooms can feel like a maze, but that only adds to its charm. 151 rooms range from the Graduate Single to the Royal Suite, all of which adopt bold hues, elaborately printed wallpaper and locally inspired art, but with the hotel's unique history, apparently, no two rooms are the same. Some are inspired by Alice's Adventures in Wonderland, or host in-room paintings of Oxford alumni and well-known authors and playwrights such as Oscar Wilde. For us, the highlight of these quirky yet classic rooms are the obscenely comfortable beds with countless pillows and beautifully tiled bathrooms, complete with a power shower and Malin + Goetz amenities. The bathroom can sometimes make or break a hotel room, and The Randolph doesn't disappoint.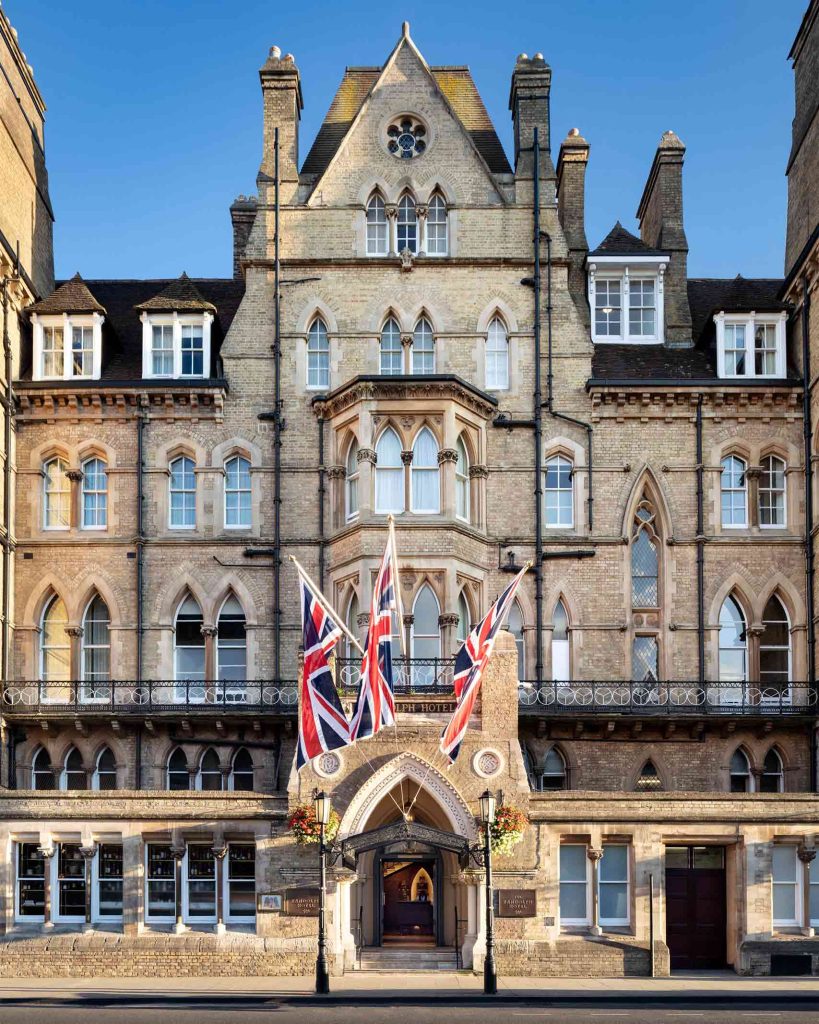 | | | |
| --- | --- | --- |
| Perfect for | Fly into | Right on time |
| The Sophisticate | LHR / LGW | GMT |
While you're Out There
Head twenty minutes outside the city to see the remarkable Blenheim Palace, a UNESCO World Heritage site that boasts a long and diverse history. The epitome of the British stately home, Blenheim Palace is a masterpiece of Baroque architecture, boasting a calendar filled with tours, exhibitions and experiences, award-winning Formal Gardens and over 2000 acres of parkland to explore.
For a bite to eat, The Alice is the hotel's all-day dining restaurant and bar. Led at the time or writing by Executive Chef Chris Emery, formerly of The Clocktower in New York, The Alice offers a simple buffet breakfast followed by an evening menu of true classics in British cuisine, the quality of which sits a step above neighbouring restaurants when paired with the attentive service of its staff. As its name would suggest, the decor is an ode to Lewis Carroll's celebrated novel. Paintings of scenes from the beloved tale adorn the walls, while jewel-toned chairs, pink upholstered booths and vintage-style chandeliers add a touch of luxury to the space.
The hotel's own Morse Bar, where author Colin Dexter penned some of his most famous novels, is an intimate space and a local favourite. Guests can relax in an old-fashioned wingback and enjoy bespoke and classic cocktails as well as whiskey, wines and specialty beers surrounded by wood panelled walls, vintage books and black and white pictures of the author. We can see the bar being a great spot for a special moment with family and friends before heading out to explore the city's nightlife scene.
For those seeking an in-city wellness hot spot, the wellness centre at the hotel is a well-thought-out underground sanctuary. The spa, while small with just four treatment rooms, offers an impressive selection of holistic and therapeutic treatments, from facials and massages to bespoke touch therapies and treatments that are safe for everyone to try, including those with a compromised immune system – a nice touch. The jewel of the spa however has to be the thermal suite. Available to all hotel guests free of charge, it uses the power of water, light, heat, ice and steam to ensure a soothing experience while promising a number of health benefits, and though we're not sure these benefits were achieved, the process was certainly relaxing. What made it even better was the friendly and knowledgeable team who were happy to answer every question and guide us around the spa.
In a city filled with a collection of historic luxury hotels, The Randolph stands out from the crowd. Its elevated offering, thoughtful renovation, quirky charm and attention to detail provide a rare experience in a city hotel – true comfort and a genuinely familial atmosphere.
Photography courtesy of Graduate Hotels