RAKxa, the world's first fully-integrated luxury medical, aesthetic and holistic wellness retreat, is by very definition a sanctuary. Everything here has been designed to promote well-being, tranquillity and inner peace. But beyond all the mind, body, and soul stuff, they delicately and brilliantly balance wellness objectives with contemporary luxury hospitality.
Just a little outside the city of Krungthep Mahanakhon (Bangkok), on an 85-acre island in the middle of a delta on the Chao Phraya River, is the residential wellness resort RAKxa. We loved that despite the temptation to build something big here, only 30% of RAKxa's acreage is allocated to its facilities; the rest is left to green (albeit well-manicured) open space. The air here is fresh, and it's quiet, despite the shimmering high-rises of the city in the distance.
In the Thai language, RAKxa means to cherish and heal, a philosophy that is at the heart of this special escape. In partnership with Bumrungrad Hospital, a world leader in innovative healthcare, and Minor Hotels, an international force in hospitality, a powerful ménage à trois has been formed: the world's first truly integrated wellness retreat.
Guests check in for a variety of wellness reasons. Some come to convalesce from hospital treatment or aftercare. Others are looking for fast-track weight management, sports recovery, or a boost to their energy levels. Some will come for the top holistic treatments from the four corners of the world, delivered by experts in each field. But on the whole, people arrive here with the goal of feeling healthier, younger, and fitter when they leave.
Every case is different and treated bespoke. There are off-the-shelf programmes and packages on offer, of course… but like ourselves, most will experience a programme put together by one of RAKxa's dedicated wellness consultants. The benefit of coming here, as compared to Thailand's other wellness operators is that they have all the latest technology on-site, not to mention some of the best holistic minds in Asia, as well as in-house doctors and consultants. Other medical specialists are just a phone call away at the hospital in Bangkok. So if you're signing up for what your wellness consultant recommends, you can get it right away.
The VitalLife Scientific Wellness Clinic at RAKxa looks after all forms of medical wellness (except for any invasive or surgical therapies), including hormonal and aesthetic procedures. Vitamin drips are popular, but so are oxygen enhancements, cryotherapy and colonic-hydrotherapy. They also have pioneered a Pride Clinic, aimed at the LGBTQ+ community to help with the community's specific wellness and medical needs.
At RAKxa Jai – the holistic wellness facility – the vibe is equally consultative and goal-oriented, but with a little more mystique. Being all about harnessing multi-generational wisdom in wellness and alternative medicine from across the globe, the centre focuses on ancient know-how while using science-based methodologies to align with and meet physical, emotional, and spiritual needs.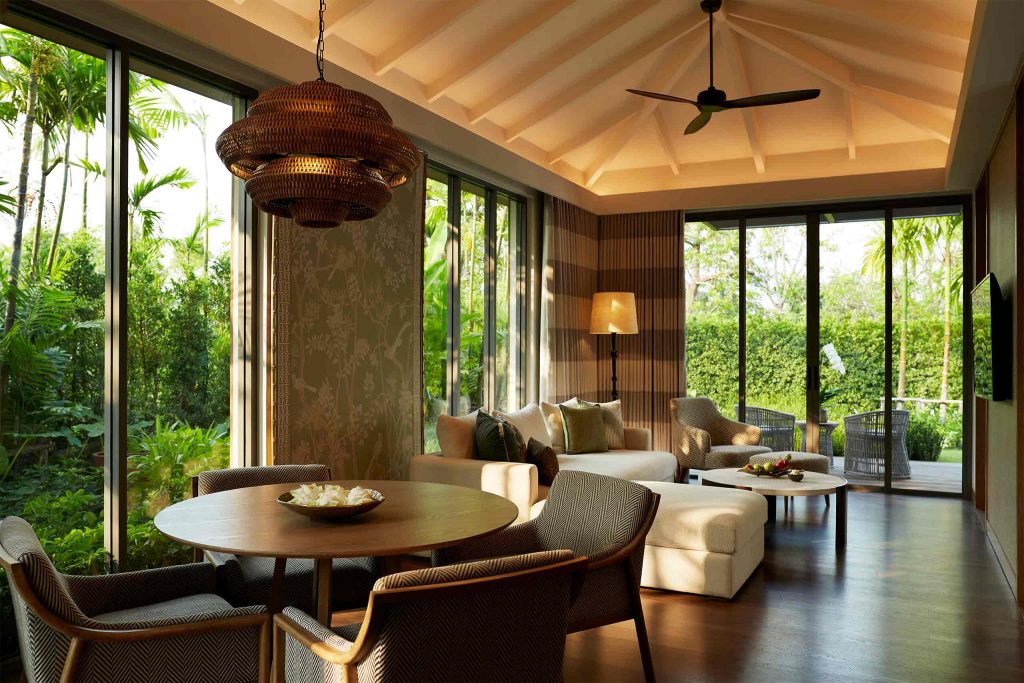 | | | |
| --- | --- | --- |
| Perfect for | Fly into | Right on time |
| The Escapist | BKK / DMK | GMT +7 |
While you're Out There
Ensuring that guests don't feel like they've checked into a traditional medical retreat, RAKxa has leisure tourism-driven experiences on offer as well. We sailed away on an utterly romantic sunset cruise on what is a far lesser-traversed part of the Chao Phraya river, gliding past some historical sites and witnessing everyday Thai life on the delta. Our tip? Save your two-glass organic-wine allocation for the trip!
Food and nutrition are also key to the RAKxa experience. But unlike some other medical retreats that seem to always want to starve you, the restaurant at RAKxa serves up excellent cuisine, at around 400–600 calories per meal. Everything was delicious and plated beautifully. Plus, the food here is all organic and (as much as possible) locally sourced to meet the retreat's sustainability manifesto.
It's also not all about abstinence. If your programme allows for treats, home-baked sourdough and gluten-free bread are readily available and wine with meals is not off limits, but all the bottles in the cellar are organic or biodynamic, and guests are limited to two small glasses per day.
But even if you've just come along for the ride, there's plenty to do at RAKxa. We were tempted not to leave our fabulous luxury villa but then there was a magical spa space, with double-height windows overlooking the river and delta… a stunning view. It's a mecca for hydrotherapy, one of the best circuits we've ever experienced.
There's also a beautiful swimming pool, sundeck, and tea house. In fact, the entire retreat is a wonder of Thai design and sustainable practices. We loved its deep sense of place – a homage to Bangkok's 'River of Kings' – pulled expertly together by local designer Vichada 'Dao' Sitakalin, known for her passion for Thai heritage and artisanship.
Photography courtesy of RAKxa