Twenty-one-year-old Latino poet Kaiden Ford celebrates the legacy of the Stonewall uprising by taking us on a journey through his city, where he meets Mila, Kenrick and Richard – three talented and emancipated LGBTQ+ people dancing to their own beat.
Welcome to New York City, the land of the brave and home of the queers, where the streets are my runway and the subways are my stage. Writer, shopaholic and fashion icon, that's me.
I was born in 1997 to Dominican parents and grew up on Long Island, New York. In 2016, when I finally accepted that I was different and that was okay, I was reborn. NYC cradled me in her arms and saved me. I felt happy, queer and, most importantly, I felt 'me'.
Kaiden Ford is a name I chose for myself to help me move forward from the trauma of my childhood. I changed my appearance. My body became a canvas that never finishes telling its story.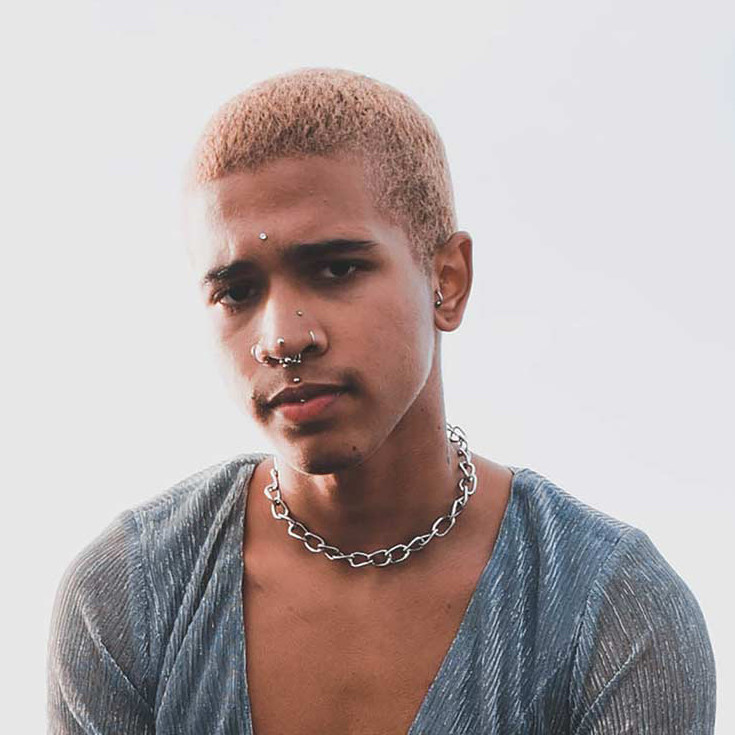 My piercings and body modifications are for me and only me. I do not owe anyone an explanation for them. Good things happen when you accept yourself. You feel more comfortable and open up to people. You are no longer a prisoner to your own negative thoughts. You don't feel scared; you are you. Then people start to gravitate towards your confidence. It's as if your self-acceptance radiates from you, luring people into your comfort. We live in a world where people are no longer living for themselves, but for others. I stand at the forefront of this battle. I face it every day. Well, actually, we all do. All four of us: Mila, Kenrick, Richard and me. Four young NYC LGBTQ+ creatives.
For as long as it has existed, NYC has been the birthplace of many brave people who aren't afraid of standing up for what they believe in. Some of the greatest heroes of the LGBTQ+ community came from the Stonewall uprising – Martin Boyce, Danny Garvin, Raymond Castro, William Henderson, Jerry Hoose and Marsha P Johnson. Fifty years ago a group of these accidental activists rioted against the police and left their mark on history. They had been subjected to an oppressive system and forced to live in secret with the constant threat of arrest or losing their jobs and their homes just for daring to be themselves.
On 28 June 1969, one of their safe places, the Stonewall Inn, a mob-owned bar in Greenwich Village, was raided by police, but that night instead of passively accepting this aggressive invasion, the queers bravely fought back. The next few days saw the push-back escalate into a full-on street battle. Drag queens and trans people of colour led the rebellion, facing down the armed police with whatever came to hand. Bottles and trash cans were thrown, but it was their wit and camp defiance that were their fiercest weapons. They chanted: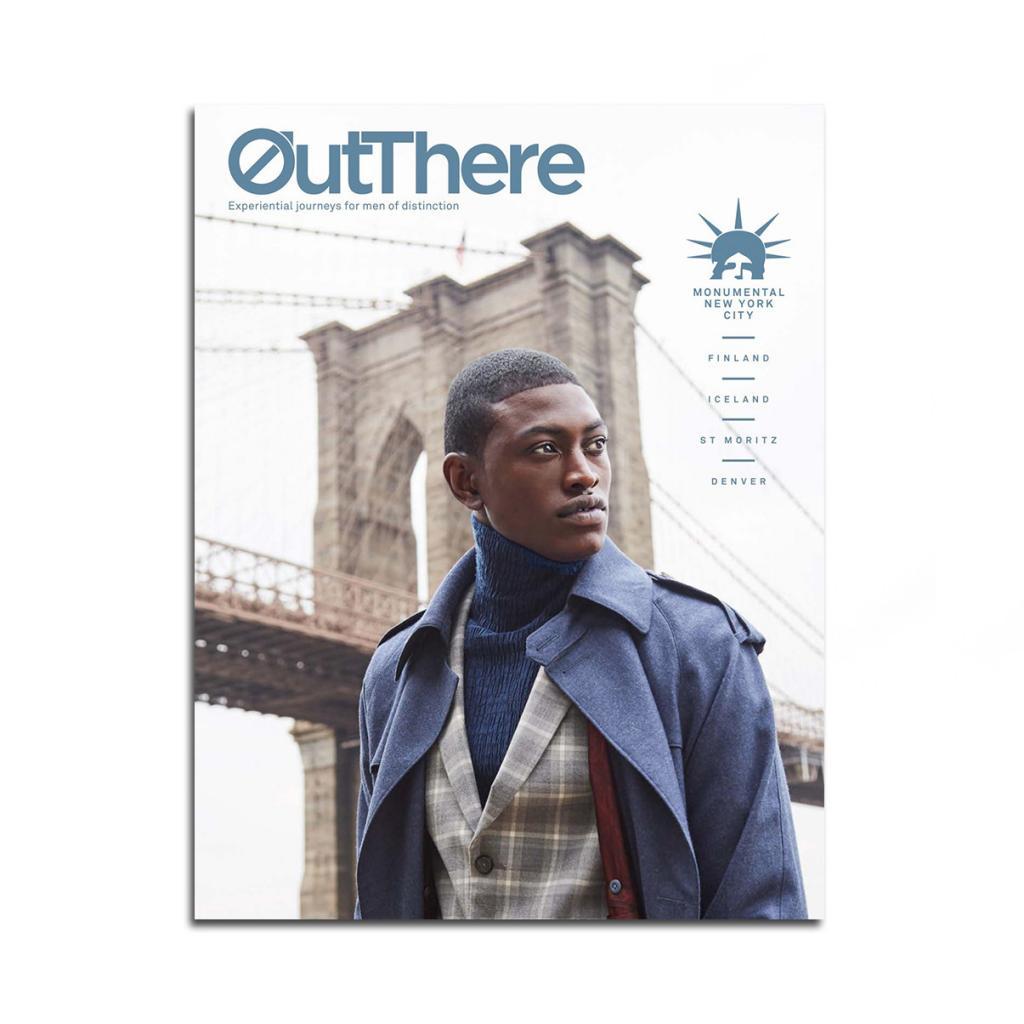 We are the Stonewall girls.
We wear our hair in curls.
We wear no underwear.
We show our pubic hair.
We wear our dungarees.
Above our nelly knees!
The world would never be the same again. A line was drawn in the sand, the closet doors were torn off their hinges and we would never go back inside it again. The bar – albeit in a slightly different location and no longer under criminal ownership – still stands. A living commemoration of those days.
In my own tribute to those heroes, I've set aside a day to meet with three people who for me represent their legacy. Young LGBTQ+ people who have been drawn to New York to realise their true selves, who not only proudly express their difference, but are each in their own way bravely carrying the torch that was lit half a century back.
Mila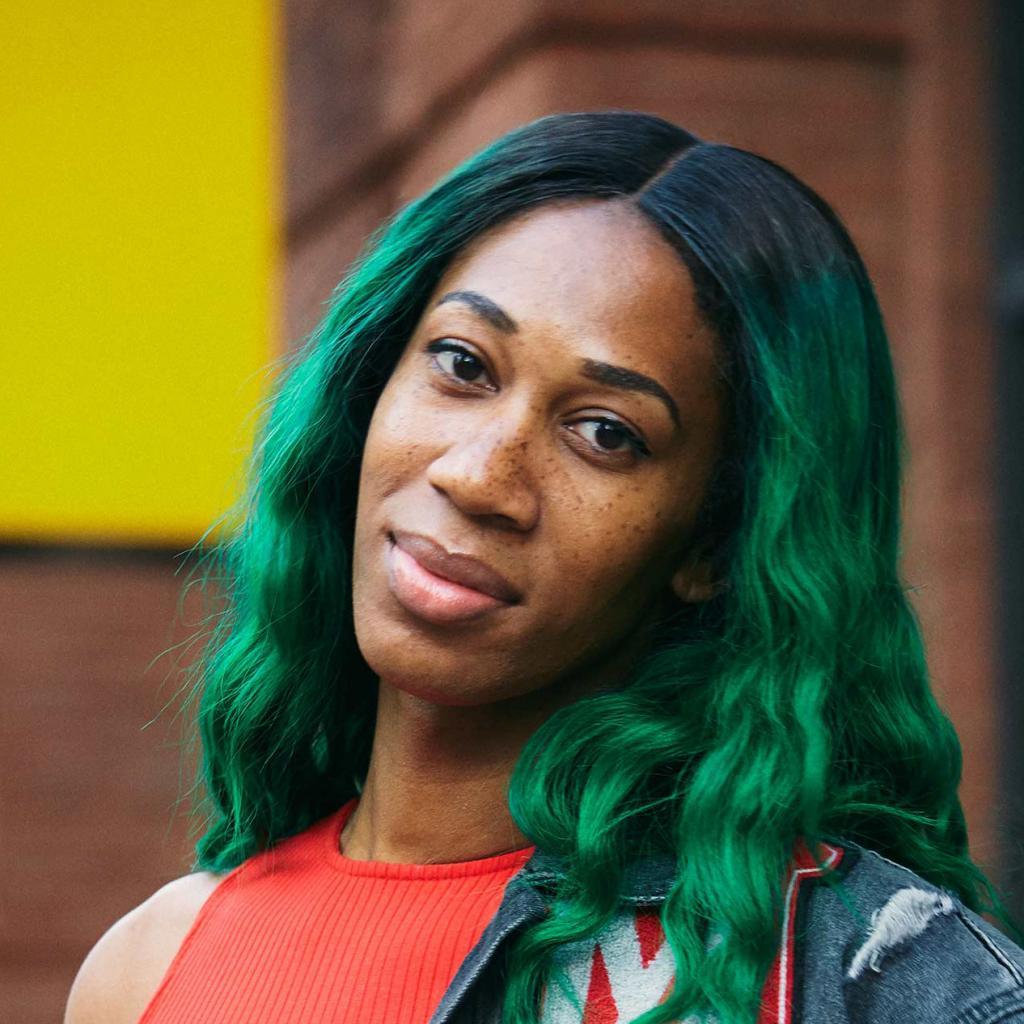 I hail a yellow cab: 'Second and East 9th please'. I'm on my way to a 24-hour Ukrainian diner to meet Mila Jam, an amazing African-American/Bahamian trans* pop-recording activist.
We cross Manhattan Bridge and I watch the iconic downtown skyline loom towards me. I put my headphones in and listen to Mila's latest EP. The crowning glory is her song 'Bruised', a heartfelt torch song dedicated to women and especially trans* women who have lost their lives to their abusers. Mila has one of those voices you can't help but be moved by. You can hear the pain in it:
I want to hold his hand,
But he won't cause he never loved me.
That's what I handle cause I love him.
Don't wanna break up,
So instead of breaking,
I rather take it.
Tears form in my eyes. I want to apologise for society's actions.
I arrive early – a first for me – and get settled at a table facing the entrance. A few moments pass and the door opens. A green-haired glamazon enters and immediately lights up the room with her beauty. The waitress approaches us.
"Two cappuccinos please," I say.
As we wait for our drinks, I mention NYC and Mila stops me:
"As a recording artivist [artist/activist] who grew up in the theatre world, I'm lucky to call NYC home. I wouldn't want to live anywhere else. I've toured all over the world, to five different continents and counting. I've been making my own music for almost 10 years. I grew up idolising Whitney, Michael, Janet, Mariah, Brandy, Britney, Beyoncé and others. And, like those icons, I see myself touring the world with my music, breaking barriers in the entertainment industry and being my authentic self, to enlighten, inspire and empower a generation, no matter where they come from or who they grow into."
Mila reminds me that this is the city where people live by breaking barriers. It is essential to the growth of New York. Like Jonathan Larson's musical Rent, which broke barriers with its raw approach to AIDS, LGBTQ+ issues, drugs and homelessness. I ask Mila about being in the show.
"It was like the dopest concert, with a deep and groundbreaking storyline. I played Angel and ensembled as a swing, which meant I had to know at least five different roles and be prepared to play them at any given time. It was a great challenge and an honour to be a part of such an iconic show. It gave me the most diverse family of artists. The New York in Rent the musical reflected grit, but there was a passion and originality that can't be bought out."
Mila is running late to a show, so we share a cab uptown to Spanish Harlem. She jumps out and dashes into her building. I am two blocks away from meeting Kenrick in Central Park, where hundreds of people are tanning and having picnics.